When hiring any kind of partner or service, it's important to find the right fit for your organization. And when it comes to choosing a Managed Service Provider (MSP), your choice could mean the difference between a strong, secure network and an endless list of problems.
We want you to feel confident that you've partnered with the right MSP. To help you make that assessment, here are 8 signs that your current MSP may not be the right choice for you.
1. You Don't Trust Their Reputation.
Of course, an MSP will try to portray themselves in the best light possible, but you don't have to take their word for it. Instead, see what others have to say.
Reading testimonials can be helpful, but you should also look outside the MSP's website to see if there are any additional reviews or complaints.
Check the Better Business Bureau, and search for specific keywords on Google to see if there are any red flags. Look for legitimate complaints that make sense, not complaints that seem to stem from hard feelings or issues unrelated to the quality of service.
Another important indicator of an MSP's value is the way in which they respond to complaints. Pay attention to the following:
Did they communicate with the complainer?
Did they offer solutions in response to the complaint?
Were they able to resolve the complaint?
If you find frequent complaints that mirror your own, it's likely that your IT provider isn't delivering on the quality of service that they promised.
2. You Have MSP Buyer's Remorse.
Maybe you aren't getting the kind of service you deserve. You're experiencing unplanned downtime, a lack of communication, and other hassles on a regular basis.
Having your problems go unsolved can leave you feeling neglected and resentful. And when these grievances aren't addressed, it will only make you more irritated.
If you're constantly second-guessing your choice of MSP, it's probably time to start looking for other options.
3. They Don't Provide You With Excellent Customer Service.
When you find yourself in the middle of an IT crisis, time is of the essence. Dealing with an IT team that isn't responsive can exacerbate the problem, costing you time and money.
How does your MSP respond when you reach out for help? Do they genuinely sound empathetic, or does their response seem scripted or insincere? Are they friendly and personable, or do they make you feel like a burden every time you call? Do they make an effort to ensure all of your concerns are addressed?
If you dread calling your MSP due to their lack of customer service, they're definitely not a good fit for your business.
4. They're a One-Time Consultant Instead of a Trusted Partner.
Unlike traditional IT services, a Managed Service Provider will work with you regularly to provide services and offer solutions. It's not just a one-time job.
And since an MSP handles your entire network and often your security, it's especially important that you develop a trusting relationship with them.
How often do you hear from your Managed Service Provider? Are they proactive about monitoring and updating your technology, or do they wait until something breaks before giving you a call?
Suspicion towards your MSP will only lead to more stress and problems for your organization. Make sure you partner with a Managed Service Provider that you can trust.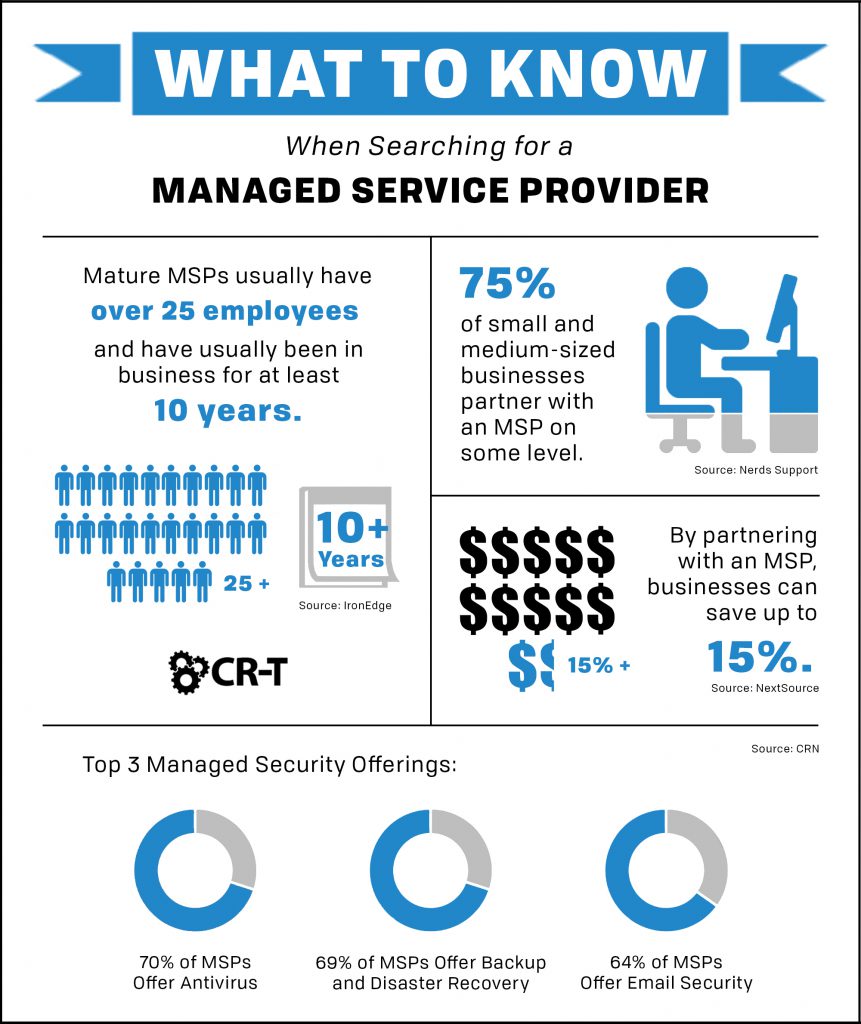 5. Their Prices are Unpredictable.
In addition to providing you with reliable services, your MSP should also offer predictable pricing.
Before signing you up for your current plan, your MSP should have provided you with an initial consultation where they analyzed your needs and budget. Afterwards, you signed a Service Level Agreement (SLA) that outlines the terms of your partnership with the MSP.
What was included in your initial SLA? Was your MSP transparent in their pricing and the fees associated with each service? Did you ever encounter any surprise charges you weren't expecting?
If you ever notice charges that you weren't planning on, reach out to your MSP to clarify any discrepancies. They should be able to clearly explain which services are being provided and account for every charge made to your account.
If your MSP ever seems to be lacking transparency or they hesitate to explain a charge to you, then they probably aren't the right people to be trusting with your money and your data.
6. They Don't Offer a Comprehensive IT Strategy.
Your Managed Service Provider should work to help you meet both your short-term and long-term goals. They should be proactively involved in your organization's IT strategy.
One way an MSP can provide routine interactions with your team is through employee training.
MSPs are experts in a variety of IT services, and they often partner with multiple other companies to provide products and services at a lower cost to their clients.
Your MSP might offer training on new software that's available, cybersecurity awareness, or how to respond to an IT disaster.
If your MSP isn't providing regular interaction with your team, then you aren't receiving the tools you need to effectively manage your network and prevent future problems. And since your employees are the number one risk to your network's security, it's vital that they receive the necessary training to become proficient in cybersecurity.
7. They Lack Transparency.
We already mentioned the dangers of partnering with an MSP who lacks transparency, but it's not just your finances at stake. A lack of understanding between you and your Managed Service Provider can cause a lot of problems in multiple areas of your organization.
When you first partner with your MSP, make sure you fully understand the Service Level Agreement (SLA), including the terms, coverage, limitations, and technical jargon. If you don't understand your agreement, you're setting yourself up for failure in the future.
Your Service Level Agreement should clearly outline the following:
The services covered
The total monthly charges
The customer service options available
The limitations of the agreement
Your Managed Service Provider should never force you to sign up for a plan you don't fully understand.
8. They Don't Do Their Homework.
Your MSP should begin researching your organization the moment you contact them.
They should always tailor your IT solution to fit the needs of your businesses and your current infrastructure.
Do you feel trapped in a cookie-cutter, one-size fits all Service Level Agreement? Then you should probably begin searching for an MSP that can provide you with a customized plan and personalized service.
Switching to a new MSP might feel like too much of a hassle. You might think that you lack the time and resources to find a Managed Service Provider that works well with your company.
But the longer you choose to keep doing things the same way, the more your business will suffer. Your IT needs are too important to ignore.
If any of the previous complaints sound familiar, then know that you deserve better.
We offer a free consultation that can help you decide whether we're the right fit for you.
Here at CR-T, we take pride in providing enterprise-level IT services at prices that work for small businesses. Our team of experts can become your IT support department, responding to issues quickly, often before you even know about them. Covering everything from your servers and network infrastructure to your computers, workstations and mobile devices, we provide end-to-end solutions for all your technology needs.
Time and experience have helped us develop best practices and workflow procedures designed to keep your focus on your business, not your technology.
Your organization can't afford to neglect backup and disaster recovery. If it takes your business too long to get back online after a disaster, you
Read More »