Companies all over Utah are taking advantage of the benefits a Managed Service Provider (MSP) has to offer. And it's clear that those benefits are only increasing. Managed services can help you achieve greater efficiency in your business, while also providing robust security and expert advice from the best in the industry.
I reached out to our in-house MSP Account Executive, Jon Heath, to ask him what he believes to be the biggest reason that Utah companies partner with an MSP. He answered:
Clearly, an MSP makes sense if you're looking to save time and money. According to CompTIA's 2016 Buying Guide for Managed Services, 64% of organizations were using some form of managed services. 
But is an MSP really for you?
Don't take our word for it. Here are just a few of the reasons that hundreds of companies across Utah are making the switch to an MSP.
An MSP Will Increase Your Efficiency and Dependability​.
According to Cisco's Managed Services solutions overview, businesses spend 65% of their IT budget just to keep things running. In contrast, Cisco discovered that once these companies enlisted the help of an MSP, they decreased IT expenses by 40%, and increased efficiency by 50-60%. Imagine how much more you could accomplish if you were spending your IT budget on innovation, instead of routine maintenance and up-keep.
So how exactly does an MSP make you more efficient? 
A CIO's worst nightmare is coming to work, only to find that secure data has been compromised. Retrieving lost data can take months, not to mention that it often costs thousands of dollars.
Earthquakes are also a common fear in Utah. Finding good managed IT services in Utah is crucial, as they understand the region and the threats that exist.
Don't leave your security to chance. Experience greater peace of mind when you make backup a priority.
An MSP can help you find the right backup options for you, whether it's on-premise or through the cloud. We offer a backup and disaster recovery solution that will leave you feeling confident in your data's security.
On average, businesses experience 14 hours of downtime each year. This might not seem like a lot, but each hour you spend offline means greater expenses and less time spent serving clients.
An MSP can help you reduce your downtime, while improving performance and lowering costs. Additionally, MSPs offer 24/7 monitoring, so you never have to wait to resolve an issue. Get back online faster when you have a dedicated team of experts ready to help.
Gone are the days of waiting for a busy employee to resolve an IT issue. An MSP's entire job is to manage these issues for you, allowing you to focus more on your job.
Especially for companies without a dedicated IT department, IT work can be taxing, especially when it distracts from other important tasks. Allow us to lighten the load for you. According to Riverside Technologies, an MSP can increase operational efficiency by 45-65%.
We have already helped dozens of businesses across Utah enjoy greater efficiency. We can help you do the same. With a secure, stable network, each of your departments will enjoy greater productivity with the support of an MSP.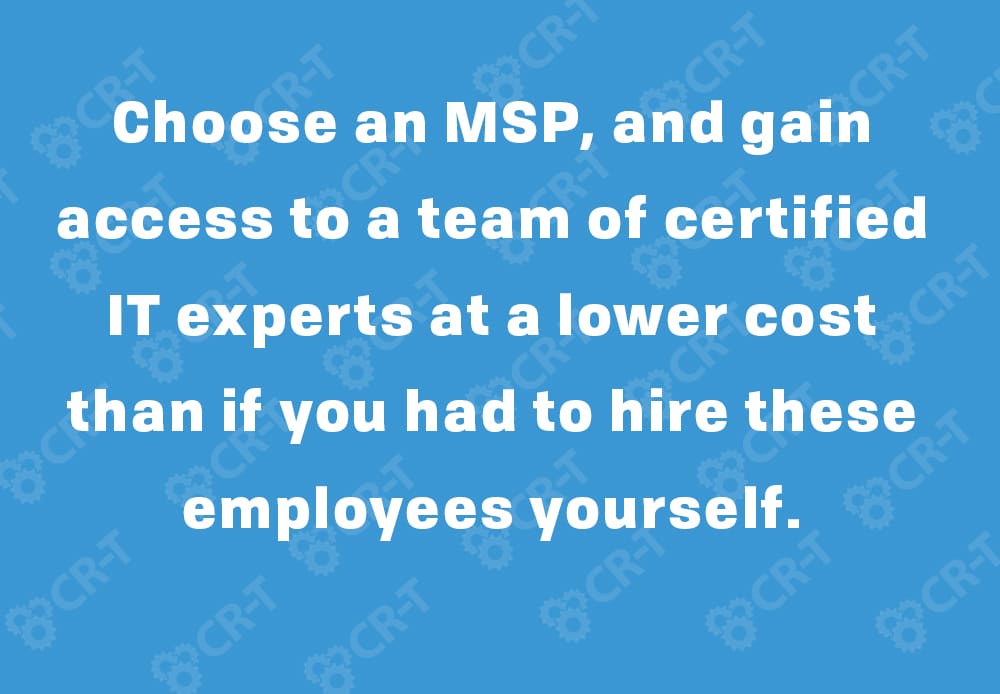 An MSP Supplements the Limits of Your IT Department.
Partnering with managed IT services in Utah can help you reinforce areas in your business where IT might be lacking. Many smaller Utah businesses lack an in-house IT team, causing employees to take on additional responsibilities that fall outside their role. This puts a strain on your employees, not to mention that it keeps them from focusing on other critical tasks.
A Managed IT Service Provider, like CR-T, can become your IT department, offering support on anything from maintenance to security. With an MSP, your employees can better manage their time and refocus their energy on the business, rather than feeling burdened by IT concerns.
Overcome the Limits of Your In-House IT Department
Even if you have a dedicated IT department, an MSP can still help your business run more efficiently. IT departments generally face two major limits: limits of time, and limits of skill.
An MSP provides you with a team of experts, equipped to handle a variety of situations and problems. You no longer need to hire a dozen IT employees, each with unique qualifications. Instead, you can hire employees that best fit the needs of your business, while relying on an MSP for more expert-level problems.
Imagine what your IT team could spend their time doing if they weren't burdened by menial tasks. Instead, they could focus on in-house projects or day-to-day operations, depending on business needs and their IT skill level. Additionally, an MSP can manage larger projects that would be overwhelming for a single team to handle.
With an MSP, you no longer need to worry about juggling multiple projects and concerns. You now have a single, trusted partner that can be your one stop for IT needs.
An MSP Provides You With Enhanced Security and Compliance.
Every week, 140,000 hard drives crash in the United States (Comodo One). And recovering these files can cost an SMB as much as $8,000.
So how can you avoid such devastating costs?
Regardless of your company's size, an MSP can help you develop airtight security and reduce your chances of falling prey to a cyber attack. We offer Utah businesses the latest in cybersecurity, from firewalls to threat detection.
Our security solutions will give you:
Faster responses

 

Less downtime

 

Greater financial savings

 

Reduced downtime and security breaches

 
Even if you already have a full IT security team, we can still help you when it comes to products. We offer a variety of product solutions, including:
Dell EMC

 

Crowdstrike Security
Microsoft Surface
Barracuda
Office 365
Datto Backup
We will offer you personalized support by helping you find the best products to suit your needs. We also offer competitive pricing, whether you need to order in large or small quantities.
An MSP Can Help You Manage Your Costs.
When considering an MSP, the first thing that comes to mind for many Utah businesses is cost. It's true that when it comes to managed IT services in Utah, many MSPs claim to increase efficiency and lower expenses.
But can an MSP really save you money? Well, let's see what other businesses have to say.
In June of 2011, a poll of 400 business professionals found that adopting managed services reduced annual IT budgets by at least 25% for nearly half of all businesses (CompTIA). Among these, 13% estimated their savings at 50% or more.
This equates to 96% of respondents saying that managed services saved them money.
But even if you aren't saving hundreds of dollars every month, an MSP offers you the advantage of predictable costs.
Most companies base their annual budget on estimates and forecasts from years past. In addition to maintenance, businesses need to have adequate funds set aside for unexpected emergencies, like equipment failure. These unexpected losses can be costly and hard to plan for.
However, with an MSP, costs are predictable. For example, we create a roadmap to help you prepare for these unexpected costs.  
Furthermore, with a good MSP, you know exactly what you're paying every month. You only have to worry about a single fee, and we take care of the rest. This makes it easier for you to form a more precise budget. You can also rest assured in the fact that if something goes wrong, we have the expertise to guide you or provide you with the solution.
An MSP Can Help You Improve Customer Relations.
Who doesn't love less downtime and greater services for your customers? An MSP certainly helps your company, but we can also help you provide better service to your customers. Finding the right managed IT services in Utah can help you take your customer service to the next level.
For one, an MSP gives you greater security. This includes less downtime, improved data security, and threat prevention. A high level of security means that your customers can count on you to be online and available when they call. They can also trust that you will keep their information secure.
An enhanced relationship is good for you. It can lead to: 
More sales

 

Improved efficiency in serving clients
Greater customer loyalty
Reduced marketing costs
Competitive advantage
In addition, the amount a company must spend to attract a new customer is five or six times that needed to keep bringing back loyal customers (Reference for Business). Building up a group of loyal customers is in your best interest, and an MSP can help you get there.
Many companies in Utah recognize the advantages of partnering with an MSP. And it's not too late for you to enjoy the same benefits. Regardless of your needs or the size of your business, we can help you find a solution that will bring you greater security, increased efficiency, and more time to focus on key aspects of your business. You too can enhance the competitive nature of your business by finding the right managed IT services in Utah.
Here at CR-T, we take pride in providing enterprise-level IT services at prices that work for small businesses. Our team of experts can become your IT support department, responding to issues quickly, often before you even know about them. Covering everything from your servers and network infrastructure, to your security, computers and workstations. This means we provide end-to-end solutions for all your technology needs. 
Time and experience have helped us develop best practices and workflow procedures designed to keep your focus on your business, not your technology.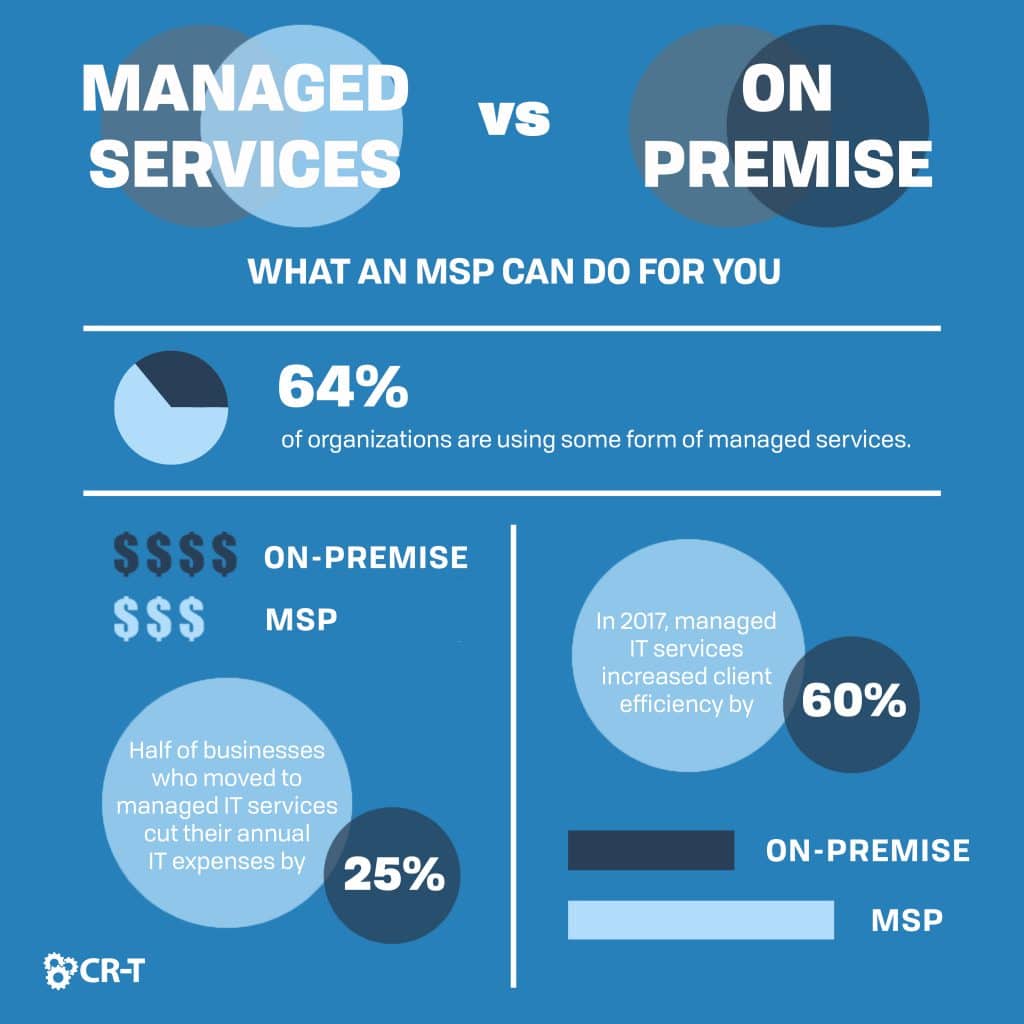 Your organization can't afford to neglect backup and disaster recovery. If it takes your business too long to get back online after a disaster, you
Read More »