You've probably heard of a Managed Service Provider (MSP). But what do MSPs actually do? And can they really benefit your business? Like other forms of IT support, there can be a lot of misconceptions when it comes to managed services. And these MSP myths might be holding you back from making a choice that could really benefit your business.
Not all MSPs are created equal. But there dozens of managed service providers who are equipped to help you strengthen your business's security and improve your overall efficiency.
In this article, we'll debunk some of the most common MSP myths so you can feel confident about choosing the right MSP for your business.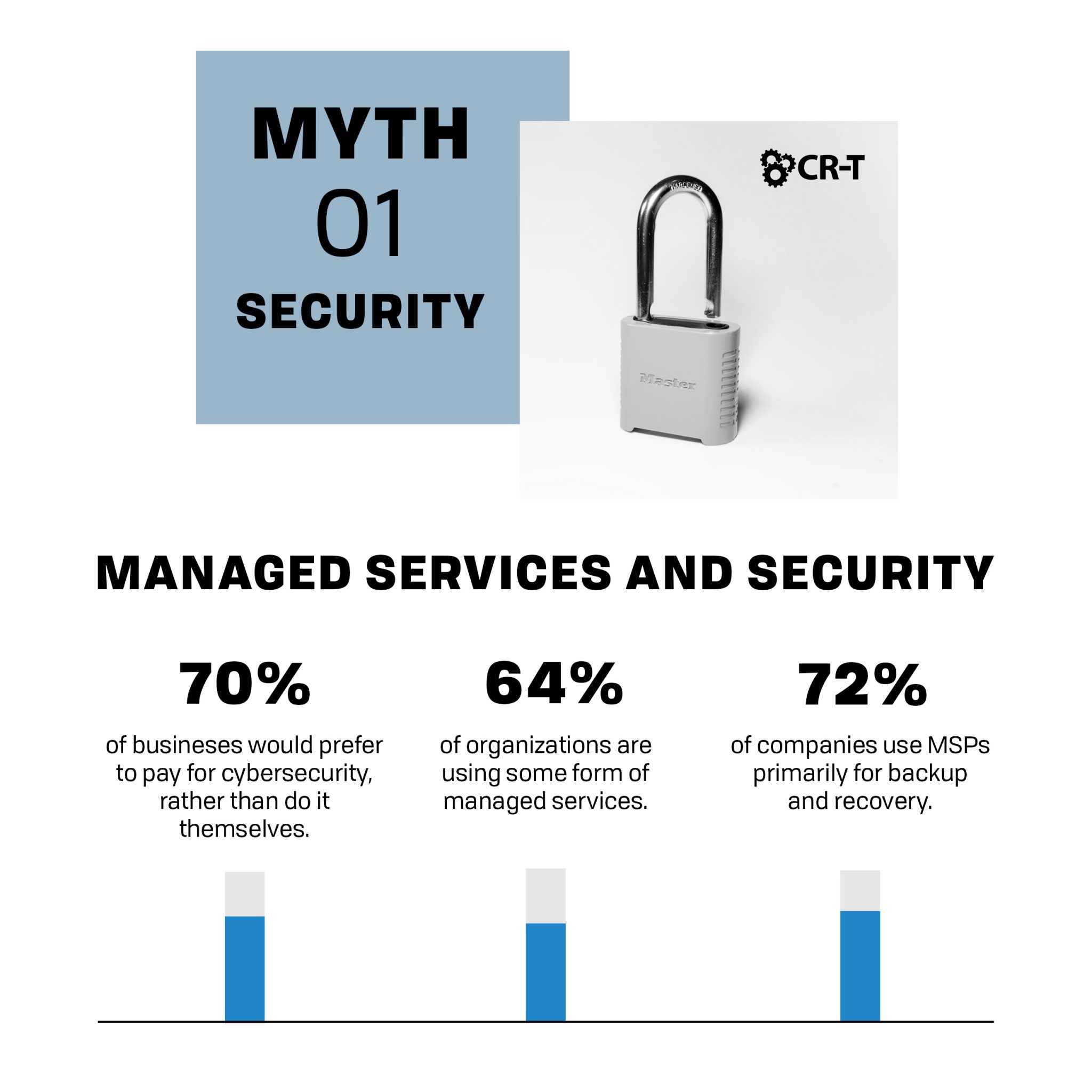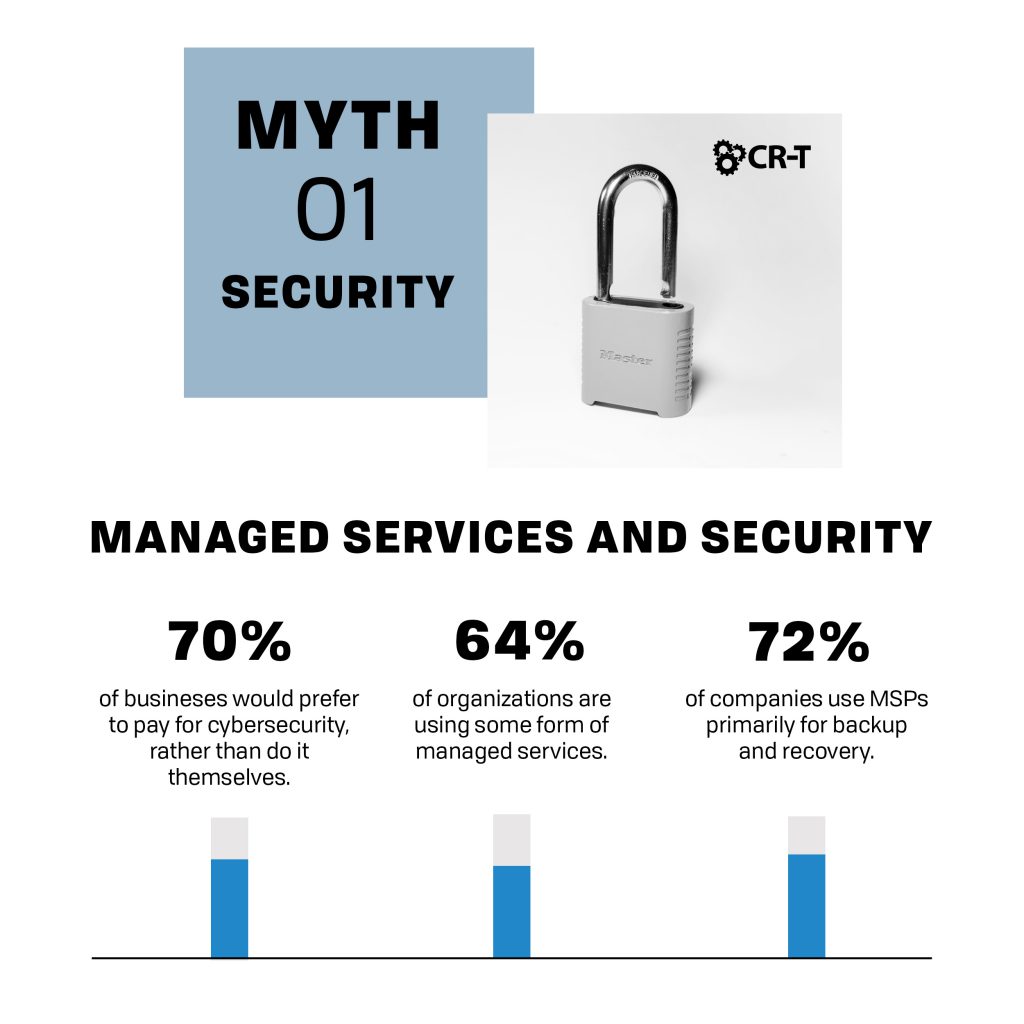 MSP Myth #1: Partnering with an MSP will put Your Company's Data at Risk.
Security is often on the forefront of your mind. You want to make sure your data is secure and that only trusted individuals have access to your technology.
However, after switching to an MSP, you don't face any greater risk than you would with your current security system or cloud service provider.
In fact, an MSP offers more protection for your data than most other options. MSPs provide 24/7 monitoring, meaning that they will notice a security issue as soon as it arises.
In addition, MSPs offer a variety of security services, including:
Managed Firewalls
Managed Intrusion Detection Systems (IDS) and Intrusion Prevention Systems (IPS)
Internet of Things (IoT) Cybersecurity
Security Operation Center (SOC) as a Service
Advanced Endpoint Threat Detection (AETD) and Prevention (AETP)
Backup Disaster & Recovery (BDR)
After choosing an MSP, you will work together with a team of engineers to create a security plan for your business. You will have complete control the entire time, while still enjoying the security benefits an MSP has to offer.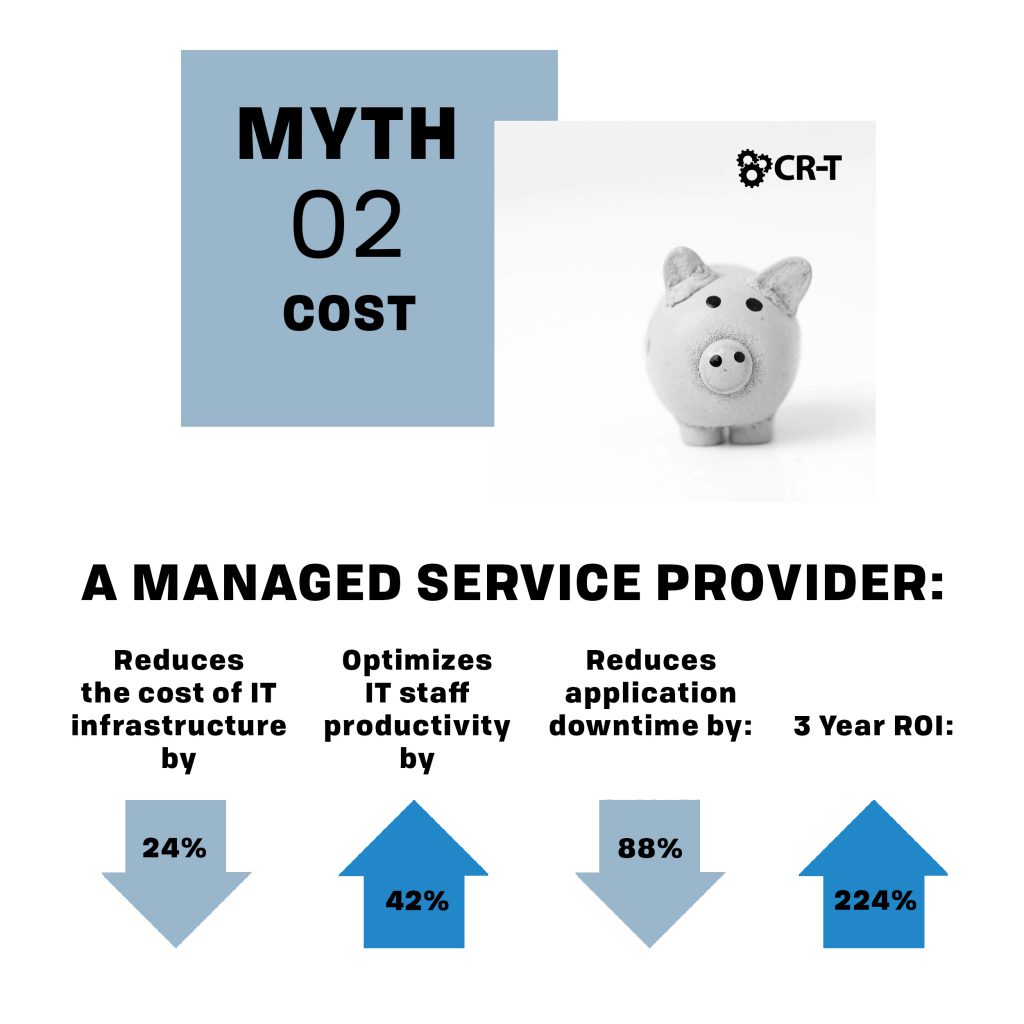 MSP Myth #2: You'll Spend More on an MSP than You Would Using In-House Resources.
Cost is another factor when it comes to IT. Wouldn't hiring a separate organization cost more than handling your IT needs on-site?
While partnering with an MSP might seem expensive, there are options that work with a variety of budgets. Countless studies and surveys have shown that an MSP can actually help you save money.
Instead of paying for the salaries and benefits for your whole IT department, you only have to pay a single cost to access the knowledge and resources of an MSP. You'll have access to an entire team of experts that can help you get better deals on things like hardware, cloud services, and cybersecurity.
In addition to saving money on your team, you'll also save on the cyber attacks an MSP will help you avoid. According to Hiscox, cyber attacks cost small businesses $200,000, on average.
You can save a lot of money in the long run by having a team of cybersecurity experts as part of your task force.
MSP Myth #3: An MSP will Hurt Your Business's Agility.
In addition to cost and security, you want to make sure your business will still be able to perform to its full capacity once you team up with an MSP.
MSPs are experts of evolving technology, which means they stay up-to-date on the latest trends. Partnering with an MSP will help you ensure that your business remains informed and current when it comes to technology.
Another of your worries might be that an MSP will slow your business down when you encounter new IT needs. On the contrary, MSPs are equipped to assist you at any time of day.
MSPs also make it easy for you to scale your services up or down if you find that you have a temporary increase in IT needs.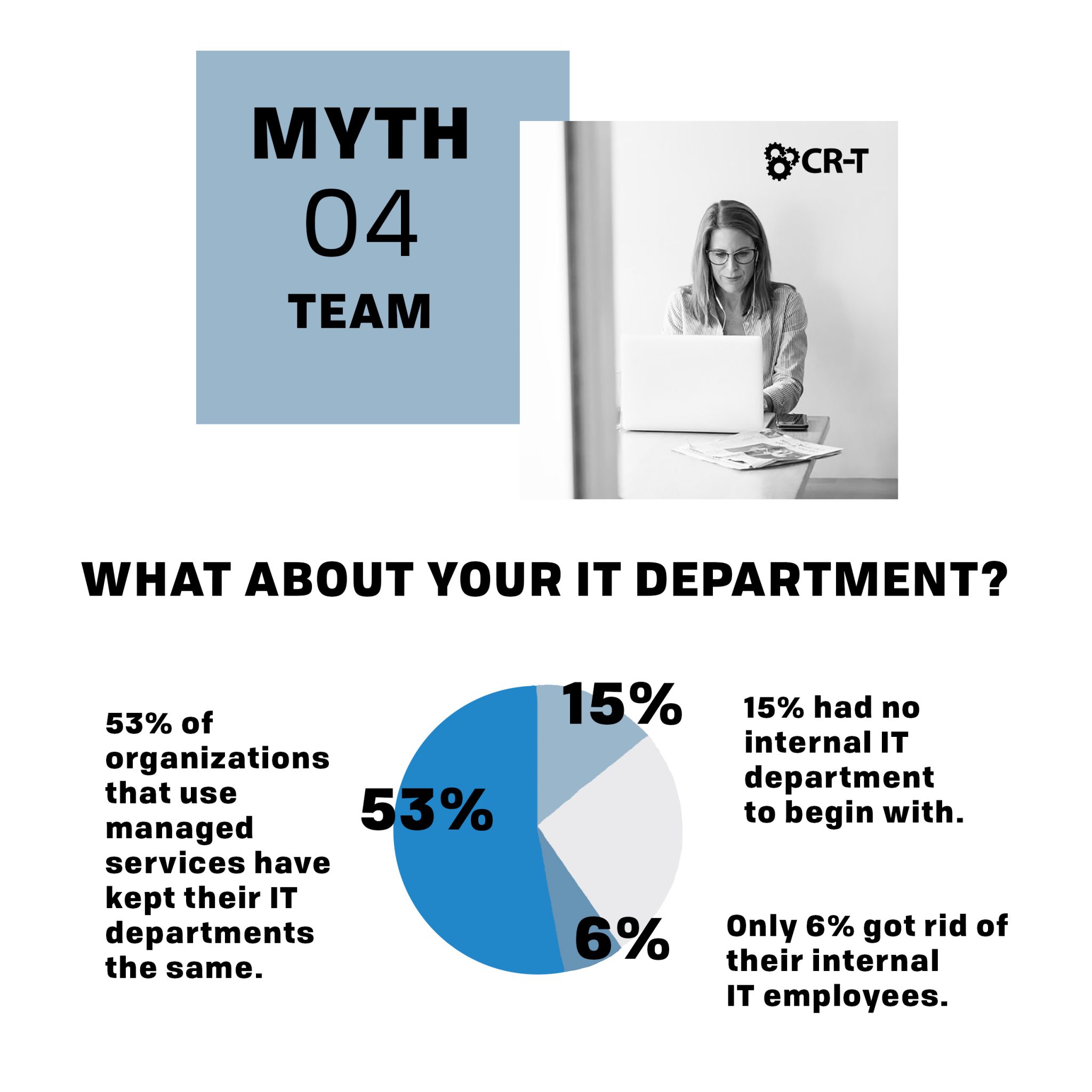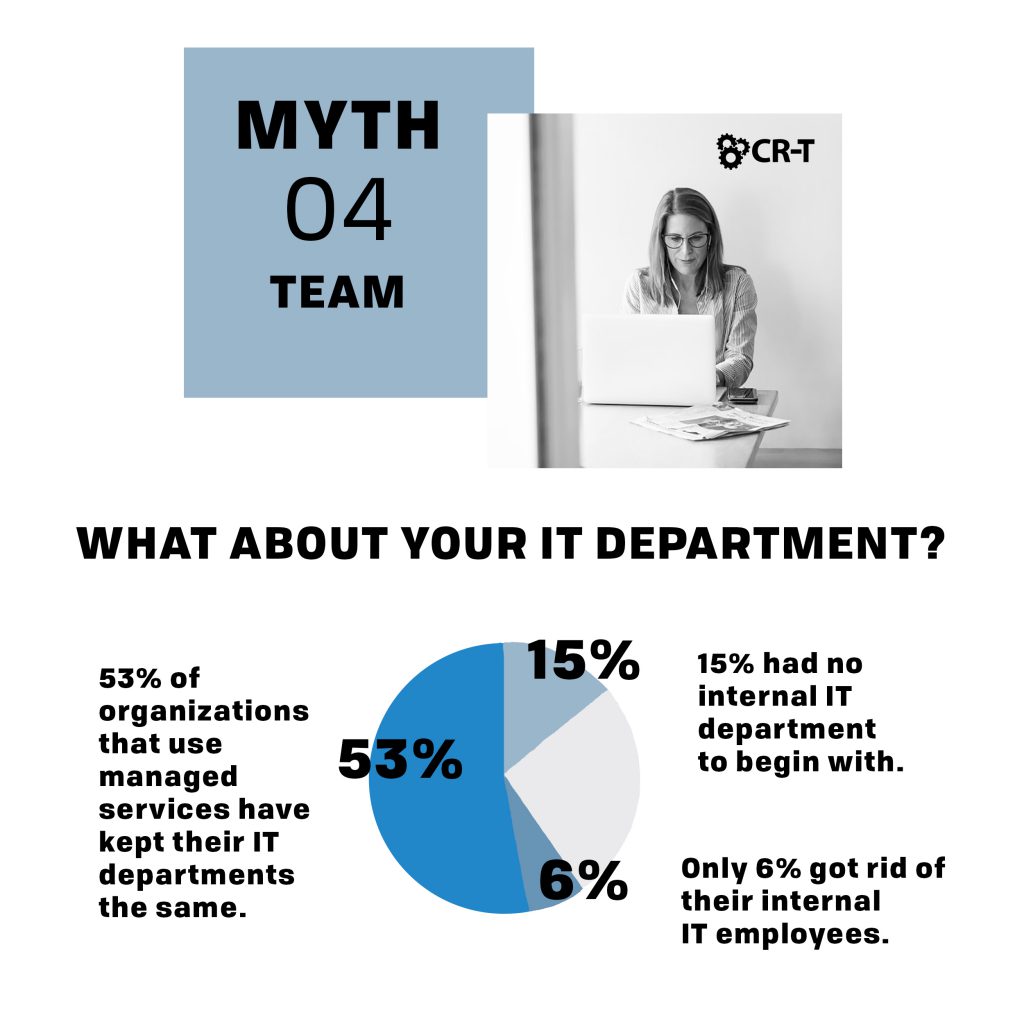 MSP Myth #4: An MSP will Replace Your IT Department.
But what about your IT department? Will they still have jobs?
The answer is: yes!
The purpose of an MSP is to provide access to specialized technicians that can be difficult to recruit elsewhere. These technicians work closely with your IT department to streamline process and keep everything running smoothly.
Due to their centralized nature, an MSP is a great option for virtually any business, whether you're looking to supplement your current IT department or start from scratch. In fact, most businesses continue to utilize their internal IT team, even after partnering with an MSP.
CompITA found that 53% of organizations using managed IT services have kept their internal IT department virtually the same. 15% of organizations didn't have an IT department to begin with, and only 6% dissolved their internal IT department after choosing an MSP.
A managed service provider frees up employee time to focus on other tasks specifically related to your business. This makes it easier for your IT department to focus on what they do best—serving your business and its clients!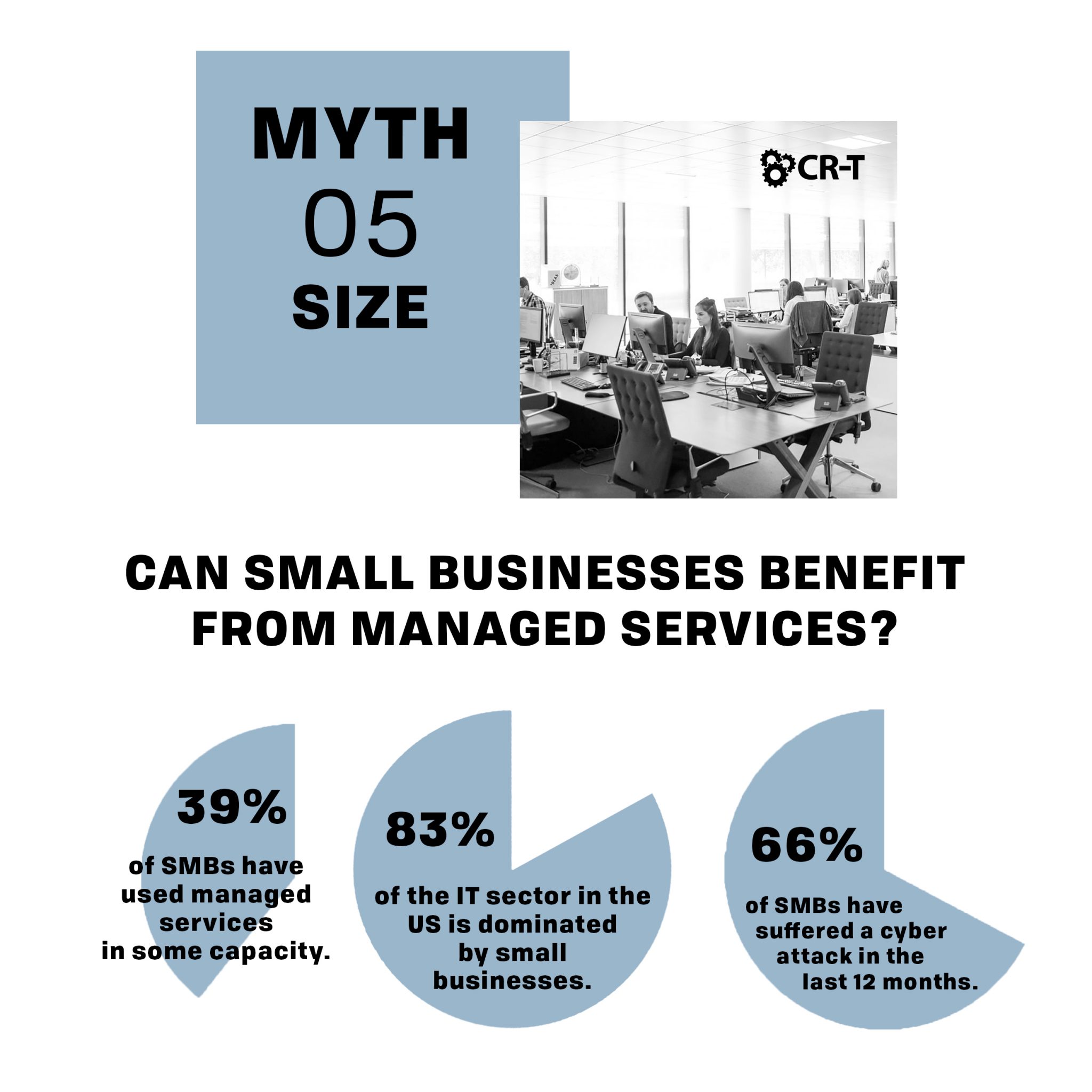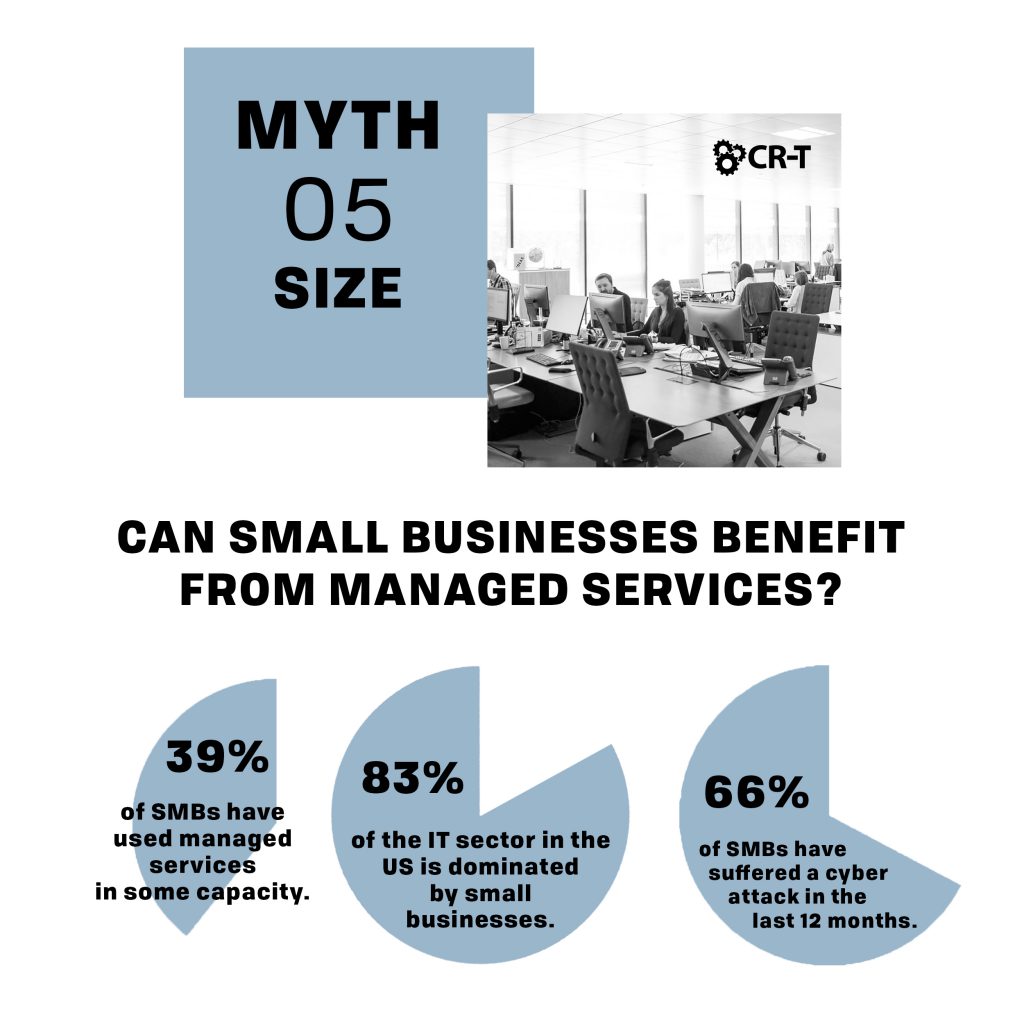 MSP Myth #5: Small Businesses Don't Benefit From MSPs.
Hiring a separate organization like a managed service provider can seem daunting to small businesses. Some businesses even feel that an MSP can't benefit them because of their size.
MSPs are a great option for large organizations who want to supplement their current IT department, but MSPs can benefit small and medium-sized businesses as well.
Many smaller organizations can't afford to hire their own IT team, so an MSP becomes a great second option. MSPs also provide SMBs with information and resources that they couldn't find elsewhere.
According to Sherweb, 39% of SMBs have used managed services in some capacity. Learn how managed IT services can support your business.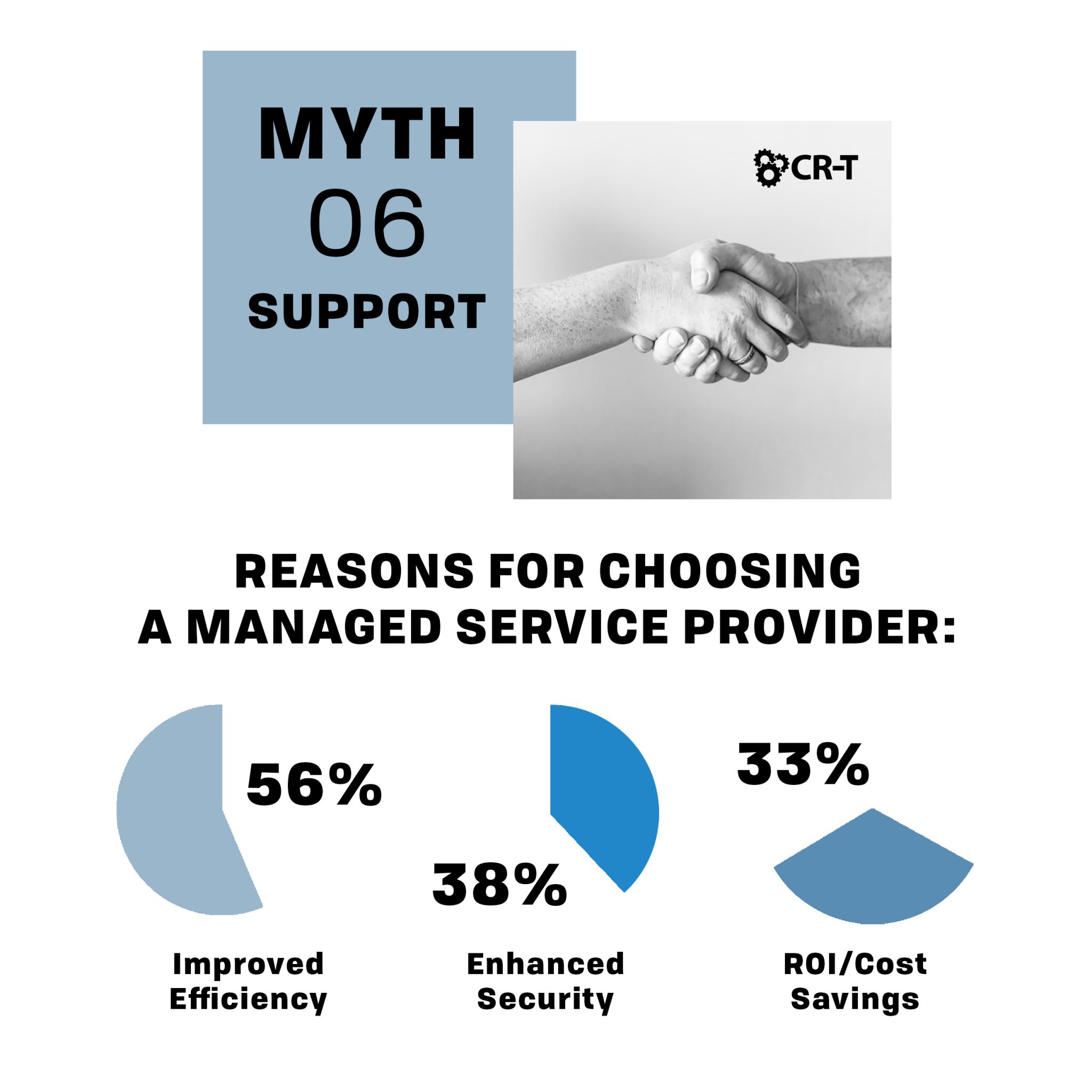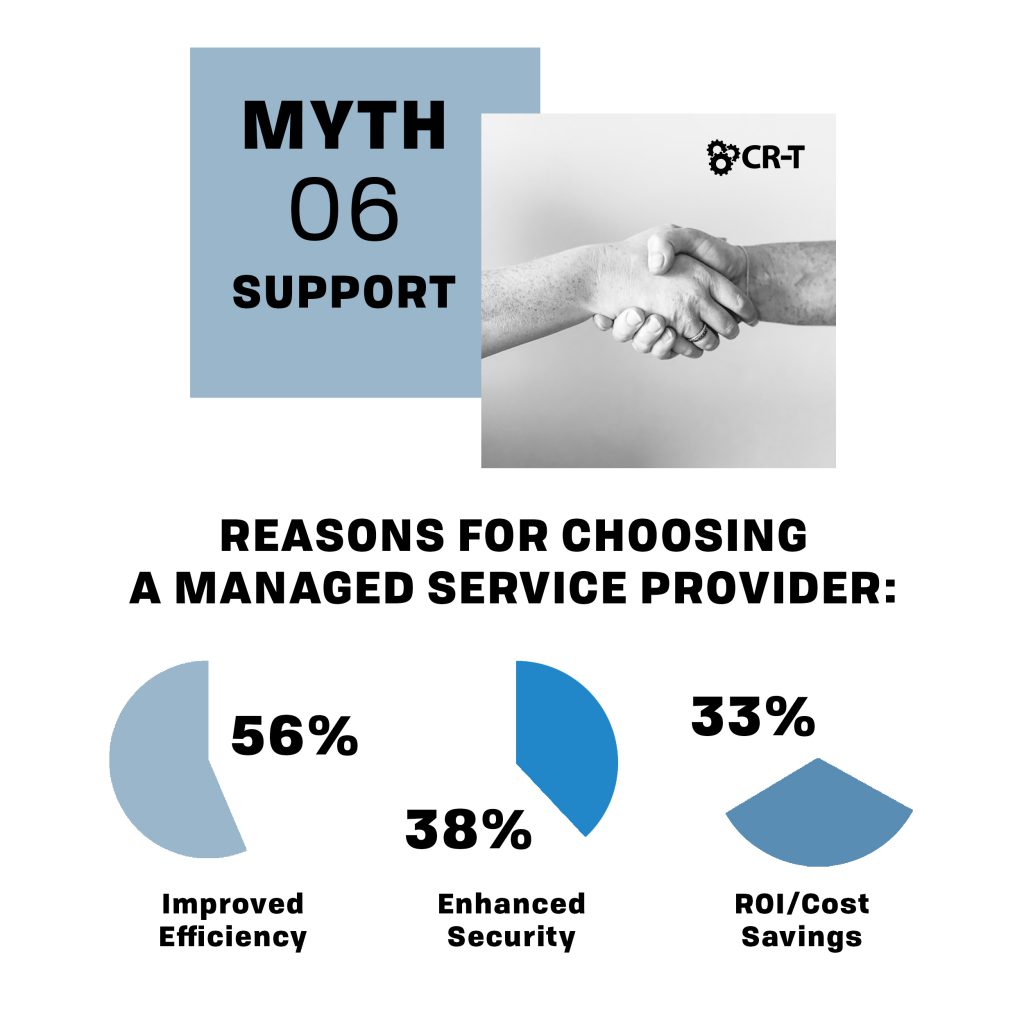 MSP Myth #6: MSPs are Only Useful for Backup and Cybersecurity.
While MSPs are best known for managing cybersecurity, managed services can help you succeed in a variety of fields, like networking, application management, and support services.
Last year, a number of IT directors shared their reasons for hiring an MSP. Over half of them wanted to improve their company's efficiency, 38% wanted enhanced security, and 33% were looking to reduce costs (Continuum).
Ultimately, the purpose of an MSP is to free up your time so that you can focus on core aspects of your business. You gain high-quality, consistent IT support, while allowing your business to run more efficiently.
An Effective MSP Will Help You Take Your Business to the Next Level
Every business needs technology. In an increasingly competitive world, it's more important than ever to make sure you have the resources you need to be successful.
When you join with a managed service provider, you gain access to a team of highly trained professionals at a lower cost than you could find elsewhere. You also have the advantages of greater security, scalability, and support.
You deserve the best technology and support for your business. Learn what an MSP can do to take you to the next level.
Here at CR-T, we take pride in providing enterprise-level IT services at prices that work for small businesses. Our team of experts can become your IT support department, responding to issues quickly, often before you even know about them. Covering everything from your servers and network infrastructure to your computers, workstations and mobile devices, we provide end-to-end solutions for all your technology needs.
Time and experience have helped us develop best practices and workflow procedures designed to keep your focus on your business, not your technology.
Your organization can't afford to neglect backup and disaster recovery. If it takes your business too long to get back online after a disaster, you
Read More »