You might have been hesitant to embrace managed IT services in the past, but it's never been a better time to partner with a managed service provider. With everyone still feeling the effects of COVID-19, managed IT services could be just the thing you need to springboard your business into recovery mode.
The Effects of COVID-19 on the IT World
The health and economic impacts of COVID-19 are hard to ignore.
And individuals aren't the only ones suffering. Many businesses have faced devastating losses as a result of the virus.
Employees are going remote, companies are forced to downsize, and organizations are putting their technology to the test.
But even before COVID-19, we've been seeing a shift in traditional business models.
Management teams are prioritizing cost reduction as they seek to leverage new technologies and increase efficiency.
Compliance is becoming more complex and costly, with constantly-changing regulations.
Staying ahead of the competition is harder than ever, often requiring deeper insights, analytics, and digital tools.
When the virus initially caused businesses to close and employees to work remotely. The immediate focus was the safety of both employees and customers.
As the crisis mounted, however, executives and employees were forced to spend most of their time keeping the business afloat. This prevented them from having time to focus on key strategies and decisions that would come into play during the recovery period.
Other organizations began to pay attention to the inadequacies of current technology solutions. Many were using outdated systems that were unable to support remote working or meet customers' needs.
As businesses prepare to reopen and move into the next phases of recovery, they face a need to find new solutions that can effectively address these problems.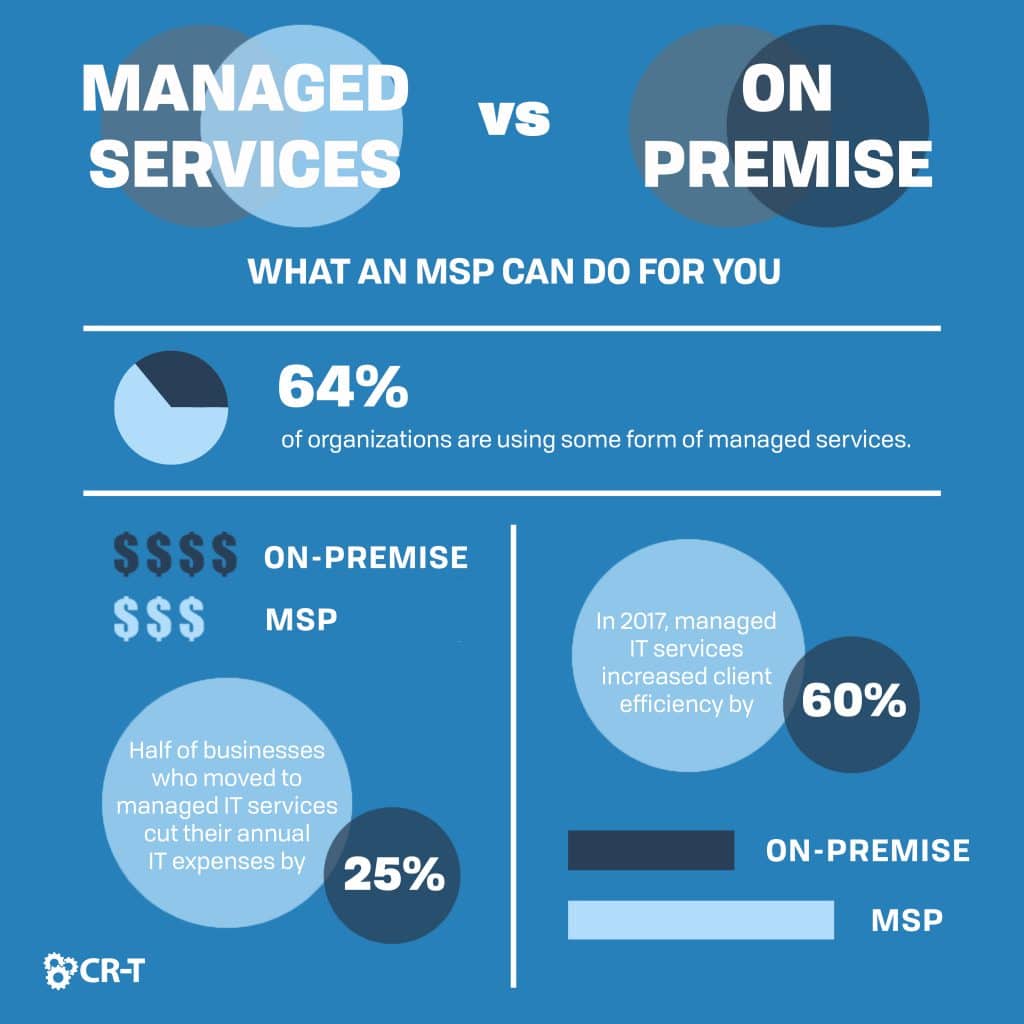 The Role of Managed IT Services
The shortcomings addressed above make it clear that going back to "normal" isn't an option. Instead, surviving in a post-pandemic world will require a total business transformation.
But this isn't about simply implementing new technology or updating business processes. It's about reimagining the entire business model.
For many organizations, this transformation will involve a shift to managed IT services.
Not only can managed IT services promote greater efficiency and reduced spending, but it can also revolutionize the entire framework of your business.
Here are just a few benefits made possible by managed IT services:
Open Mindset.

IT services promote an open mindset for business leaders. While the managed services team handles technical functions, like hardware and cybersecurity, business executives are free to focus on innovation that will drive recovery.

Redefined Spending.

Shifting major functions like tax, finance, risk, and compliance to managed IT services will help you avoid upfront and fixed costs. Managed services will grant you immediate cost savings, while making key functions more efficient and effective.

Fueled Innovation.

Managed services enable you to make faster, better decisions that fuel your company's innovation. IT services come with

industry expertise

that can help guide your business strategies.

Enhanced Agility.

If COVID-19 has taught us anything, it's that businesses need to be able to adapt quickly to change. Managed service providers can identify and solve issues promptly, all without interrupting your day-to-day business operations.

Rebuilding Confidence.

Now, more than ever, organizations must ensure that their systems are compliant and that their customers are taken care of. Managed service providers can help companies achieve and maintain compliance, while giving executives the confidence they need to move forward with new opportunities.

Digital Transformation.

As organizations adjust to include

new digital innovations

, it will be critical for them to have the necessary resources and expertise to progress with these solutions. IT services provide companies with access to technologies like AI, trusted intelligence, and automation.
Moving Forward with Managed IT Services
COVID-19 might have changed the way you do business, but it's also provided you with an opportunity.
Making the switch to managed IT services is a faster, more effective route to transforming your business—not to mention the tools, talent, and insights that you'll have access to.
So what are you waiting for? It's never been a better time for your company to embrace managed IT services.
Here at CR-T, we take pride in providing enterprise-level IT services at prices that work for small businesses. Our team of experts can become your IT support department, responding to issues quickly, often before you even know about them. Covering everything from your servers and network infrastructure to your computers, workstations and mobile devices, we provide end-to-end solutions for all your technology needs.
Time and experience have helped us develop best practices and workflow procedures designed to keep your focus on your business, not your technology.