Over the last few months, COVID-19 has completely changed the working world. Many employees find themselves working from home and using video conferencing, softphones, and other forms of technology to communicate with coworkers and clients. But did you know that the first major video conferencing platform was developed by an IT department?
In many organizations, the IT department can feel like a cost center rather than a profit center. But around the world, dozens of IT departments are making their businesses more profitable and even transforming the kinds of technology we use in the workplace.
Let's talk about some past successes that have led the IT department to become the hero.
The IT Department and the Birth of Skype
Before the age of video chats, people relied heavily on phone calls, emails, and texts in order to communicate with coworkers.
But in 2002, European entrepreneurs Niklas Zennström and Janus Friis began looking for a more efficient way to communicate in the workplace. Texts and emails at their company were getting out of hand, so they began developing what they believed to be a better collaboration tool.
The pair already had experience in the world of IT, having founded a file sharing application called Kazaa Media Desktop the year before. They worked closely with their IT department to develop a solution that would combine the convenience of phone calls with the visual elements of video.
Estonian developers Ahti Heinla, Priit Kasesalu and Jaan Tallinn wrote the code for the new program, and it was ready to launch by 2003.
The company's name began as "Sky-Peer-to-Peer," which was shortened to Skyper, and then later to Skype.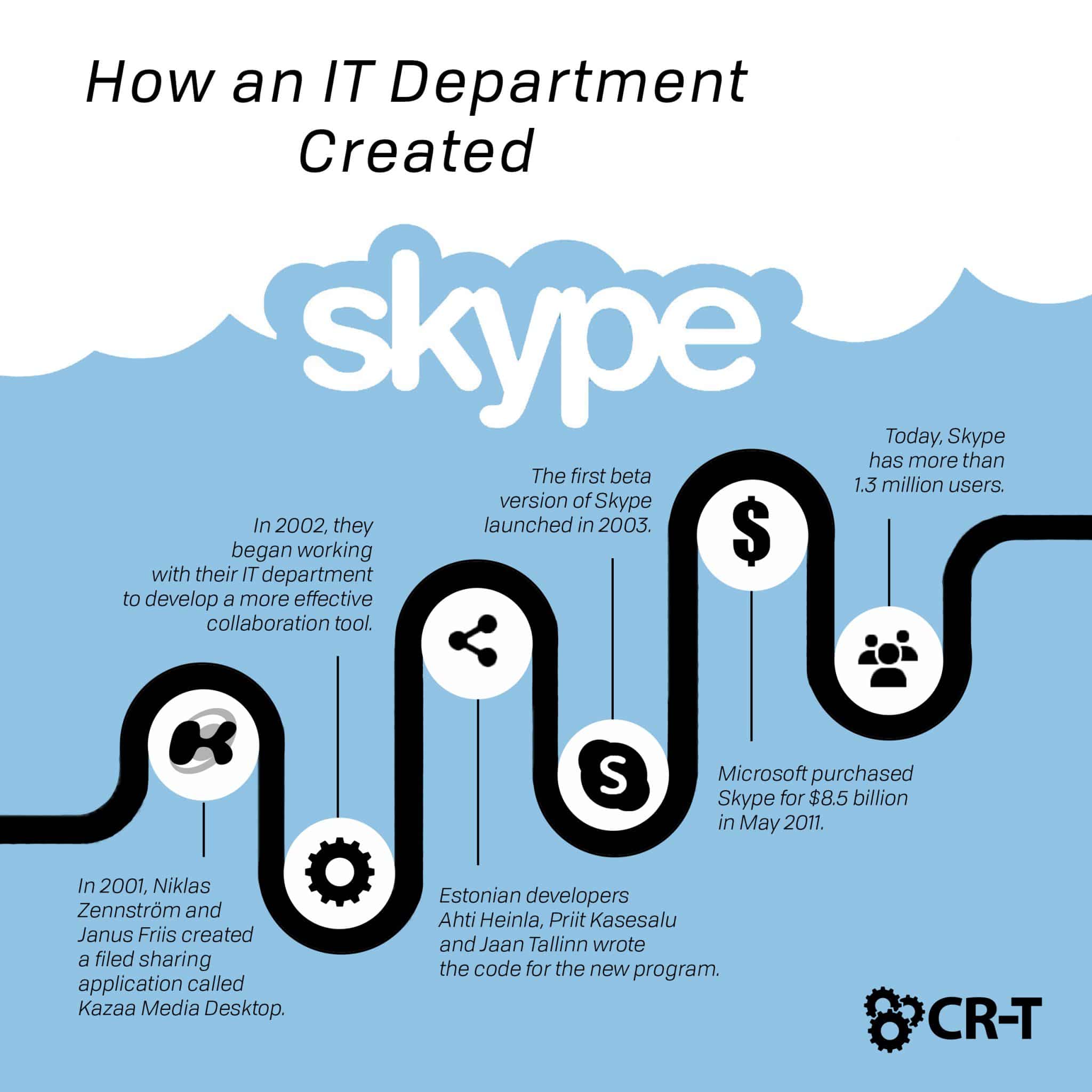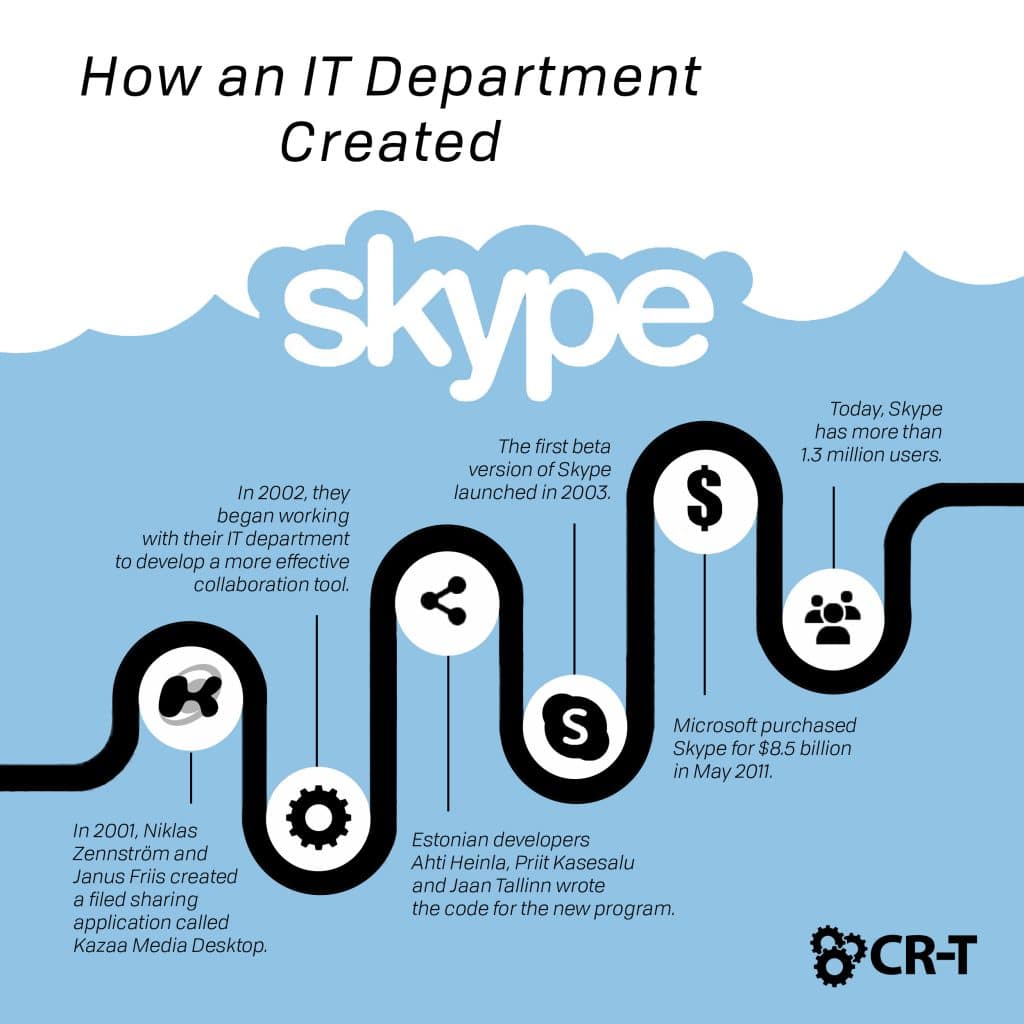 Modern Video Conferencing
In 2005, eBay purchased Skype for $2.6 billion. And just a decade ago, Skype (and its growing user base) was acquired by Microsoft for almost $9 billion.
One of Skype's most revolutionary features is its free-of-charge numbers. Voice over IP (VoIP) systems allow for free calls between any two Skype-linked computers. But even calling other phone lines in the USA only costs a few dollars per month.
In 2006, Skype added video conferencing options, making face-to-face communication easier than ever before.
Today, video conferencing is a regular component of many office meetings, especially for employees working remotely or traveling to other parts of the world.
Over the last decade, other popular video conferencing tools have joined the world of communication, including Zoom, Google Hangouts, and Facetime.
How an IT Department Created an Entire Tech Company
Although Skype was developed by a European company, American IT departments are making great strides as well.
Just a few years ago, Liberty Mutual created an entire tech company with the help of its IT department. It all started with an internal workforce platform called myHub, which made it easier for employees to perform administrative tasks.
Over time, the platform evolved and eventually became its own company, Workgrid Software, LLC.
The Power of the IT Department
Dozens of examples illustrate how an individual IT department can revolutionize the tech industry. Through problem solving and innovation, IT changes the way businesses operate around the world.
What about your organization? How can your IT department contribute to improve the efficiency and growth of your business?
By recognizing the value of IT, you can harness the wealth of knowledge and innovation that your IT department has to offer.
Here at CR-T, we take pride in providing enterprise-level IT services at prices that work for small businesses. Our team of experts can become your IT support department, responding to issues quickly, often before you even know about them. Covering everything from your servers and network infrastructure to your computers, workstations and mobile devices, we provide end-to-end solutions for all your technology needs.
Time and experience have helped us develop best practices and workflow procedures designed to keep your focus on your business, not your technology.