TrueHelp Proactive Maintenance Plan
Reduce downtime, increase profitability, and make your technology work for you.
TrueHelp is dedicated to keeping your technology investment up and running smoothly so you can focus on your business. You can relax knowing our partnership with your organization means we take your IT support personally, and strive to keep your staff productive with the tools they need to drive your business forward.
Change the way you think about IT with TrueHelp.
Think of us as your IT Support Department. We strategically… optimize and protect your infrastructure while performing day-to-day maintenance that keeps your users from experiencing downtime.
24x7x365 Proactive Monitoring and Maintenance
Detect and stop IT issues before they affect your bottom line.
CR-T's Managed Services are built to cover all your IT support needs; including employee workstations, servers, and other devices on your network that are necessary for your organization's efficiency. By performing regular maintenance and monitoring your systems 24x7x365, we can drastically reduce the amount of downtime your staff experiences.
Our team is always looking out for your business and will help you meet your IT needs as you grow. Our proactive maintenance can keep your IT investments running smoothly and experienced support staff can assist your users with any technology related issues.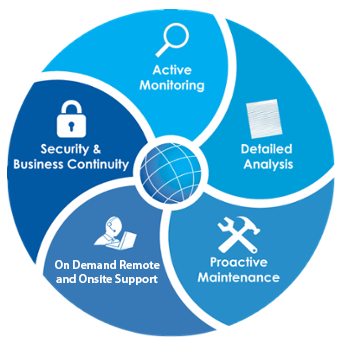 The Benefits of Flat-Rate IT
Budget your IT expenses
Imagine being able to finally budget your IT expenses. Issues will get resolved so much quicker and with greater efficiency if your entire staff can call for support without increasing your monthly IT expenses.
"With Truehelp, you and your staff can focus entirely on important business issues that need your attention, instead of using much needed resources to fix IT related challenges."
Already Have an IT Department?
Benefit from TrueHelp's flexibility
Do you already have an internal IT support department or a technical guru on-site that handles most of your day-to-day IT issues? TrueHelp isn't out to replace them, but has instead developed a strategic partnership tailored to meet the needs of internal IT departments. We offer an enterprise suite of tools that includes remote network monitoring and management, anti-virus, log-me-in pro, as well as a hosted help-desk solution if needed. We help you automate routine IT functions such as patch management, backups, and more.
Internal IT departments are often asked to carry huge workloads with limited resources. TruHelp is the perfect solution for lightening their workload to ensure the rest of your company continues to function seamlessly.