Cloud computing comes with a variety of benefits. With the cloud, you can operate servers, access software, and store data at lower costs and with greater flexibility. And people are taking advantage of these benefits more than ever before. Gartner predicts that the public cloud revenue will reach $214 billion by the end of 2019. Regardless of your company's size and needs, you can take your business to the next level by migrating to the cloud.
There are many reasons for your business to switch to the cloud. In this article, we will dive in to why Microsoft Azure is one of the leading cloud providers in the world. In fact, 80% of fortune 500 companies are currently using Microsoft Azure.
Microsoft Azure can also provide effective services for SMBs. As of 2015, 40% of Microsoft Azure revenue came from startups and Independent Software Vendors (ISVs).
Reduce Costs With Microsoft Azure Cloud Solution
The major selling point for many cloud service providers is cost savings. In a recent survey conducted by 451 Research, nearly 40% of participants revealed that their top motivating factor for moving to the cloud was lower costs.
But how much money can you actually save?
The average cost of a business-grade server can be anywhere from $700 to $2,000. You can expect such a server to last about 5 years.
Cloud servers range from $30 to $200 per month—depending on your business's needs—so the monthly cost averages out to be about the same as the initial cost of a server. However, physical servers require maintenance, which costs an average of $732 per year, according to ZDNet.
After comparing server costs, it's clear that you can save hundreds of dollars every year by switching to the cloud. And cloud platforms like Microsoft Azure come with added benefits, like automatic backups and increased security.
On Premise Server Depreciation
In addition to server maintenance, a physical server's functionality will depreciate over time. This means that you will ultimately be paying extra money for technology that becomes more outdated every year.
This has happened many times in the past. Recently, Microsoft announced that they are ending support for many servers, like Microsoft 2008 SQL servers and Microsoft 2008 servers. They will no longer provide support for these servers or offer patch updates. Many companies are taking advantage of the opportunity to switch to cloud due to that announcement. 
I asked our Cloud Migration Executive, Greg Page, about his professional observation on helping many companies migrate to the cloud. He stated, "By switching to the cloud, I've seen many companies avoid the extra costs associated with maintaining an on-premise server, while also enjoying the benefits of constant up-to-date, fast-moving technology".
Migrating to the cloud eliminates the capital expenses you would pay for physical equipment. Microsoft Azure offers a variety of payment options so that you can select a plan that works best for you. You can choose a pay-as-you-go model, or you can create a permanent reserve.
With a variety of options to choose from, you can optimize your server and storage needs so that you only pay for what you use. You are already accustomed to this model, since it is the same easy model that utility companies use.
Microsoft Azure Cloud Offers a Variety of Options
By moving to the cloud, you can gain access to a variety of online services. Infrastructure as a service (IaaS) provides pre-configured hardware via an online interface or hypervisor.
Platform as a service (PaaS) takes it a step further and includes operating and application services. Software as a service (SaaS) offers applications with more specific services, like email management, billing, and collaboration.
The most flexible cloud computing model of the three, IaaS is an outsourced computer infrastructure managed over the internet. With IaaS, the outsourced company will house, operate, and maintain equipment for the client. This makes it a very cost-effective option for SMBs.
435% Return on Your Investment
Microsoft Azure promises a 435% return on your investment over a period of five years. You can pay in advance for more predictable workloads and then adopt a pay-as-you-go method. This way, you never have to pay for more than what you need.
IaaS offers a wide variety of capabilities, including:
High-performance computing
Storage
Backup and recovery
Running websites at a lower cost
Easily testing and developing applications.
You can also use IaaS to launch new initiatives quickly, without having to deal with equipment problems.
​Like IaaS, PaaS is outsourced on the web. But PaaS is used specifically for developing customized, cloud-based applications. With PaaS, companies can develop, run, and manage applications, without the need to build their own infrastructure.
PaaS gives companies more time to focus on applications, instead of having to manage a platform. PaaS can also be used on multiple platforms, allowing for simpler project collaboration. MS Azure offers a pay as you go model, making PaaS more affordable for SMBs.
SaaS is basically web-based software, allowing you to easily access cloud application services at a low cost. SaaS allows multiple users to access the same software, while still protecting the privacy of each individual user.
You can use SaaS to manage software from a central location, deliver software to third-party services, and take advantage of analytics tools. These tools include marketing attribution, product and user behavior, and revenue analysis.
Microsoft Azure Cloud Services Come With Increased Flexibility and Scalability
Another reason to transfer to the cloud is its great degree of flexibility and scalability. This makes it easy for IT managers and directors to be business-minded and bottom-line focused. 
The cloud is easy to use, and you can find secure options that offer quick upload speeds so you avoid wasting time. 
The cloud also offers automatic updates, making it easy to stay up-to-date on the latest technology. Cloud computing gives you the ability to access files from multiple devices, including mobile devices.
One of the greatest benefits the cloud offers is the option to easily upscale or downscale as your business changes. Business Insider reveals that 80% of in-house data centers have more server capacity than they need. With the cloud, you don't have to worry about any storage going unused. 
As your business's needs change, you can update your cloud subscription to maximize your storage space and avoid wasted resources. Some businesses experience peak seasons, during which greater storage is necessary. In this situation, install scheduled scaling to reflect your needs, according to the time of year.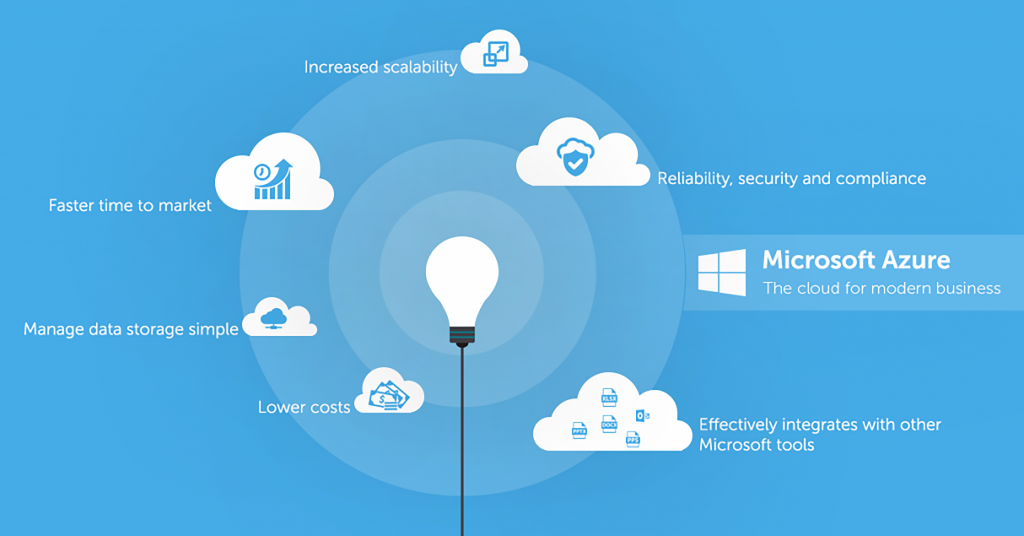 Cloud Security Options To Bolster Microsoft Azure
A 2018 Cloud Security Report revealed that 9 out of 10 cybersecurity professionals reported having concerns about cloud security. The three biggest challenges were protection against data loss (67%), privacy threats (61%), and confidentiality violations (53%). However, Gartner found that at least 95% of cloud security failures are the user's fault, not the cloud provider.
While cloud providers should be expected to offer a sufficient amount of security–and they do–it is not the provider's sole responsibility to protect you from threats.  It is important for you to take the necessary steps in order to mitigate risks and protect your data.
Minimize Your Risk while on Microsoft Azure
It is impossible to completely eliminate online threats, but you can minimize the risk by adopting smart practices. Protect your information online by encrypting your data, limiting your network access, implementing two-factor authentication, and using trusted software.
Among the various cloud security options, data encryption ranked most effective at 64%. It was followed by network encryption (54%), security information, event management (52%), and trained cloud security professionals (51%).
By using the cloud appropriately, you can have peace of mind in knowing that your data is secure. Adding extra security measures will also help you to respond to unexpected events. This way, security problems don't negatively affect the function of your business.
We often put added security measures in place for our clients. These security measures include:
Cloud Access Security Brokers (CASB)
Network Access Control (NAC) solutions
Security Information Event Management (SIEM)
Security Operation Centers (SOC)
Improved Cloud Storage, Backup, and Disaster Recovery
Take advantage of the many storage options that the Microsoft Azure cloud has to offer. IDC predicts that the world's data will reach 175 zettabytes (nearly 1 billion terabytes) by 2025. The amount of data in the cloud is rapidly surpassing that of data centers. 
Not only can you eliminate the need for physical storage in your office or on your hard drive. You can also customize your storage options to get just the amount you need. Microsoft Azure offers storage capacity options from 4 GB to 64 TB, according to your needs.
Cloud disaster recovery is cheaper and faster than most physical backup options. The virtualized nature of the cloud makes it easy to duplicate files and servers in case the originals fail. 
Cloud disaster recovery is also more flexible than traditional methods. This allows you to easily customize a plan that reflects your priorities. IT Support companies like ourselves can help guide you through the process, since we do this on a daily basis with new and current clients.
Knowing Which Cloud Provider to Choose
Migrating to the cloud is a big step, and the right cloud provider can make the process a lot easier and less stressful for you. Choose a cloud service provider that offers you the flexibility and customization you need, while still maintaining a high level of security. 
Microsoft Azure is committed to providing you with a cloud experience that optimizes your productivity and security, while giving you the consistency you need to achieve your goals. 
With three big cloud players on the "cloud field," it is crucial to know how your business will fare with each one. We can help with that since we support all three providers for our clients (AWS, Microsoft Azure, and Google Cloud).
Here at CR-T, we take pride in providing enterprise-level IT services at prices that work for small businesses. Our team of experts can become your IT support department, responding to issues quickly, often before you even know about them.  Covering everything from your servers and network infrastructure, to your computers, workstations and mobile devices, we provide end-to-end solutions for all your technology needs.
Time and experience have helped us develop best practices and workflow procedures designed to keep your focus on your business, not your technology.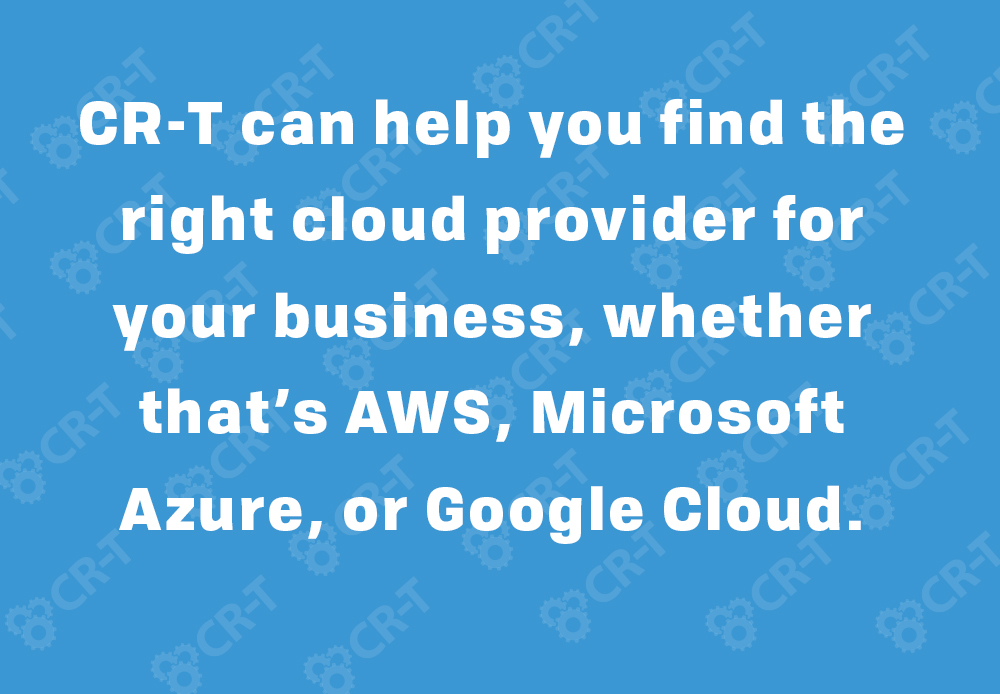 Your organization can't afford to neglect backup and disaster recovery. If it takes your business too long to get back online after a disaster, you
Read More »