It's no secret that more businesses are migrating to the cloud every year. When deciding whether to make the switch, it's important to understand the big picture. How efficient do you want your IT experience to be. To help you make an informed decision, we put together a list of the major pros and cons of moving to the cloud.
By the end of 2020, 67% of enterprise infrastructure will be cloud-based (Tech Jury). The cloud is a great option for many businesses because they can rely on a cloud service provider (CSP) to manage the infrastructure, allowing employees to focus on other tasks.  
In Spiceworks's 2019 State of IT survey, respondents shared their top reasons for switching to the cloud:  
42% valued remote data access

 

38% valued disaster recovery capabilities

 

36% valued reducing the burden of IT staff

 
Understanding the positives and negatives of the cloud can help you decide whether making the switch is right for you or not. 
So with all those stats over with… let's get into the real reason you are here. Let's see the pros and cons.
Pro: Greater Efficiency with the Cloud
One of the biggest benefits of migrating to the cloud is the opportunity to increase efficiency. And who hates efficiency? According to Trackvia, companies have increased productivity by up to 40% after switching to the cloud.
To make your job easier, using a CSP (Cloud Service Provider) allows you to essentially outsource your IT needs to a separate company. This gives you more time to focus on core business needs that help you grow.  
The cloud also allows you to implement workload monitoring, so you only use the resources you need, saving you time and money. You can resize your workload to meet requirements, minimize disruption, and increase visibility. With the cloud, you can streamline your operations, while developing a more organized workflow and providing better services for your clients.
Pro: The Cloud Provides Easy Accessibility
The cloud is accessible anywhere you have an Internet connection, making it easier than ever to access data from multiple devices and locations.  
This makes it easy to work from home, wink, wink! 
According to Trackvia, 36% of employees report that they would choose to work remotely over a pay raise. We found that to be an interesting stat. 
With the cloud, employees can experience greater flexibility by having the option to manage projects from multiple locations. 
Migrating to the cloud also allows for greater collaboration. A survey conducted by Frost & Sullivan revealed that utilizing collaboration technologies increased company productivity by 400%. And 64% of respondents from a Forbes survey felt that cloud-based collaboration tools improved their teams' ability to accomplish tasks faster and better. The cloud will become your central platform for employee communication, allowing for greater organization and efficiency. 
A great example of good project collaboration can be found in the Hollywood movies we enjoy. There are often 20 plus companies involved – each with their specific project that makes up the whole movie.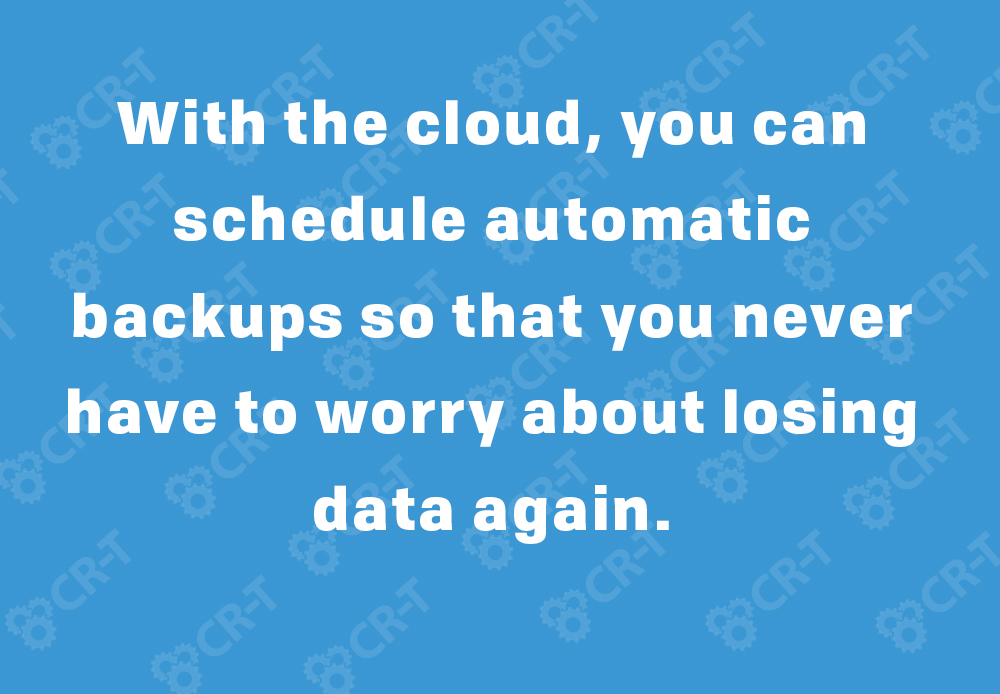 Pro: Centralized Data in the Cloud
Your company's data is one of its most valuable assets. With the cloud, you can store all of your data in one, centralized location. While users can access the information from multiple devices, you can ensure that data is protected when you store it in the cloud. 
One of the greatest benefits of migrating to the cloud is the ability to easily secure and back up your data. With the cloud, you can schedule automatic backups so that you never have to worry about losing data again. Backing up your data in the cloud will also improve your disaster recovery time. With your data always available, you can reduce and even eliminate downtime.
Pro: Flexibility and Scalability in the Cloud
Migrating to the cloud gives you the flexibility to adapt to market conditions and customize business goals to meet your needs. The cloud also offers a variety of storage options.
The public cloud is a cost-effective option to enjoy all the benefits the cloud has to offer, without having to manage anything yourself. For higher levels of security and control, you can also choose to invest in a private cloud. A hybrid cloud combines the benefits of the two. 
The cloud also makes for easier scalability for businesses. According to Business Insider, 80% of in-house data centers have more server capacity than they need. However, most cloud-based companies still pay for an average of 36% more cloud services than they need.
Optimizing your cloud storage will save you money and increase efficiency. Instead of paying for unnecessary services, you can easily upscale or downscale, depending on your needs. Scale on–demand to support varying workloads, without interrupting service. 
Interestingly, the cloud also offers a simple, pay-as-you-go model, making scalability easier than ever before. 
Pro: The Cloud is Based on Reliable Technology
When you migrate to the cloud, you will enjoy reliable technology that provides greater consistency for your business. As your company's organization improves, you will be able to provide your customers with reliable, high-quality service. You can optimize your workflow, solve customer issues more quickly, and develop a consistent framework for your business. 
Migrating to the cloud also means that Cloud Service Providers do the heavy lifting for you, so you don't have to worry about maintenance. The cloud makes it easy to test new applications, and regular updates keep your data secure and accessible.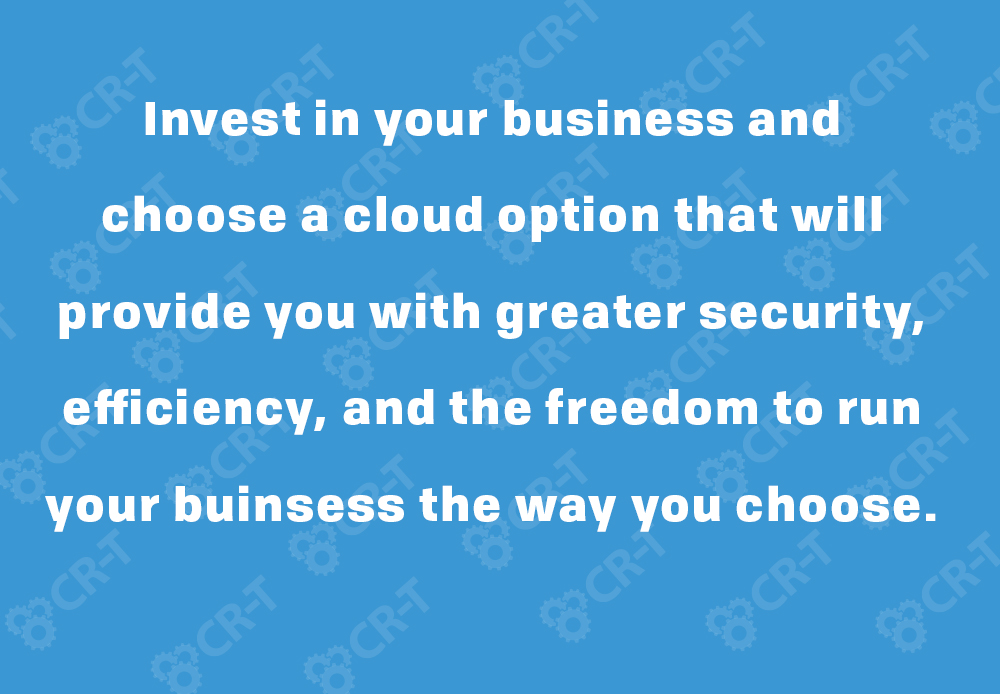 In many ways, migrating to the cloud can be more expensive than hosting your own server. LinkedIn performed a cost analysis and determined that the cloud can cost up to 20% more per month than hosting a single, on-premise server.
While it's true that the cloud requires lifetime, ongoing costs, hosting your own server can often lead to additional costs, like services, repairs, and additional equipment. Your equipment can also become outdated, causing you to lose your competitive edge. Even worse, it can open you up to security vulnerabilities. 
When you migrate to the cloud, you are ultimately paying a single fee, in exchange for a server, cloud storage, disaster recovery, and offsite management. Additionally, the cloud offers storage immortality and auto-scaling services, so you only pay for what you need. According to Multisoft, SMBs find third-party cloud platforms 40% more cost-effective than in-house systems.
When taking all these factors into account, it's easy to see that migrating to the cloud can lead to greater cost savings in the long run.
Con: Accessing the Cloud Requires High-Speed Internet
Another limitation of the cloud is that it requires high-speed internet and bandwidth. This means that anyone working remotely will need a network connection in order to access company data. Additionally, relying on the Internet can lead to possible downtime, slowing company operations. 
One of the best ways to avoid downtime is to implement a backup and disaster recovery plan. Most cloud services also come with dedicated connectivity, such as AWS Direct Connect, Azure ExpressRoute, and Google's Interconnect. This helps you avoid the need to connect to an insecure or unreliable network. It also allows you to customize the network to fit your needs.
Con: Limited Control in the Cloud
Many companies fear that moving to the cloud will limit their control of the infrastructure. When you switch to the cloud, you maintain control of your company's data and services. Your CSP partner will also assist, since the infrastructure control itself will stay with the service provider.
If you want to take advantage of all that the cloud has to offer, without forfeiting your control, find a cloud provider that operates as we do, like a partnership. Each CSP will function differently in terms of responsibilities and expectations. We recommend you find one that allows you to share control and management of the infrastructure. Make sure you understand the terms of your service level agreement (SLA) and how it will impact you and your customers.
Con: Cloud Vendor Lock-in Myth
Companies migrating to the cloud also fear vendor lock-in and the difficulty associated with moving between various platforms. Some companies avoid this challenge by using multi-cloud computing. This strategy relies on the use of multiple cloud computing services, thus allowing you to enjoy the benefits of multiple CSPs, while at the same time avoiding things like downtime and vendor lock-in. 
Another way to minimize the negative effects of vendor lock-in is by developing a thorough understanding of what each cloud provider offers. If you understand the details of your service level agreement, you will be less likely to encounter an undesirable situation.  
Currently, Amazon Web Services (AWS) and Microsoft Azure are the two leading cloud service providers. They both offer many of the same capabilities, but researching each option will help you determine which CSP is the right fit for you. 
We can also help with guiding you which solution is best for your needs and situation. 😉
Finally, many users have concerns regarding the cloud's security. Accessing the cloud from an insecure network can make it easier for cyber criminals to retrieve data. Weak credentials or passwords allow unauthorized users to bypass the perimeters. However, this doesn't make the cloud less secure than other options. In fact, 94% of businesses reported increased security after transferring data to the cloud.  
The truth is, most security problems are created by the user, and security should be a shared responsibility between the business and the CSP.  
The best way you can ensure your data's security is by following best practices. Make sure your data is difficult to access by creating strong passwords and implementing multi-factor authentication. Encrypt your data so that the average user can't access or steal it. If you are worried about security, you can also choose to store data in a virtual private cloud, allowing you to enjoy the benefits of a public cloud while still keeping your data protected.
Find the Right Fit for You
When it comes to migrating to the cloud, there are a lot of options, and many factors will contribute when choosing what is right for your business. An MSP can help you consider all your options to make a decision that will allow you to get the most out of your cloud experience.
It's time to invest in your business and choose an option that will provide you with greater security, efficiency, and the freedom to run your business the way you choose. 
Here at CR-T, we take pride in providing enterprise-level IT services at prices that work for small businesses. Our team of experts can become your IT support department, responding to issues quickly, often before you even know about them. Covering everything from your servers and network infrastructure, to your computers, workstations and mobile devices, we provide end-to-end solutions for all your technology needs.
Time and experience have helped us develop best practices and workflow procedures designed to keep your focus on your business, not your technology.