With the coronavirus outbreak, many organizations are going completely remote, creating a learning curve for employees. From an IT standpoint, this could mean a huge problem for efficiency and security. Many employees no longer have access to the physical resources they were provided in an office setting, and trying to replicate these tools can be challenging. In this article, we will discuss ways that you can focus on IT preparation to be successful as you work remotely.
1. Have a Proper Tech Stack for Your Employees.
In order to work remotely, your employees need some basic tools. Most remote work requires a computer, and many jobs also require that the employee have access to a phone or a way to communicate with clients and other team members.
One of your primary concerns might be continuing to serve and manage clients. How will your employees communicate with clients and fulfill their needs? For in-office employees, you can connect them directly to the office phone system. But what about those who work from home?
Unlike a traditional office phone, a softphone functions through computer software. You can use the Internet to place and receive calls, manage your contacts, and transfer calls to another number.
With a softphone, you can work from anywhere but still enjoy the same features of a traditional office phone. Fonality is a unified communications (UC) platform that offers Heads Up Display (HUD). This consolidates communication to a single desktop, making it easier to manage calls, messages, and queues.
In addition to a softphone, computer access is absolutely necessary for remote work. According to Digital Trends, the following laptops are predicted to be some of the best deals this spring:
Microsoft Surface Pro – $699
HP Spectre at x360 13 – $720
Dell XPS 13 7390 (2019) – $1,299
MacBook Air – $950
Acer Aspire E15 – $420
Microsoft Surface Laptop (Gen 1) – $745
Data file repositories provide a central location for storing and managing data. That way, if employees are working remotely, they can still access important company information.
SharePoint Online is a cloud-based service, hosted by Microsoft, that enables businesses to share files to a team site. Any team member can access the information, as long as they have an internet connection. Businesses can also sync documents from SharePoint or OneDrive to a computer for offline use.
Order Now While Stock is Limited
For physical devices, especially laptops, it's important to order now before the stock runs out. With so many people forced to work from home,  it's important to make sure you have the necessary tools to keep your business running over the next few months.
2. Put Policies in Place to Define Employee Usage of Applications.
Once your employees are set up with the necessary equipment and tools, it's important to make sure they're using their devices appropriately. It's your job, as the owner of your organization, to ensure that your employees are exercising good judgment regarding network access, downloads, passwords, and email use.
An acceptable use policy outlines what kind of behavior is appropriate when it comes to the use of company devices, networks, and data. If the employee is using a company device, the policy will outline how the employee may use the device, including what they access, download and store. If the employee is using a personal device, the policy should include requirements about what information may be kept on the device and what must be removed when the employee leaves the company.
Finally, the policy should include security procedures, including what will happen if a device becomes lost or damaged.
Mobile Device Management Policy
With the rise of the smartphone and other mobile devices, it is becoming a lot more common for employees to use these devices for work when they are away from their computers.
Mobile Device Management (MDM) policies outline which devices can be used to access company resources. An MDM will also outline how to use these devices responsibly.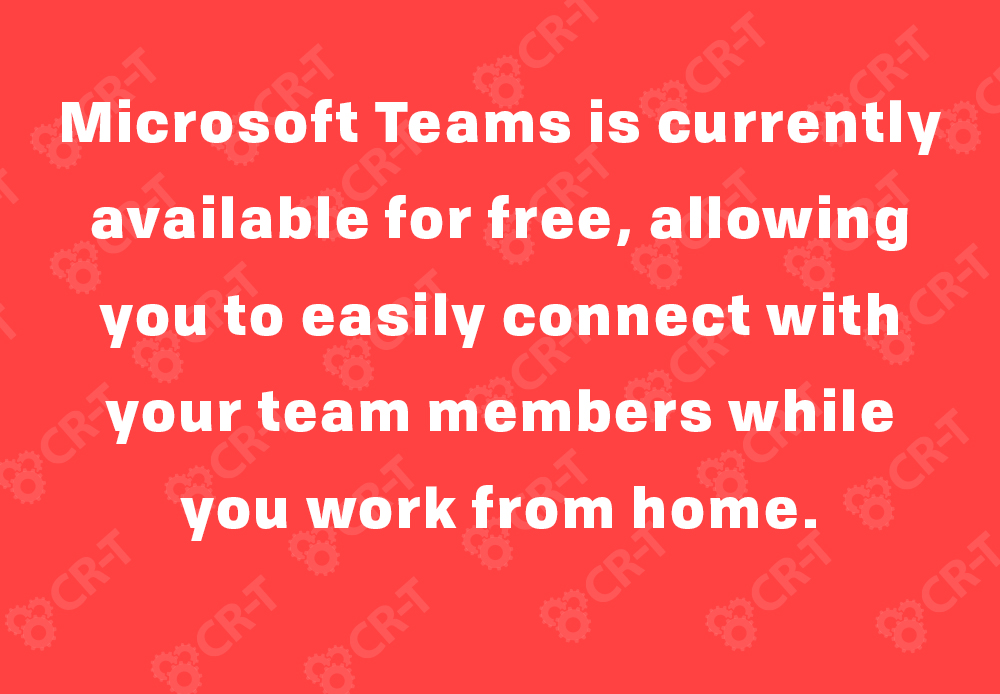 3. Communicate Via Teams, Slack, or Other Video Conferencing Tools.
One of the wonderful things about the digital age is that it's never been easier to communicate with others via technology. Even if you are unable to meet with clients and coworkers in person, you can still make calls, send emails, and talk through video chats.
Microsoft Teams is currently available for free, allowing you to easily connect with your team members while you work from home. Teams is built for allowing easier collaboration and communication, along with all of the following features:
Full Integration with Office 365
Direct access to email, Skype, OneDrive, and SharePoint
Real-time, live collaboration
Full access through all of your devices
Greater efficiency through slash commands
With all of these tools right at your fingertips, you can still communicate effectively with team members and get the necessary information delivered to clients, all without ever leaving the house.
4. Implement Remote Access.
With so many employees working remotely, companies are having to be more flexible. A file repository makes file sharing easier, but you can take it a step further with remote access.
Easily access your desktop computer as if you are sitting right in front of it. Store, share, and collaborate on files with other team members. Print documents from a remote computer using the nearest printer. With remote access, the options are endless.
LogMeIn offers a variety of tools and features to make it easier for you to access the necessary files and work efficiently. GoToConnect offers virtual meeting software so you can communicate with fellow employees and customers, face to face. LastPass provides secure password storage, so you never have to remember another password again. GoToMeeting makes it easy for millions of people to connect and collaborate on any device, no matter their location.
5. Stay Secure While Working Remote.
Many companies have firewalls and network protections already in place on their devices. But using a personal laptop, for example, causes you to lose those automatic protections. Even if your employees don't have access to traditional security options, like a firewall, you can still put measures in place to ensure they are working safely.
Remote work means that most employees are now using either a public network or personal wifi to access the Internet. Without the proper security features, you risk greater security threats.
A Virtual Private Network (VPN) adds greater privacy and security to both private and public networks. With a VPN, your employees can enjoy the protection of a secure network, without losing the flexibility of working from home.
A VPN enables you to:
Hide your IP address
Change your IP address
Encrypt data transfer
Hide your location
Access blocked websites
There are a variety of VPN options available, including PPTP, L2TP/IPsec, and OpenVPN.
Along with secure network access comes proper data storage. This is especially important when you consider the amount that is being created every day. The current data sprawl—or the amount of data being produced— is growing at a rate of 40% every year.
To mitigate data loss, consider investing in Data Loss Prevention (DLP). Vendors offer a variety of tools and processes to help you protect sensitive data. This often includes endpoint security, encryption, compliance requirements, and incident response programs. It's also important to follow security best practices, like strong passwords and data backup.
When working from home, employees often turn to external storage devices, like flash drives and hard drives, in order to help them keep track of important data. It's important to have policies for these devices, as they aren't protected by the same level of security as a file repository or data stored in the cloud.
Encourage your employees to install antivirus solutions on their computers. These programs will scan for malware when a removable device is connected, and they can help you mitigate risk. You should also encrypt removable drives whenever possible and keep that password-protected. That way, if a device is lost, you minimize the chance of someone accessing sensitive information.
Bring Your Own Device (BYOD) policies are traditionally created for the workplace, but they apply when working from home as well. A good policy will consider the needs of both the company and the employee to maintain a high level of privacy and security.
In creating a policy, determine which types of devices will be allowed for work use and what the employer will have access to within the device. Develop your BYOD policy in connection with your IT and risk management departments.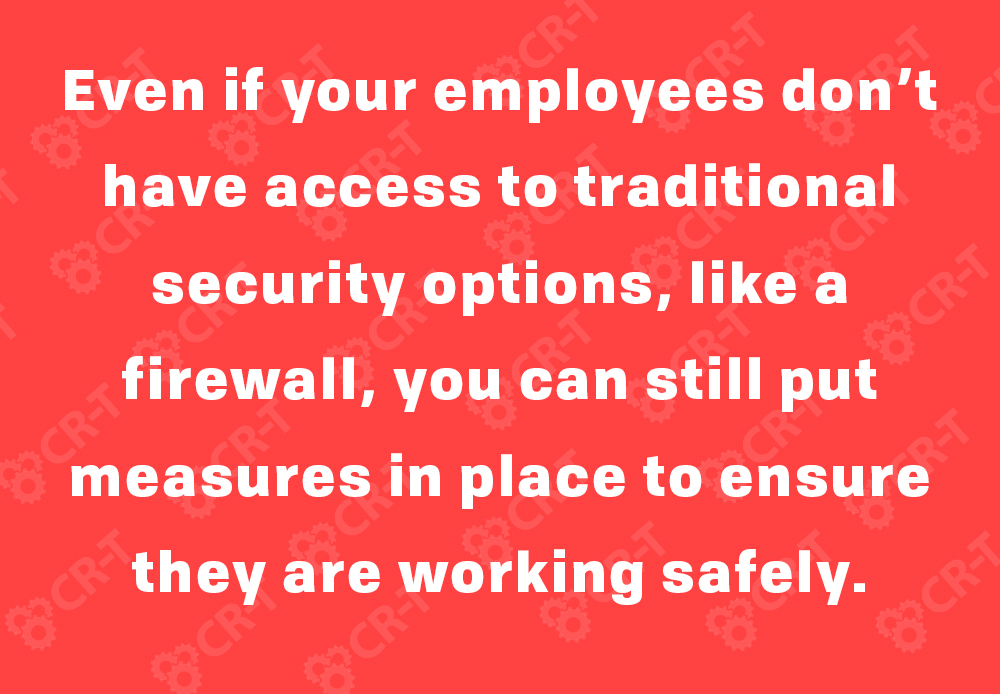 6. Bonus: Be Smart When it Comes to Software Licensing.
As you implement new types of software to make remote work easier, make sure you have the appropriate licenses in place. Forecast for the right amount of licenses to prevent any illegal conduct and to make sure the right people have the software they need to do their jobs.
Part of this process is knowing how many software licenses you should have per user. Not having enough licenses or using the licenses inappropriately can create you a lot of problems in the long run. Alternatively, making sure your licenses are valid and up-to-date ensures that your employees can work effectively and have access to the tools that they need.
Avoid Panic and Focus on IT Preparation
Here at CR-T, we take pride in providing enterprise-level IT services at prices that work for small businesses. Our team of experts can become your IT support department, responding to issues quickly, often before you even know about them. Covering everything from your servers and network infrastructure to your computers, workstations and mobile devices, we provide end-to-end solutions for all your technology needs.
Time and experience have helped us develop best practices and workflow procedures designed to keep your focus on your business, not your technology.