Remote work, once considered the exception rather than the rule, has become a necessity for many businesses amidst COVID-19. Despite the previous assumption that remote work hinders productivity, employees have surprised executives by rising to the challenge. Now, as business owners anticipate returning to the office, many wonder if remote work should remain a thing of the past or if they should incorporate it into their current business model. Some organizations are even combining remote and office work to create a hybrid-remote work model. But is this a good idea, or will it only make things more complicated? Let's look at some of the pros of hybrid-remote work, while also taking into consideration some of the drawbacks.
A Look at the Current Situation
Over the last few months, Salesforce has surveyed over 3,500 individuals worldwide to get an idea of workers' opinions on returning to work.
While many of these opinions are specific to the pandemic, they also provide insight as to how workers view remote and hybrid-remote work environments.
When questioned about long-term working conditions, 64% of workers reported wanting to spend at least some hours at the workplace, as opposed to working entirely remotely.
43% of workers say they've been given clear communication on a reopening plan for their workplace.
Yet only 45% of respondents believe their employers are ready to reopen their workplaces.
The Hybrid-Remote Work Model
Twenty years ago, remote work was almost unheard of. But over the last couple of decades, we've seen a huge shift from employees working solely in the office to now enjoying a number of remote options.
 According to FlexJobs, the United States has seen a 159% increase in remote work since 2005.
And with the current pandemic, many organizations are considering a hybrid between office and remote work. Companies like HubSpot, Twitter, and Slack are all transitioning to a hybrid-remote workplace.
So what exactly does a hybrid-remote work model look like?
In some organizations, employees make regular, but not daily, commutes to the office for work. The rest of the week, they work from home.
Other businesses opt for a different form of hybrid-remote work, in which local employees work from the office and employees in other locations work remotely.
Benefits of the Hybrid-Remote Work Model
Many executives view a hybrid-remote workplace as "the best of both worlds." Employees can spend a couple of days a week in the office to improve accountability and company morale, but they can still enjoy the flexibility of remote work throughout the rest of the week.
Remote work means less travel and expenses, and it often allows employees to be more productive. Remote hiring also makes it easier for companies to take on employees that live in different areas of the globe.
While a hybrid work environment offers greater flexibility, it also comes with some unique challenges.
One of the biggest difficulties of hybrid-remote work is filling gaps in communication. If some team members are in the office while others are working remotely, it takes a lot of organization and discipline to plan meetings and discussions without excluding the remote workers.
In order to overcome this obstacle, Prey Project shares the following 5 "commandments" of remote work communication:
Any agreements, changes, or decisions resulting from meetings should be documented and made public.
If you're working on a communication platform such as Slack, keep work-related discussions public to ensure anyone can hop into the conversation and give input.
Assign each task to a single individual to avoid communication issues, like two managers making decisions in parallel.
If someone is forced to miss a call or presentation, record it to share with them later.
When using a task management platform, break down tasks into smaller to-dos in order to stay on the same page with coworkers while avoiding micromanagement.
In addition to a lack of communication, a lot of managers worry that remote work will affect performance and accountability. This can create bias within an organization and lead to the unfair treatment of remote workers.
In order to overcome these challenges, it's important to create clear policies and expectations that are the same for everyone in the company. As a manager, make an effort to create a culture that supports and values all team members, regardless of their physical location.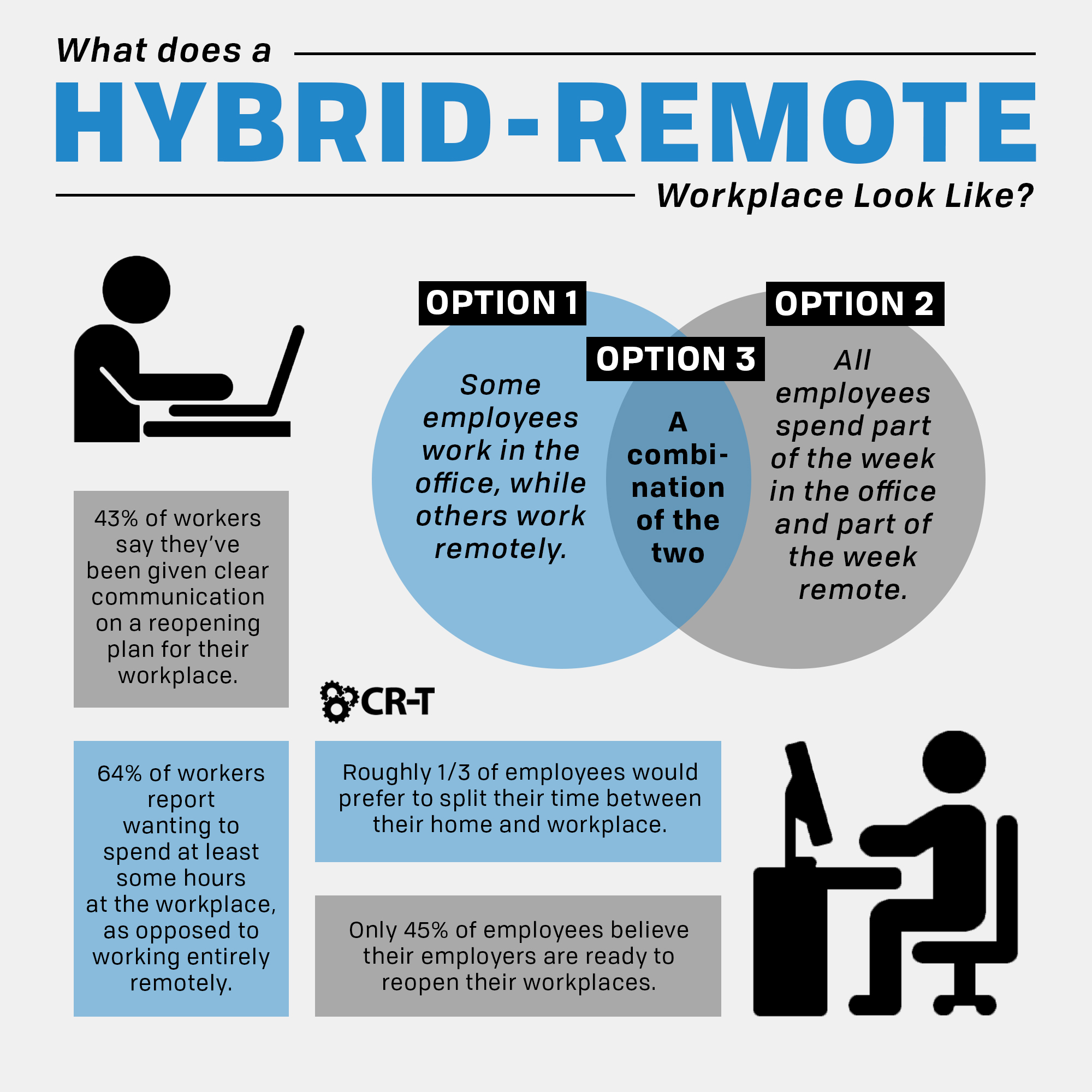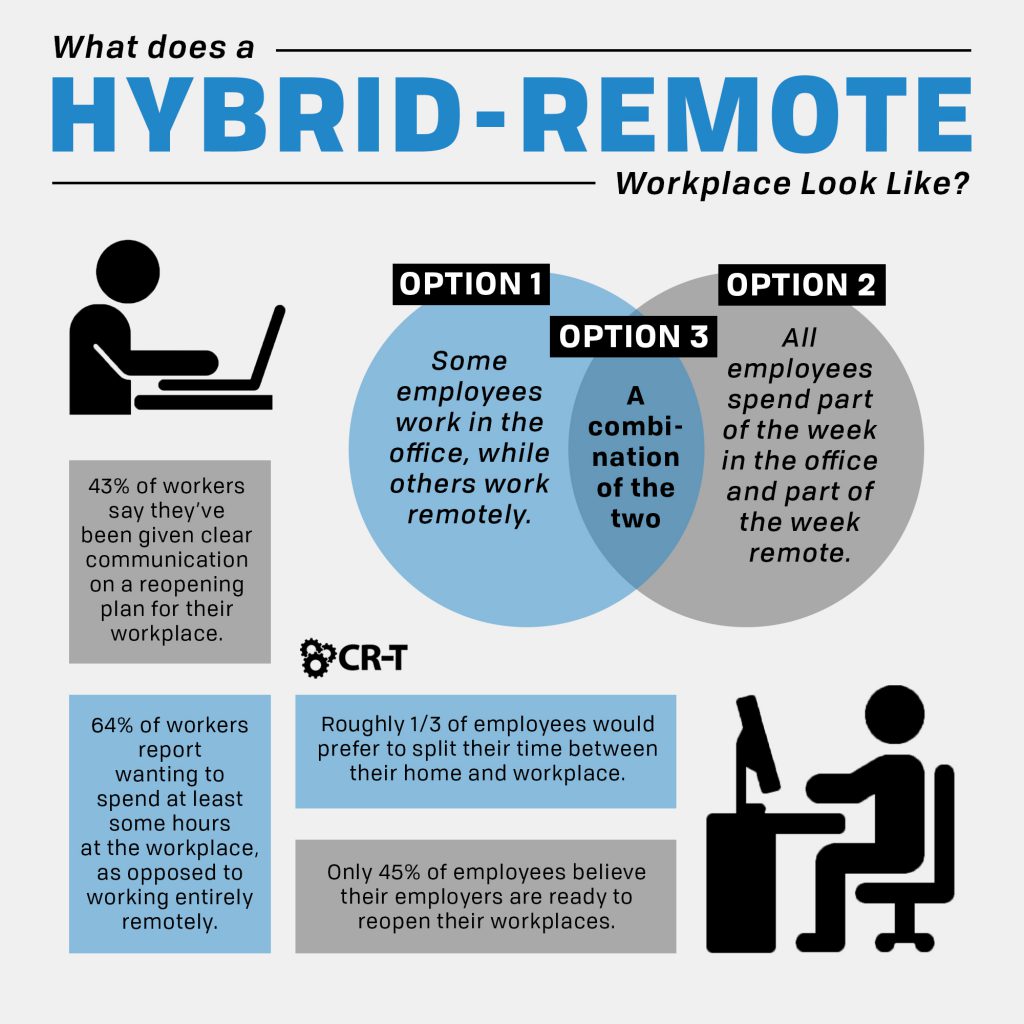 The Remote-First Solution
In addition to the hybrid-remote work model, many companies are choosing to adopt a "remote-first" culture. In this situation, many, if not all, employees work remotely the majority of the time.
The purpose of a remote-first workplace is to make all employees feel connected, included, and empowered.
Instead of limiting information and important decisions to office employees, a remote-first workplace will prioritize video conferencing and email communication. This ensures that all employees are able to participate in meetings and group conversations—regardless of their physical location.
In 2019, Stripe announced that their fifth engineering hub would be completely remote, springboarding their initiative to hire 100 remote software engineers across North America.
When questioned about their decision, Stripe cited several key benefits to a remote-first approach:
A remote hub increases their potential to hire broadly and profit from a pool of talented engineers living outside their usual hiring hubs.
Hiring employees across the globe means having employees everywhere their customers are located.
Advances in virtual communication and collaboration have made remote work easier than ever before.
Remote-first companies have also noticed increased employee retention, since working remotely creates a culture of trust, provides flexibility, and gives workers a sense of calm that allows them to be more productive.
For example, companies like Doist have seen a 92.8% retention rate over the span of 10 years.
Of course, remote work also requires a lot of organization for companies. It's important to create clear policies from the get-go so your employees know exactly what's expected of them.
If you have employees that work across the globe, adopt a remote work salary that factors in location. This can save your organization money, but it also levels the playing field for employees who work in the city and have higher living costs, versus employees who live in a more rural environment.
In addition, remote work requires clear and concise documentation. You don't have the luxury of in-person meetings and discussions, so your policies must be documented thoroughly in a way that makes them easily accessible to all employees. This includes:
Company policies and operations
Project management system guidelines
Crisis management procedures
Product and project roadmaps
Career development paths
Making the Best Decision for Your Organization
After reading this article, you might decide that a hybrid-remote workplace isn't a good fit for your organization after all. Or maybe you noticed some ways that you can improve your hybrid-remote work model to better support the remote workers in your company.
Regardless of the model you choose to adopt, know that there are countless ways to run a successful workplace. The most important thing you can do for your employees is to foster a culture of open communication and trust.
Here at CR-T, we take pride in providing enterprise-level IT services at prices that work for small businesses. Our team of experts can become your IT support department, responding to issues quickly, often before you even know about them. Covering everything from your servers and network infrastructure to your computers, workstations and mobile devices, we provide end-to-end solutions for all your technology needs.
Time and experience have helped us develop best practices and workflow procedures designed to keep your focus on your business, not your technology.