When the pandemic first caused businesses to shut down and go remote, there was a lot of confusion and fear. Now, almost six months later, there is still a great deal of uncertainty as to how the next few months, or even the next year, will look for businesses. In this article, we compiled a list of ways that you can help your organization prepare for a second wave of COVID-19 and stay afloat through future disasters.
Establish Safety Measures
As stores and businesses are beginning to reopen, local governments have issued safety guidelines to help businesses keep their employees and customers safe. Apart from your state's guidelines, make sure you do the following:
Clean your office frequently. Put someone in charge of regularly wiping down surfaces and stocking up on cleaning supplies.
Implement social distancing at work, and encourage the use of masks where social distancing is not possible. Depending on your state guidelines, you may be required to provide personal protective equipment for employees returning to the office.
Where possible, allow employees to continue working from home.
Anticipate Future Disasters
In addition to implementing safety measures in the workplace, you should anticipate future disasters that could impact your business. Health experts have predicted second and even third waves of the virus, so it's important to be prepared.
Stock up on essential supplies. In addition to hygiene products, like hand sanitizer and toilet paper, consider any supplies that are essential to the operations of your business. If you're able to source these supplies now, consider keeping a reasonable stockpile available in case a second wave of infections disrupts your supply.
 
Create a risk assessment for your organization. Identify any potential vulnerabilities so you aren't floundering in the event of a disaster. What happens if a large portion of your employees are out sick at the same time? Where are your suppliers located, and which ones are critical to your business strategy? How will you control the spread of the virus if one of your employees falls ill? Your risk assessment should also include any measures your organization has put in place to minimize the risk of the virus.
 
Focus on risk mitigation and risk-based incident management. The risk assessment should provide a foundation for preparing your company's workforce to maintain operations during the pandemic's second wave. Consider a variety of safety procedures, such as routinely taking workers' temperatures, enacting social distancing strategies, and other safety measures that have worked for businesses similar to your own. In addition, look for activities that you can automate or eliminate. This will help you save costs, increase productivity and avoid disruptions in the future.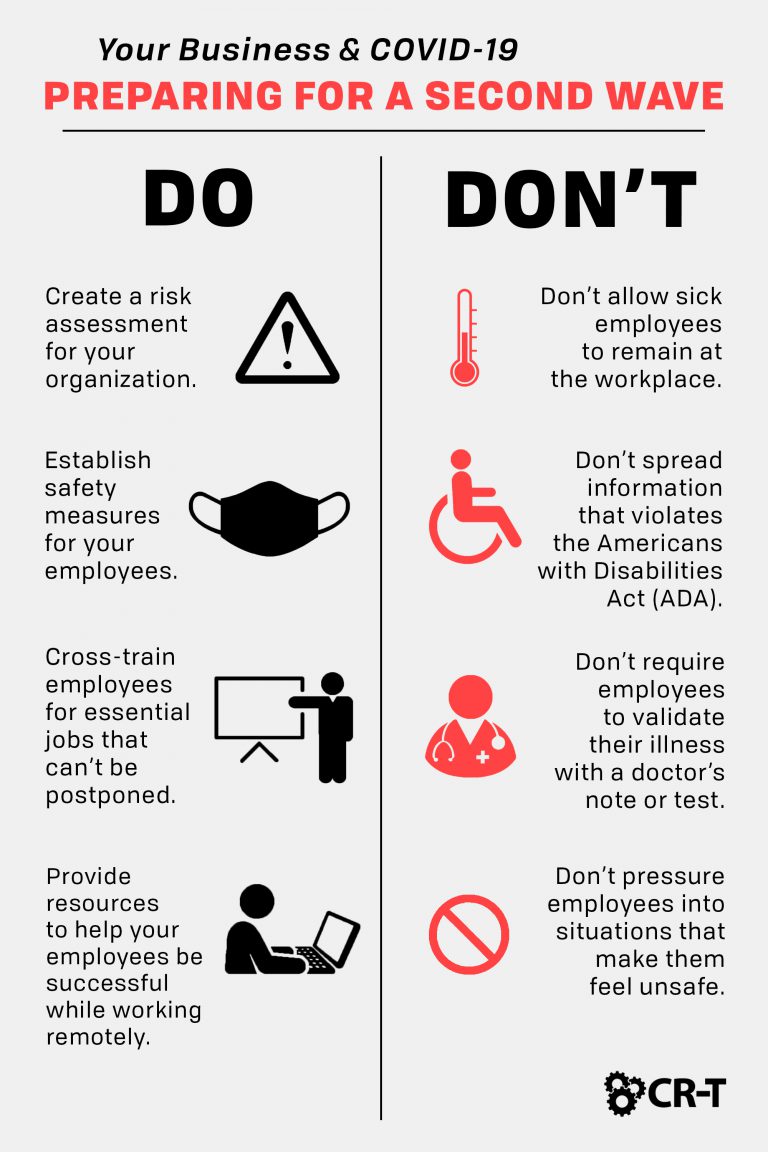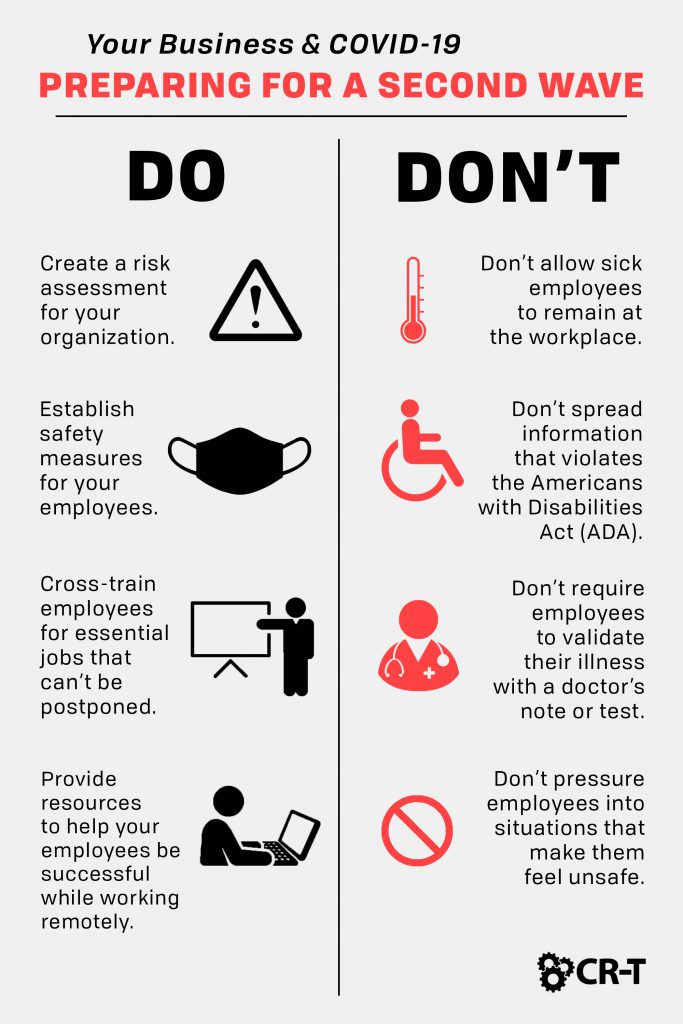 Shift to New Ways of Doing Business
Over the last few months, many companies have been forced to move entirely online. Now is a good time to analyze how this period of remote work has affected your organization.
In addition, you should:
Make any necessary adjustments to help your employees be more effective at home.
Purchase new software and supplies.
Look for ways to take more of your business online.
Consider a semi-permanent shift to remote services until the virus is controlled.
Finally, it's important to train your employees on how to respond to a potential outbreak in your organization.
Create a plan for employees to notify their supervisors if they've tested positive for COVID-19 or if they've come in close contact with someone who has tested positive. How long will employees remain in quarantine if they test positive? And who will take over their responsibilities in the meantime?
It's also important to make sure you have employees that can take over for workers who become ill. Cross-train employees for essential jobs that can't be postponed for a few weeks. This is also a good time to train employees who might still need assistance with adjusting to remote work.
Regardless of how this pandemic is affecting your business, know that we're here to help. Whether you're looking to purchase more equipment for remote work, or you just need greater support for your business in these troubling times, we stand together with you in responding to the effects of the virus.
Here at CR-T, we take pride in providing enterprise-level IT services at prices that work for small businesses. Our team of experts can become your IT support department, responding to issues quickly, often before you even know about them. Covering everything from your servers and network infrastructure to your computers, workstations and mobile devices, we provide end-to-end solutions for all your technology needs.
Time and experience have helped us develop best practices and workflow procedures designed to keep your focus on your business, not your technology.
Your organization can't afford to neglect backup and disaster recovery. If it takes your business too long to get back online after a disaster, you
Read More »