Technology is changing at a nearly constant rate, and your business is evolving just as quickly. Sometimes it can feel hard to keep up with everything, especially when a new need arises that you haven't dealt with before. Luckily, you don't have to handle these problems alone. An IT consultant can help you address your business's needs and provide you with expertise that you can't find anywhere else.
What is an IT Consultant?
Instead of working for your company full-time, IT consultants partner with you for a specified period of time to help fulfill a specific need. That need might be assessing the state of your organization's cybersecurity, or it might be working to complete a specific project.
IT consultants often spend years training in a specialized field of technology. Their certifications and expertise give them a unique ability to guide your organization towards new ideas and solutions.
But what benefits can you gain from working with an IT consultant versus an in-house IT employee?
Let's talk about some of the advantages that an IT consultant can offer your business.
1. Relieve the Burden of Your IT Department.
Day-to-day workloads put a strain on your IT workers, resulting in errors and missed deadlines.
But an IT consultant can help relieve that burden.
By bringing in a consultant to help with larger projects and one-off assignments, your employees are free to stay focused on the main operations of your business.
An IT consultant can also improve your team's efficiency and streamline processes for your IT department. A consultant's experience and fresh perspective will help your IT department work more effectively.
2. Complete Critical Projects.
One of the best reasons to hire an IT consultant is to help you complete critical projects that would unnecessarily burden your IT department.
For a single project, working with an IT consultant is more cost effective than hiring a new employee. And you'll also benefit from the expertise, project management, and support that a consultant has to offer.
While your IT department handles routine, day-to-day tasks, an IT consultant can help you complete projects that will revitalize your business and take it to the next level.
3. Learn From the Experts.
When a new employee joins your IT department, they bring their individual knowledge and experiences with them. But finding opportunities for challenge and growth can be difficult when operating in the same space day after day.
IT consultants work with a variety of clients and have experience solving many challenging problems. This gives them a unique perspective that will aid them in serving your business.
IT consultants are also the best in their field, meaning that they have certifications and expertise that will help them guide you to the right solution for your business.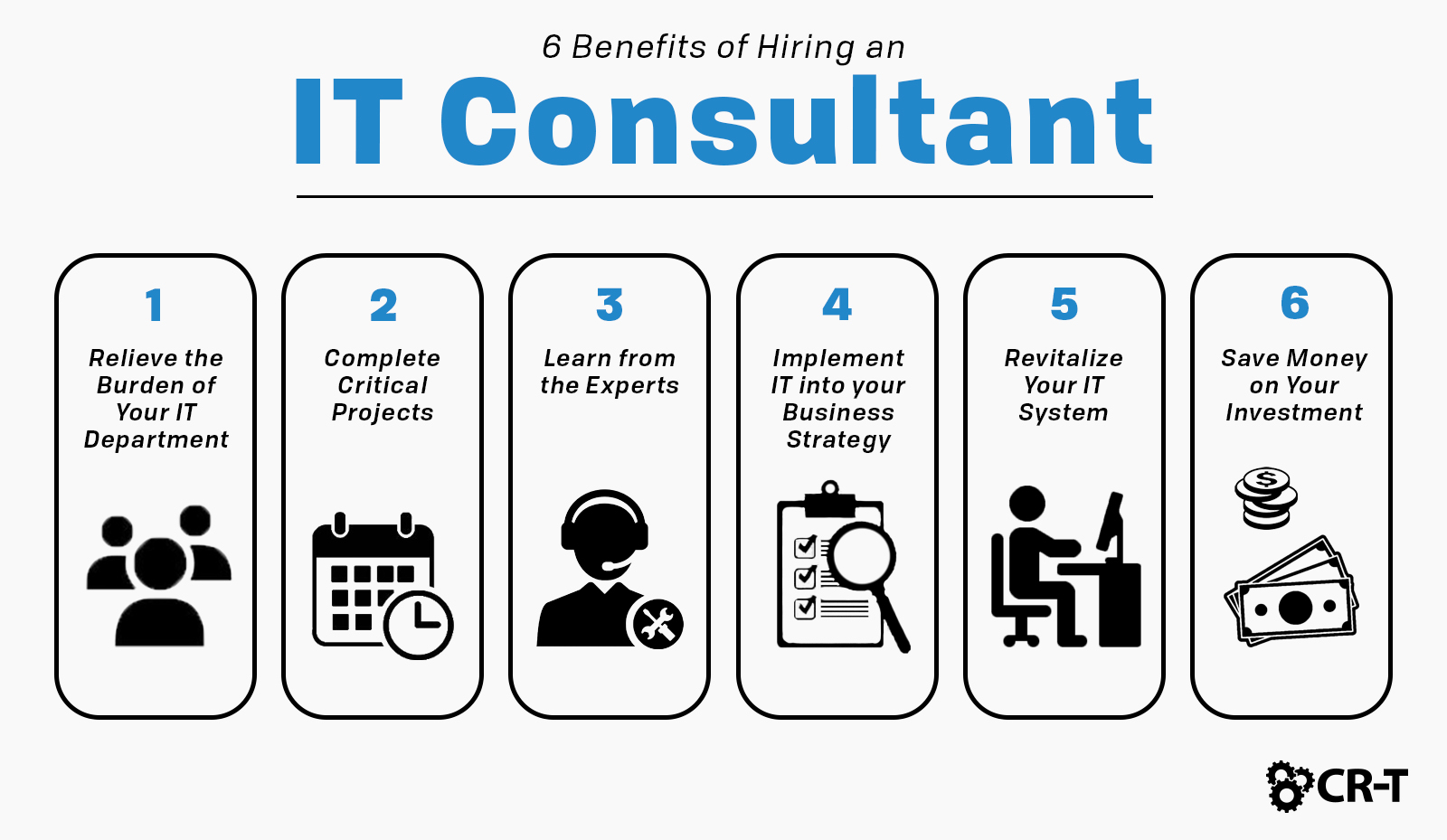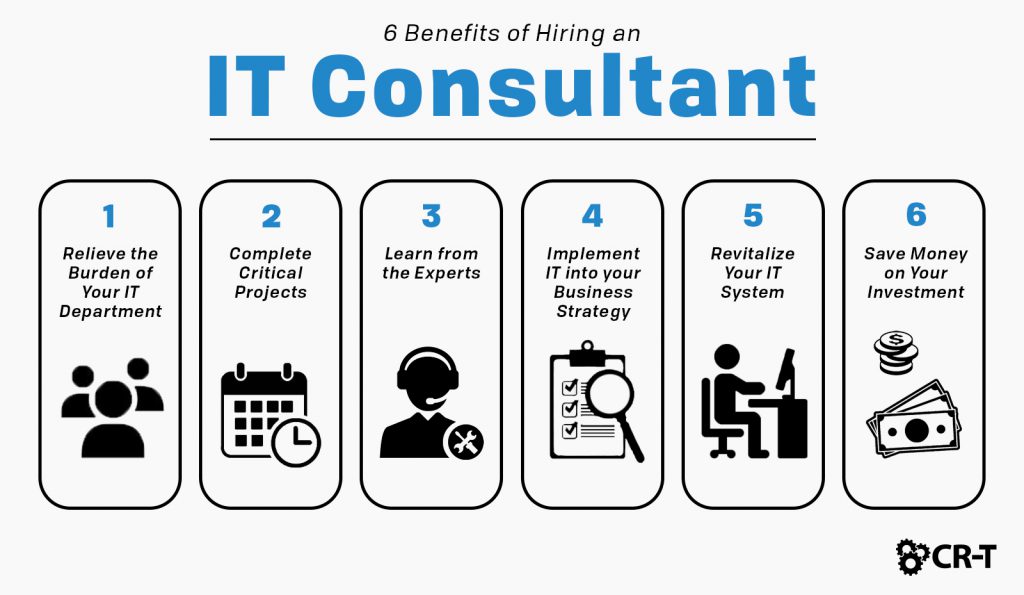 4. Implement IT into Your Business Strategy.
The IT department is often viewed as a support function, but IT professionals aren't usually key members when it comes to making business decisions.
However, IT professionals have a lot of insight to add. Information technology has a vital role to play in your organization's business plan, and IT experts can guide you in how to best implement technology in your business strategy.
An IT consultant takes an active role in helping you make smart technological decisions as you utilize technology to help your organization grow.
Since IT consultants serve a variety of clients, they can also provide a fresh perspective on how to address your business's unique challenges.
5. Revitalize Your IT System.
In addition to perfecting the role of technology in your business's strategy, an IT consultant can also help you revitalize your IT system and show you where improvements need to be made.
For example, an expert in cybersecurity can audit your current IT system and identify any gaps in your organization's security. An IT consultant who specializes in the cloud can show you ways to save money on cloud products and utilize the cloud to be more effective.
An outsider often sees things from a different perspective. An IT consultant can offer support in various areas of your business, including:
Cybersecurity
Digital collaboration
SQL support
Software development
Website design and coding
Cloud platforms
Application virtualization
Global network operations
Compliance
6. Save Money on Your Investment.
Hiring a full-time employee is costly. It requires you to provide a salary and benefits, including paid time off.
In contrast, an IT consultant charges an hourly rate to help you complete a specific project or provide recommendations for your business.
This is especially useful if you only need help with a temporary workload. It doesn't make sense to hire an employee for a single project, but an IT consultant is the perfect choice.
And with the additional expertise an IT consultant brings, partnering with an outside service for your next project is a no-brainer.
Are You Ready to Hire an IT Consultant?
It's clear that an IT consultant can provide you with the resources and expertise you need to take your business to the next level.
We offer both one-off consulting and continued managed services. Whether you need support on a specific project, or you're looking for a full-time team of technology experts, CR-T has the consulting options you need.
Here at CR-T, we take pride in providing enterprise-level IT services at prices that work for small businesses. Our team of experts can become your IT support department, responding to issues quickly, often before you even know about them. Covering everything from your servers and network infrastructure to your computers, workstations and mobile devices, we provide end-to-end solutions for all your technology needs.
Time and experience have helped us develop best practices and workflow procedures designed to keep your focus on your business, not your technology.
Your organization can't afford to neglect backup and disaster recovery. If it takes your business too long to get back online after a disaster, you
Read More »