Despite a challenging year, the tech industry has a very bright future ahead. The enterprise networking industry, in particular, has dozens of powerful companies taking the lead. These companies are diversifying the tech industry while expanding into new markets, like the cloud, Artificial Intelligence (AI), and the Internet of Things (IoT).
Let's take a look at 10 of the most powerful enterprise networking companies in 2020.
Cisco maintains a strong lead in nearly every networking hardware category, with a 51% market share in Ethernet switch revenue and a 37% share in enterprise router revenue. They also rank high in the WLAN market and in SD-WAN equipment.
When the pandemic caused workers to go remote, Cisco was ready to go. In addition to having its own VPN software, Cisco is the only networking giant to host its own video conferencing platform, WebEx.
Some are worried that Cisco might be losing ground with the decline of the switching and routing market. But they've begun a transition to software, subscriptions, and security that could lead them into a bright future.
Arista focuses on delivering high performing switches for enterprise networking clients and cloud providers, which places it in the running against Cisco.
However, Arista also recognizes the importance of diversification. They now offer network monitoring, automation, and analytics for hybrid cloud environments.
It will be interesting to see how well Arista integrates their Big Switch Cloud Fabric Software (BCF), especially compared to their competitors like Dell and HPE. And unlike Cisco, Arista appears weaker in areas of SD-WAN and security, which could affect their future agility.
In 2019, Juniper bought the wireless platform Mist Systems. Mist's AI virtual assistant, Marvis, uses natural-language processing to deliver unprecedented IT automation and faster troubleshooting.
Juniper's goal is to deploy Mist across multiple cloud, data center, wifi, and SD-WAN environments.
Gartner ranks Juniper as one of the leading companies for data-center networking, and the Mist acquisition puts them in a strong position for the future.
Another company to make significant strides in recent years is VMware.
In 2019, the company acquired both Carbon Black, an endpoint protection company, and Pivotal Software, a cloud application platform. Pivotal Software's main selling point is its ability to support and manage applications across multiple clouds.
The acquisition of these two companies is moving VMware from an age of data center virtualization to an age of hybrid-cloud management and platform-as-a-service offerings.
Extreme is surging ahead with new acquisitions, like Zebra Technologies in 2016 and Avaya and Brocade in 2017. These businesses are helping Extreme secure its position as a tech giant in the wireless LAN and analytics industries.
Extreme is also expanding in areas of wifi 6, cloud-based network management, AI, and network automation, ranking them among other enterprise networking leaders like Cisco and Aruba.
You might know NVIDIA as a GPU maker for gaming devices, but the company is making waves that will disrupt the networking industry.
In 2019, NVIDIA purchased ethernet-switch maker Mellanox and now has plans to buy Cumulus Networks, a company that sells data-center switches.
NVIDIA is on its way to offering enterprise-level data center networks, along with high-performance workloads and AI. These expansions could lead the tech industry into an era of open networking.
When HP acquired Aruba five years ago, no one knew how things would play out. But by fusing the two companies, HP has now solidified Aruba as the main competitor to Cisco in the WLAN market.
Aruba currently has 65,000 unique customers, and they just announced their new Aruba Edge Services Platform (ESP). This cloud-based platform uses AI to reduce the burdens of IT departments across a variety of networking areas, including Identity Access Management (IAM) for remote workers and headless Internet of Things (IoT) devices.
Despite uncertainty from the current pandemic, Aruba is ready to capitalize on the influx of remote workers and expand on other trends, like edge computing and IoT.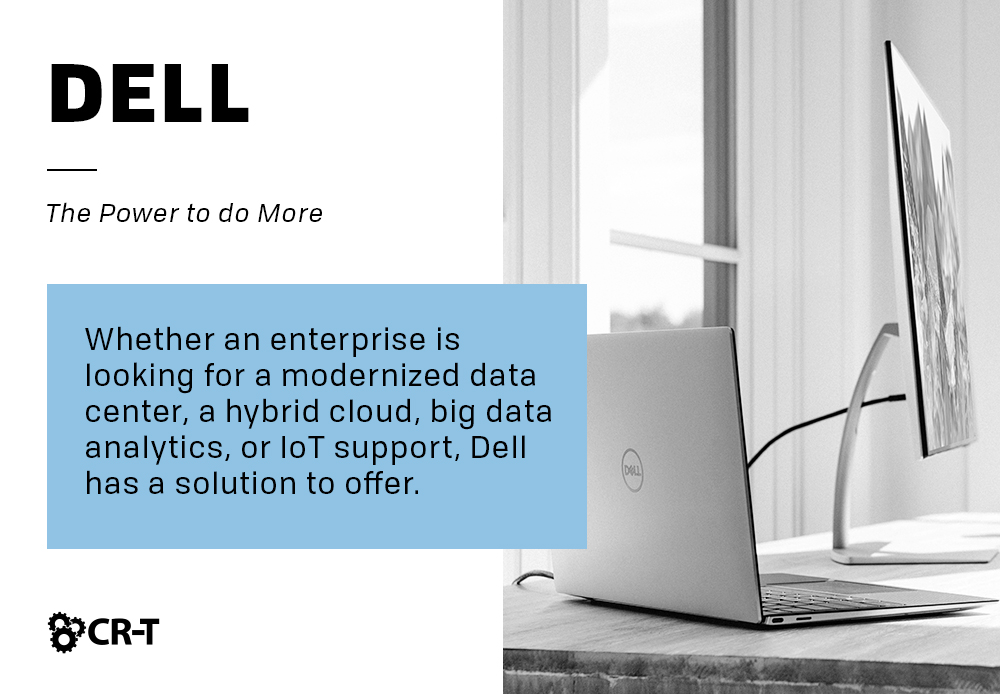 For years, Dell has been a leader in the storage, server, cloud management, and hyperconverged infrastructure markets.
Dell's platform offers enterprises with a single-vendor solution for their IT infrastructure needs. With its EMC acquisition four years ago and its hybrid-cloud management through VMware, Dell has a lot of leverage in the IT world.
Whether an enterprise is looking for a modernized data center, a hybrid cloud, big data analytics, or IoT support, Dell has a solution to offer.
Dell and Nutanix are neck in neck in a race for what's become the fastest-growing Hyperconverged Infrastructure (HCI) market.
Nutuanix has also begun a strategic shift from hardware to software and from on-premise to the cloud. This is a smart move, considering more enterprises are shifting resources to the cloud every year.
In addition to HCI appliances, Nutanix is broadening its portfolio to include database-as-a-service, object storage, disaster recovery, and cloud-style subscription billing.
Nutanix is also developing strategies to help companies support remote workers as they simplify their data centers and manage applications across both on-premise and cloud platforms.
China-based networking vendor Huawei has started to create a power struggle between the United States and Chinese governments.
Last summer, the United States put a sanction on Huawei products, prohibiting American companies from using Huawei technology if they had any affiliation with the government. In addition, the sanction prevented these companies from having Huawei technology in any part of their global supply chain.
Despite these sanctions, Huawei is fighting political pressure to stand as one of the globe's top networking platforms.
The Future of Enterprise Networking
No one can guarantee the future, but it's pretty clear that these companies aren't going away anytime soon.
As enterprise networking continues to grow, it will become more important than ever for companies to stay competitive with cutting-edge technology.
Here at CR-T, we take pride in providing enterprise-level IT services at prices that work for small businesses. Our team of experts can become your IT support department, responding to issues quickly, often before you even know about them. Covering everything from your servers and network infrastructure to your computers, workstations and mobile devices, we provide end-to-end solutions for all your technology needs.
Time and experience have helped us develop best practices and workflow procedures designed to keep your focus on your business, not your technology.
Your organization can't afford to neglect backup and disaster recovery. If it takes your business too long to get back online after a disaster, you
Read More »