Technology designed for all the ways your employees want to work.

Apple Products for Business
Apple helps employees solve problems in creative ways, be productive wherever they are, and collaborate more effectively. Our powerful hardware and versatile platforms create a unique environment to build custom apps for your company. And you can find over 235,000 business apps — more than any other mobile platform — on the App Store.
Apple software is powerful and intuitive. Our products are secure, reliable, compatible with any office environment, and easy to deploy. And everything  works together seamlessly, giving you a mobile experience that delivers the information you need when you need it most.
New eighth-generation intel 6-Core and quad-core processors.
Up to 32GB of memory for running multiple pro apps.
Stunning Retina display with True Tone Technology.
Touch Bar for working more productively.
More Power. More Performance.
MacBook Pro elevates the notebook to a whole new level of performance and portability. Wherever your ideas take you, you'll get there faster than ever with high‑performance processors and memory, advanced graphics, blazing‑fast storage, and more.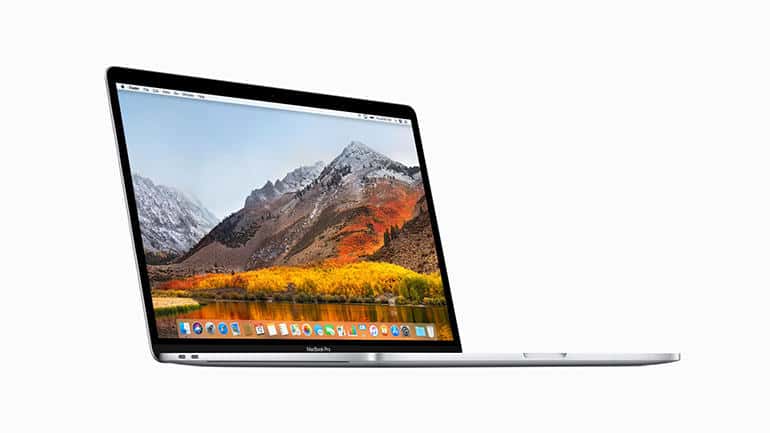 Apple T2 Security Chip
The next generation of Apple security is here.
Introducing the Apple T2 Security Chip — second‑generation custom Mac silicon designed by Apple to make MacBook Pro even more secure. Featured on the 13- and 15‑inch models with Touch Bar, the Apple T2 Security Chip includes a Secure Enclave co-processor that provides the foundation for secure boot and encrypted storage capabilities. It also consolidates many discrete controllers, including the system management controller, audio controller, and SSD controller, into one. And the Apple T2 Security Chip brings a familiar voice to MacBook Pro — Hey Siri is always ready to open apps, find documents, play music, or answer your questions.
Learn more about advanced security features for iOS devices (PDF) >>
Compatible with your existing systems.
iOS and macOS are built to support the most common productivity and collaboration systems in enterprise today, including Microsoft Office and Google G Suite. Apple products work seamlessly with key infrastructure services like Microsoft Exchange for email and calendars, as well as wireless networks and VPN solutions. And when employees switch from another device to Apple, built-in migration from Windows or Android makes moving their data simple.