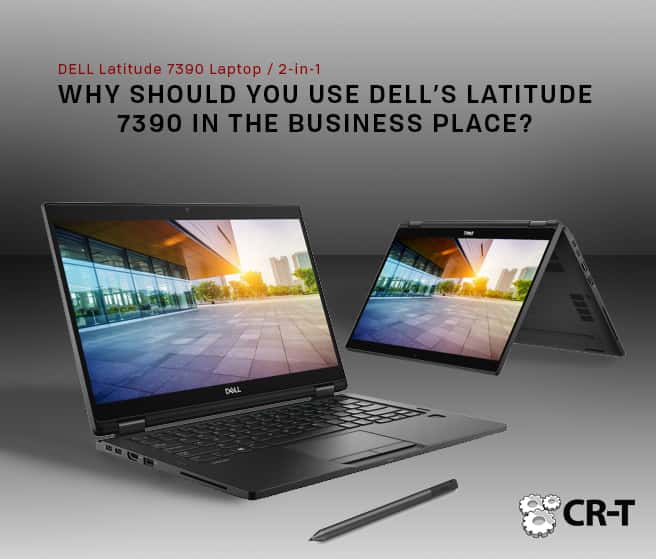 Why Does Dell's Latitude 7390 Belong In Your Office?
We live in an ever moving, ever mobile world and it's no wonder that you expect your technology to also fit your fast-paced lifestyle.
When it comes down to being a business owner/CEO, an IT professional, or an employee, you want to make sure that your computer is able to keep up.  With your expertise, you don't want a computer that will slow you down.
Let's break down the Latitude 7390 business-class laptop specs along with the Latitude 7390 2-in-1 combination. You will be able to see how they excel over the rest!
Dell's Latitude 7390 Intel Processor
8th Gen Intel® Core™ i7-8650U Processor (Quad Core, 8MB Cache, 1.9GHz, 15W, vPro)
The 8th Generation Intel Core i7-8650U laptop processor (business-class) is slightly faster. This is due to its higher clock speeds of 1.9 GHz – 4.2 GHz as opposed to 1.8 GHz – 4 GHz from its other processor siblings.
The 8650U has Intel vPro built-in. vPro technology makes managing of PC systems in business environments easier while providing enhanced security.
Furthermore, this stunning laptop not only provides you with Intel vPro manageability but also gives you MIL-STD-810g certification against vibration, shock, and other environment extremes.
Latitude 7390 Port Selection is Impressive
Sometimes buying a new computer puts you in a frustrating situation. It is no fun when you buy a new computer and the manufacturer has removed the ports you are used to. When you open the box, and it's not there, frustrations arise.
The Latitude 7390 does not disappoint in this way. The port selection is quite impressive. On the Latitude's left side, you'll find a SmartCard slot, USB 3.0 and HDMI ports, a Thunderbolt 3 port, and the power connector. On the right, you have an Ethernet port, another USB 3.0 port, micro SD and SIM card slots, an audio jack, and a Noble lock slot for securing the laptop to an anti-theft cable.
Battery Life That Lasts
Tests show that battery life of the business edition lasted 19 hours ( light usage) according to Dell. Other tests yielded 12.5 hours with typical usage behaviors. A heavy usage test yielded 7.5 hours with the brightness set to 75 percent while using a 60Whr battery option. Those numbers prove more than enough for a full day's work. You may even have a little juice for Netflix or light gaming time at the end of the day.
The 2-in-1 tablet style Dell Latitude 7390 battery life lasts an impressive 12.5 hours according to Dell specs. With typical work like behavior, you can see battery life lasting 7.5 hours.
You can seamlessly move between your desk and meetings with features like Express Charge. It gives you up to an 80% charge in less than an hour!
Portability
The Dell Latitude 7390 business-class laptops and 2-in-1 tablet style laptops start at a weight of only 2.59 lbs. The 2-in-1 version comes with an easy button operated self-extending kick stand. This allows you to maneuver in cramped spaces on an airplane or in an Uber. It also makes it very easy to open your 2-in-1 and prop it up all with one hand.
The Latitude is also beneficial for its sleek and fairly thin profile starting .63 of an inch thick with the key board.
Dell Latitude 7390
 "The Latitude 7390 is super fast making  heavy multi-tasking to be no problem at all!"
Dell Latitude 7390 Laptop and Dell Latitude 7390 2-in-1 Performance
Dell operates with full-power Intel processors for the Latitude 7390 2-in-1 and Laptop. It features quick performance with super smooth multi-tasking. The 2-in-1 features 8th Gen Intel Core i5 U-series chip with 8 GB of RAM and 8th Gen Intel® Core™ i7 U-series in the Laptop.
Don't forget, web browsing also received some well-earned TLC with a speed boost from a 2x2ac WiFi connectivity.
Don't judge the book by its cover or size. The keys on the keyboard are deep and comfortable. The touch pad on the keyboard is quite responsive. Long hours in the office are also made easier with a back-lit keyboard feature. That makes it useful to see the keys in darker environments. In the end, if you are a productivity-focused user, you should have no problem getting a lot done with the Latitude 7390 2-in-1.
Let's not forget about the display!
The beautiful 13" Full HD display features a narrow border which was engineered to fit a 12" frame for lighter weight and a better viewing experience. Dell also threw in an anti-glare screen!
While the 13.3-inch display doesn't fold all the way back, it does go 180 degrees. And with it's touch-screen capabilities, laying the screen all the way back makes light work of scrolling through articles and watching videos.
Made with premium materials like recycled carbon fiber, you can rely on your Latitude's durability.
The Latitude 7390 is Trusted By IT
Security is a major plus with the laptop as well. Security is better thanks to easy facial recognition, sign-in from Windows Hello, and a fingerprint reader as a backup. There are also other security additions including hardware and software security features that businesses will appreciate (including a contactless smart card reader).
You can rest assured that your data is always protected with a wide variety of bio-metric readers and encrypted hard drives.
Overall, with an innovative design, Latitude laptops and 2-in-1's are devices you will be proud to carry. Dell Latitude gives users the power and connectivity they need throughout the day, no matter how they work.
Barracuda NG Firewall
It's always great when our solutions receive industry recognition, but having the Barracuda NextGen Firewall for Azure named "Best Security Product" by the editors of Redmond really hits home as a truly special honor. As the first Microsoft Azure Certified Security Solution Provider, Barracuda is working closely with Microsoft across our entire organization to secure customer applications in Azure.
Here's what you need to know about this particular award:
Recognition: 2017 Redmond Channel Partner Editor's Choice Awards: Best Products for Microsoft Partners
Category: Best Security Product
Barracuda Solution Honored: Barracuda NextGen Firewall for Microsoft Azure
Redmond says: "The public cloud has the potential to both complicate and simplify security. Complications come from the additional attack surface, the many connections to other areas of the enterprise and a general lack of experience with the issues in this relatively young sector. Simplification comes from the ability to make deployment of security solutions easier by spinning them up in the cloud. Addressing both areas is the Barracuda NextGen Firewall for Azure."
Redmond added, "The firewall from Barracuda Networks Inc., which is also the winner of the 2016 Microsoft Azure Certified ISV Solution Partner of the Year award, is designed to secure connectivity between offices, virtual networks, datacenters and multiple clouds."
Get the full story here: https://rcpmag.com/Articles/2017/04/01/Editors-Choice-Awards-2017.aspx?Page=3#security
Barracuda NextGen Firewall for Microsoft Azure offers:
Granular security and policy management
Full application visibility / full user awareness
IPS, URL filtering, antivirus and Advanced Threat Protection
Outstanding traffic visibility tools
High availability support
Key Use Cases include:
Securing connectivity between offices, VNets, datacenters, clouds
Providing flexible VPN remote access from laptops, tablets and smartphones
Segmenting and monitoring multi-tier network architectures
Enhancing Azure ExpressRoute security
9 Apps to Give You the Most Bang for Your Breaks!
Try the Pomodoro Technique
A short break can go a long way, especially when your employees are so exhausted that they can't even focus. This is particularly true if the task at hand is something which is long, tiresome, or downright boring. Taking a moment to catch your breath is a great way for the brain to catch up, rather than continue on at the speed of a snail.
The Pomodoro Technique attempts to provide workers with these short breaks. Francesca Cirillo introduced the Pomodoro Technique in the 1980s, and named it after the famous tomato-shaped kitchen timer. The way this works is by splitting your workday into periods of work and breaks, and using periodic breaks to optimize the amount of energy your brain has to work with. Another benefit of this is that it helps you better manage the time spent on certain tasks, allowing you to put more focus on tasks that have deadlines.
This technique depends on your ability to focus and devote time to specific tasks, so only the most diligent workers will be able to maximize their productivity in this manner.
Apps That Can Help
ClearFocus: ClearFocus is an Android-based timer, which lets you set increments to certain tasks. The app will even count down until it's time to take a break or move on to the next task.
Focus Booster: Focus Booster tries to use the Pomodoro Technique to optimize focus, while also using tracking and reporting for business-related purposes. Due to this business focus, Focus Booster is not a free solution. Subscriptions are a meager $2.99/month.
PomoDone: PomoDone is a way for users to configure their schedules, so long as you keep an eye on how long your subscription lasts.
Get Up and Go
If you want to make sure that your break is actually a break, get away from the office for a bit and go for a walk. Sitting is pretty bad for you, and it's been proven that a little midday movement can help you stay healthier. This is especially true if your business has an in-house gymnasium or the benefits of a gym membership, as fitness equipment can be readily accessible during the offtime.
Of course, even something as simple as a walk can help. Give your body the chance to refresh itself by taking in some beautiful scenery.
Apps That Can Help
Wherever Workout: This is an Android app that provides exercise procedures for any type of scenario you can imagine. This includes workouts that can only be done exclusively in the office. This helps to keep you both happy and healthy, even when in the office, and it's free.
Workout Trainer (Android and iOS): Workout Trainer provides you with plenty of exercises, all explained in fine detail. Unlike some other workout apps, this one makes sure that you know how to properly do it in order to minimize the possibility of an injury.
Just Breathe
The office environment isn't a walk in the park, and it can often be stressful. Past all of the deadlines and office culture, however, is sweet reprieve. Just take a deep breath and try to relax. Stress is counterintuitive for productivity, so you can use breathing exercises to clear your head and get back in the game.
Apps That Can Help
Calm: This is a web app that lets the user listen to ambient sounds to help them relax. Calm also offers the ability to program a noise that lets you know when you have to get back to work.
Breathe2Relax: (Android and iOS) This app functions as both an educational tool to show users how stress affects their body, as well as a deep-breathing guide for stabilizing your mood.
How do you spend your breaks? Let us know in the comments.