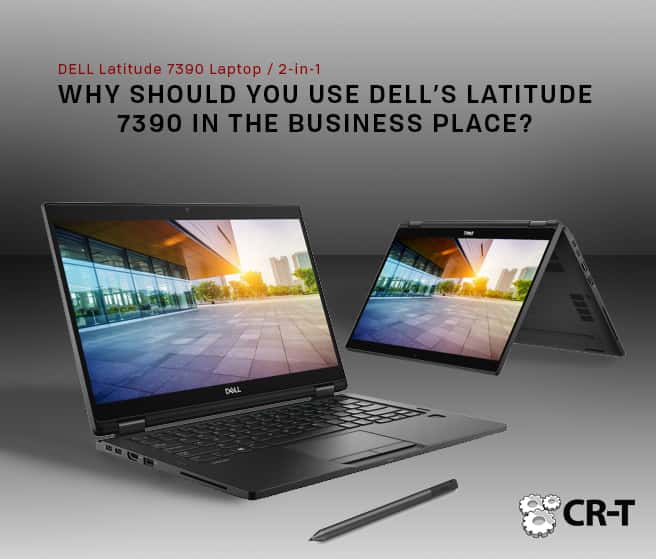 Why Does Dell's Latitude 7390 Belong In Your Office?
We live in an ever moving, ever mobile world and it's no wonder that you expect your technology to also fit your fast-paced lifestyle.
When it comes down to being a business owner/CEO, an IT professional, or an employee, you want to make sure that your computer is able to keep up.  With your expertise, you don't want a computer that will slow you down.
Let's break down the Latitude 7390 business-class laptop specs along with the Latitude 7390 2-in-1 combination. You will be able to see how they excel over the rest!
Dell's Latitude 7390 Intel Processor
8th Gen Intel® Core™ i7-8650U Processor (Quad Core, 8MB Cache, 1.9GHz, 15W, vPro)
The 8th Generation Intel Core i7-8650U laptop processor (business-class) is slightly faster. This is due to its higher clock speeds of 1.9 GHz – 4.2 GHz as opposed to 1.8 GHz – 4 GHz from its other processor siblings.
The 8650U has Intel vPro built-in. vPro technology makes managing of PC systems in business environments easier while providing enhanced security.
Furthermore, this stunning laptop not only provides you with Intel vPro manageability but also gives you MIL-STD-810g certification against vibration, shock, and other environment extremes.
Latitude 7390 Port Selection is Impressive
Sometimes buying a new computer puts you in a frustrating situation. It is no fun when you buy a new computer and the manufacturer has removed the ports you are used to. When you open the box, and it's not there, frustrations arise.
The Latitude 7390 does not disappoint in this way. The port selection is quite impressive. On the Latitude's left side, you'll find a SmartCard slot, USB 3.0 and HDMI ports, a Thunderbolt 3 port, and the power connector. On the right, you have an Ethernet port, another USB 3.0 port, micro SD and SIM card slots, an audio jack, and a Noble lock slot for securing the laptop to an anti-theft cable.
Battery Life That Lasts
Tests show that battery life of the business edition lasted 19 hours ( light usage) according to Dell. Other tests yielded 12.5 hours with typical usage behaviors. A heavy usage test yielded 7.5 hours with the brightness set to 75 percent while using a 60Whr battery option. Those numbers prove more than enough for a full day's work. You may even have a little juice for Netflix or light gaming time at the end of the day.
The 2-in-1 tablet style Dell Latitude 7390 battery life lasts an impressive 12.5 hours according to Dell specs. With typical work like behavior, you can see battery life lasting 7.5 hours.
You can seamlessly move between your desk and meetings with features like Express Charge. It gives you up to an 80% charge in less than an hour!
Portability
The Dell Latitude 7390 business-class laptops and 2-in-1 tablet style laptops start at a weight of only 2.59 lbs. The 2-in-1 version comes with an easy button operated self-extending kick stand. This allows you to maneuver in cramped spaces on an airplane or in an Uber. It also makes it very easy to open your 2-in-1 and prop it up all with one hand.
The Latitude is also beneficial for its sleek and fairly thin profile starting .63 of an inch thick with the key board.
Dell Latitude 7390
 "The Latitude 7390 is super fast making  heavy multi-tasking to be no problem at all!"
Dell Latitude 7390 Laptop and Dell Latitude 7390 2-in-1 Performance
Dell operates with full-power Intel processors for the Latitude 7390 2-in-1 and Laptop. It features quick performance with super smooth multi-tasking. The 2-in-1 features 8th Gen Intel Core i5 U-series chip with 8 GB of RAM and 8th Gen Intel® Core™ i7 U-series in the Laptop.
Don't forget, web browsing also received some well-earned TLC with a speed boost from a 2x2ac WiFi connectivity.
Don't judge the book by its cover or size. The keys on the keyboard are deep and comfortable. The touch pad on the keyboard is quite responsive. Long hours in the office are also made easier with a back-lit keyboard feature. That makes it useful to see the keys in darker environments. In the end, if you are a productivity-focused user, you should have no problem getting a lot done with the Latitude 7390 2-in-1.
Let's not forget about the display!
The beautiful 13" Full HD display features a narrow border which was engineered to fit a 12" frame for lighter weight and a better viewing experience. Dell also threw in an anti-glare screen!
While the 13.3-inch display doesn't fold all the way back, it does go 180 degrees. And with it's touch-screen capabilities, laying the screen all the way back makes light work of scrolling through articles and watching videos.
Made with premium materials like recycled carbon fiber, you can rely on your Latitude's durability.
The Latitude 7390 is Trusted By IT
Security is a major plus with the laptop as well. Security is better thanks to easy facial recognition, sign-in from Windows Hello, and a fingerprint reader as a backup. There are also other security additions including hardware and software security features that businesses will appreciate (including a contactless smart card reader).
You can rest assured that your data is always protected with a wide variety of bio-metric readers and encrypted hard drives.
Overall, with an innovative design, Latitude laptops and 2-in-1's are devices you will be proud to carry. Dell Latitude gives users the power and connectivity they need throughout the day, no matter how they work.
Top Golf Event powered by DELL EMC
Join CR-T for an exciting afternoon of lunch & golf at Top Golf on Thursday, March 30th, 2017.
Take a Break for Top Golf
This is a great way to get to know each other and have a lot of fun in a relaxed atmosphere. Everything is provided, so come out for a great time! CR-T is a proud supporter and certified partner with DELL EMC as they join with us for this event.
We've hosted events like this in the past and have had people say:
"Most relaxing business event I've been to. They (CR-T) provided amazing food, giveaways, golf and time to talk with some of their partnered reps that came." – Kent Richeson | CEO Boundaries Social Media LLC
Leave that boring office for a few hours to have a great time on the range with friends and talking with DELL EMC reps.
Has your Company Received an Invite?
If you did not receive a personal invite from CR-T but you are interested in attending, please contact us at 801-222-0930 for more details.
Must RSVP via personal invite to attend the Top Golf event.
Tip of the Week: 7 Easy Ways to Encourage Collaboration in the Workplace
Increased Efficiency
As the old saying goes, two heads are better than one. With multiple people actively pursuing a common goal, progress toward that goal can move along much quicker than if a lone worker had to complete it independently.
Greater Engagement Between Employees
Workplace collaboration solutions tie the entire office closer together, even if some of your employees aren't technically "in" the office. Connecting office employees with their remote-working teammates will help your remote workers feel like they are still involved and valued–and allow your in-house employees to benefit from their input as well.
Of course, your in-house team members can experience the positive effects of collaboration as well. Having employees share ideas also encourages them to build off of each other's successes, and will often result in a sense of camaraderie among team members.
Initiating New Employees
One of the fastest methods for a new employee to learn what they are supposed to do is to learn it from an experienced coworker. The other method is to dive right into it. Collaboration solutions offer the opportunity for a new employee to do both as they and the more experienced team member work together to complete the task at hand.
These are just a few brief samplings of the many benefits a company can enjoy once collaboration has become a part of the office culture. The question now is, how does one go about encouraging collaboration in the first place?
Lead By Example…
First of all, if your employees see you extolling the benefits of collaborative work while never participating in it yourself, they are apt to disregard your recommendations and continue to go about their work on their terms. However, if you demonstrate the value of collaborative work by initiating it with your workers, you prove not only that it does present benefits to business operations, but also that you are serious about implementing it.
… but Know When to Step Aside
As a leader, you will need to be cognizant of when to back off and trust your employees to do what they have to do. Micromanaging a project and trying to force collaboration on your employees will result in the opposite effect that you were hoping for, wasting time and reducing their morale. Have faith that your employees are capable of doing the job you hired them to do with minimal direction.
Let Your Employees Speak Up
Make sure that your employees have a forum to voice their ideas and concerns. A big part of collaboration is the ability for each team member to contribute to solving problems that an organization encounters. Give them a way to share their ideas for improvement and acknowledge each idea as a viable option. This will bring the team closer and create a more cohesive workplace.
Demonstrate the Benefit to the Employee, Not Just the Company
Presumably, your workforce is made up of human beings, which means that at least some portion of them will, when presented with the idea of collaboration, think to themselves, "What's in it for me?" This is not the time to focus exclusively on how internal collaboration will be of benefit to the company. You should also mention how much easier collaboration can make their jobs, making the benefits personal and professional, and in turn making them more likely to embrace collaborative work.
If you've found success in increasing collaboration in your workplace, let us know how in the comments below.