Hundreds of companies are making the switch over to Microsoft Surface for business. They are taking advantage of the lower costs, better performance, and greater flexibility. According to a recent Windows Report, Microsoft Surface sales have increased by 21% in the last quarter. Microsoft Surface products' versatility make them the perfect choice for any business.
Microsoft Surface offers a number of high-quality products, from the cost-effective Surface Pro 6, to the powerful Surface Book 2. Furthermore, for businesses, these touch screen devices connect to interactive whiteboards through Surface Hub and other Bluetooth devices. These integrations allow you to easily share information and collaborate. Surface also offers over 100,000 apps, including Office 365.  
See why implementing Surface technology is the right choice for your company.
Pick the Microsoft Surface That's Right for Your Business
One of the great things about Microsoft Surface is that there are a lot of options to choose from. Whether you need a device that's cost-effective, powerful, or travel-friendly, Surface has a product that will meet your needs.  
There are four pillars of the Microsoft Surface brand: the Surface Go, Surface Pro 6, Surface Book 2, and the Surface Laptop 2. All offer dozens of features that make them a great addition to your business.
The Surface Go is by far the most affordable option of the four. A smaller and lighter version of the Surface Pro, the screen measures 10 inches, and the device weighs just over a pound. Although it exhibits less computing power and battery life than Microsoft's other Surface products, the Surface Go is the perfect option if you need a small, portable device at a great price. 
I would argue that the Surface Go is perfect for your more nimble business teams like sales teams who don't need stronger processing power that the other Surface models bring.
The Surface Laptop 3 lies at the opposite end of the spectrum, with a larger size and less flexibility than the Surface Go. However, when compared with the Surface Book 2, the Surface Laptop 3 offers a lot of the same capabilities at a lower price. Its light, slim build and affordable cost make the Surface Laptop 3 a great, all-around notebook computer.
Although more expensive than the Surface Laptop 2, the Surface Book 2 offers a highly advanced, versatile experience that contests that of the Macbook Pro. Its greater power provides a longer battery life and improved performance. And, with the ability to transition between a laptop and a large tablet, the Surface Book 2 offers greater flexibility than almost any other laptop.
The most popular of all Surface products, the Surface Pro 6 is a highly versatile hybrid notebook computer that doubles as both a tablet and a laptop. The Surface Pro 7 is surprisingly cost-effective for its size and performance. It offers a variety of innovative features, like a kickstand, surface pen, and a face recognizing sign-in camera. For a great 2-in-1 option at an affordable price with strong processing power, the Surface Pro 7 is the way to go.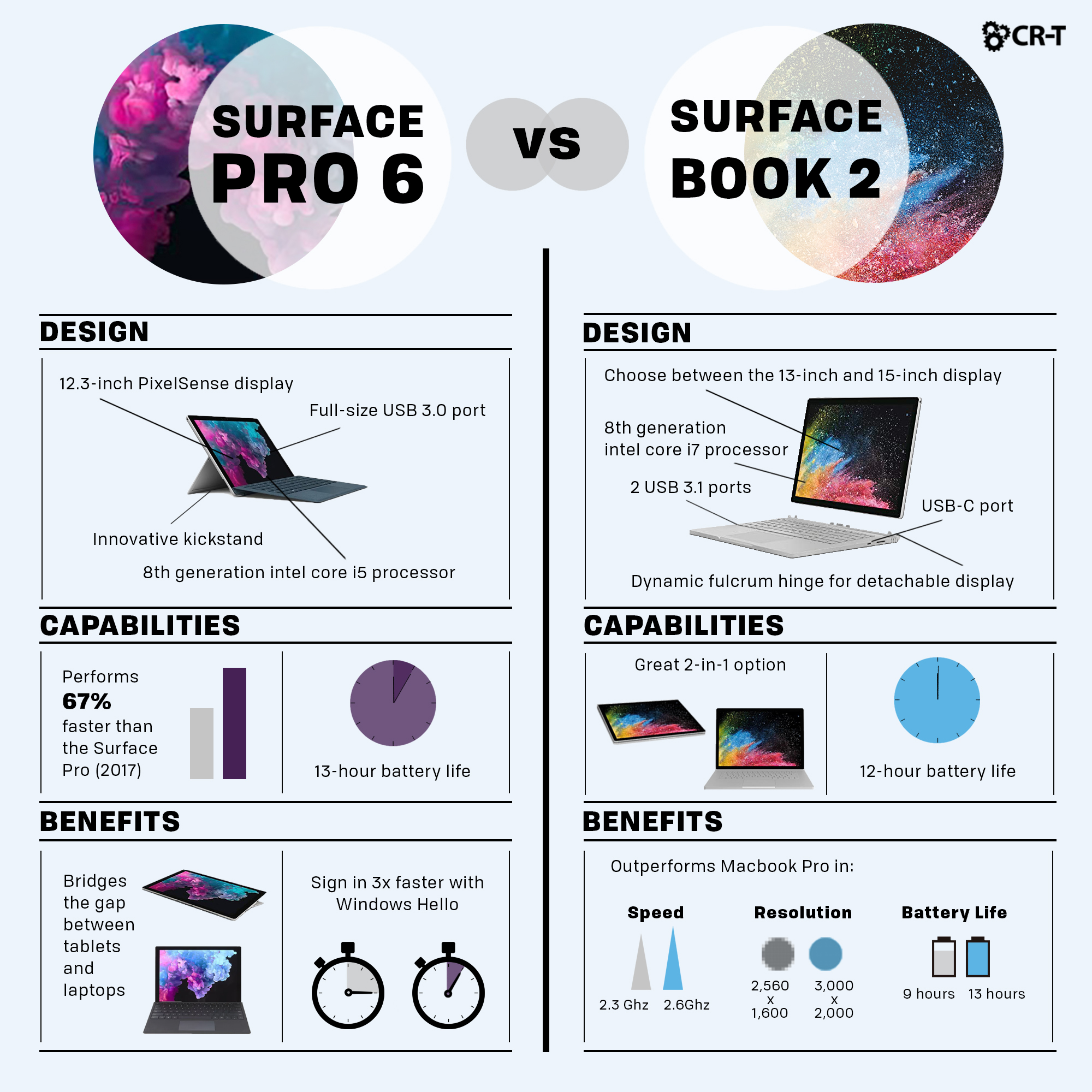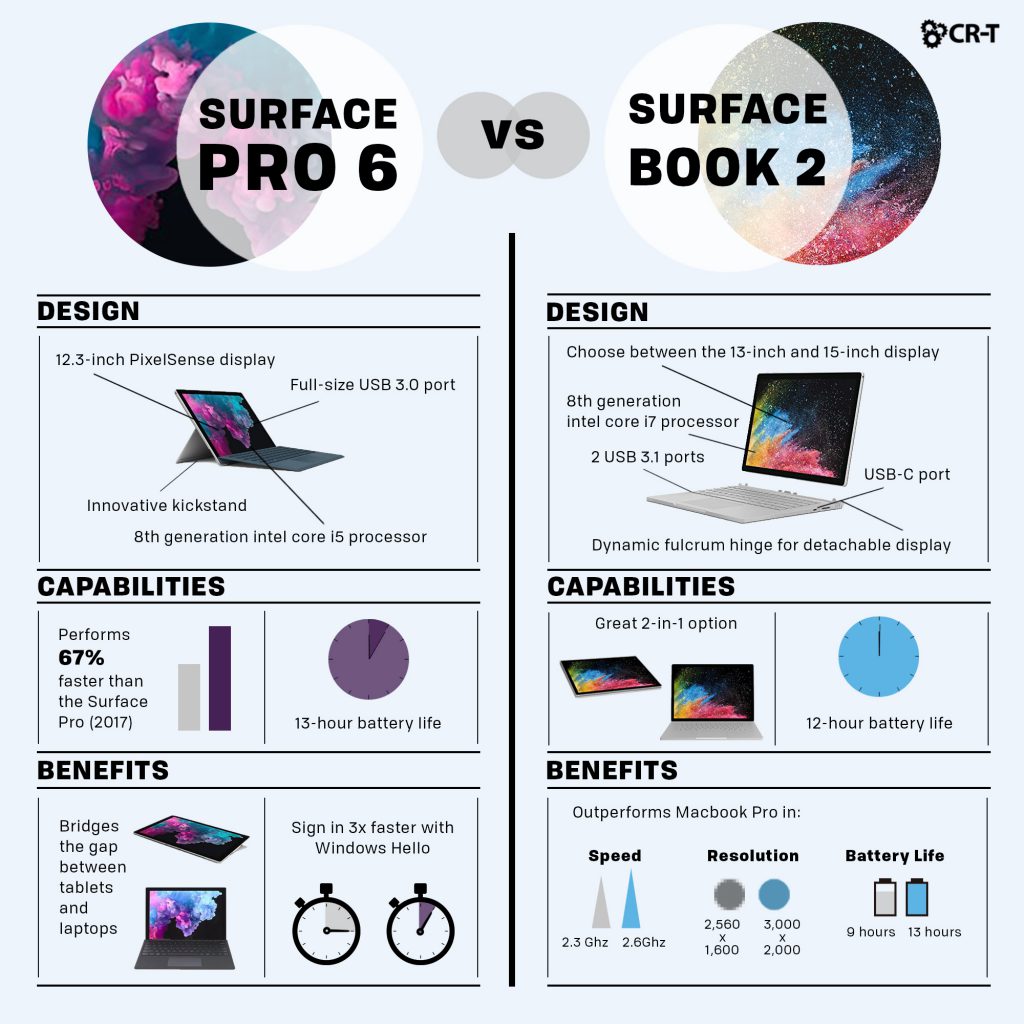 Benefits of the Microsoft Surface Pro 7
The Surface Pro 7 offers a versatile setup and a sleek design. With a gorgeous black matte finish and 12.3" PixelSense display, it easily rivals the capabilities of other models, like the Macbook Pro.
The Surface Pro 7 also comes with an 10th generation Intel core processor and USB-C port. This, combined with its 13-hour battery life and 10th generation-level performance, makes the Surface Pro 7 a high-functioning, dual-process machine that will make a perfect addition to your business's technological framework.
Apart from its attractive build, the Surface Pro 7 also offers a variety of unique features. One example is an innovative kickstand that allows you to transition from a tablet to a notebook computer. The Windows Hello face sign-in camera is a biometric login feature that allows you to sign into your device automatically, without having to enter a password.

The Surface Pro 7 also pairs well with a variety of accessories, giving you the full tablet/laptop experience. The surface pen functions with a precision of 4,096 points. This offers you the capability to take notes as if you were using a pen and paper. When paired with a surface mouse and keyboard, the Surface Pro 7 gives you all the capabilities of a laptop, but with a lighter build and at a lower cost.
Due to its hybrid nature, the Surface Pro 7 is a great 2-in-1 option, bridging the gap between tablets and laptops. It offers greater functionality than other devices at a similar size and weight, with its additional capacity to run full windows programs. The Surface Pro 7 is fully optimized to run Office 365 and Windows 10. With the Surface Pro 7, you can perform tasks that are impossible with IOS or Android.
Benefits of the Microsoft Surface Book 2
Like the Surface Pro 6, the Surface Book 2 is highly versatile and offers a variety of capabilities. With the option to choose either the 15-inch or the 13-inch computer, you can find a size that works for you, without sacrificing the quality and power that come with such an adaptable device.
The Surface Book 2 boasts a 12-hour battery life, and its 8th gen Intel core i7 & i9 processor (we are in 2019) enables it for high performance and functionality. The Surface Book 2 also includes access to a full-size USB-C port—the first surface product to include a USB-C—along with two USB 3.1 ports, a full-size SD card reader, and a surface connector.
One of the leading features of the Surface Book 2 is its touchscreen capabilities. This feature ranks it above other laptops of the same performance level. Its design also includes a dynamic fulcrum hinge, allowing for a detachable display.
Like the Surface Pro 6, the Surface Book 2 makes a great 2-in-1 option. It functions as a powerful laptop, but you can detach its keyboard and transform it into a large tablet. And despite its size, it feels relatively lightweight and rests comfortably in your hand.
When deciding whether or not to make the switch to Surface, it's important to understand how Surface products compare to its top competitors. The Surface Book 2 outperforms Apple's Macbook Pro in nearly every way. It offers a higher resolution and better processor, and its superior graphics card and touchscreen capabilities make it an obvious choice.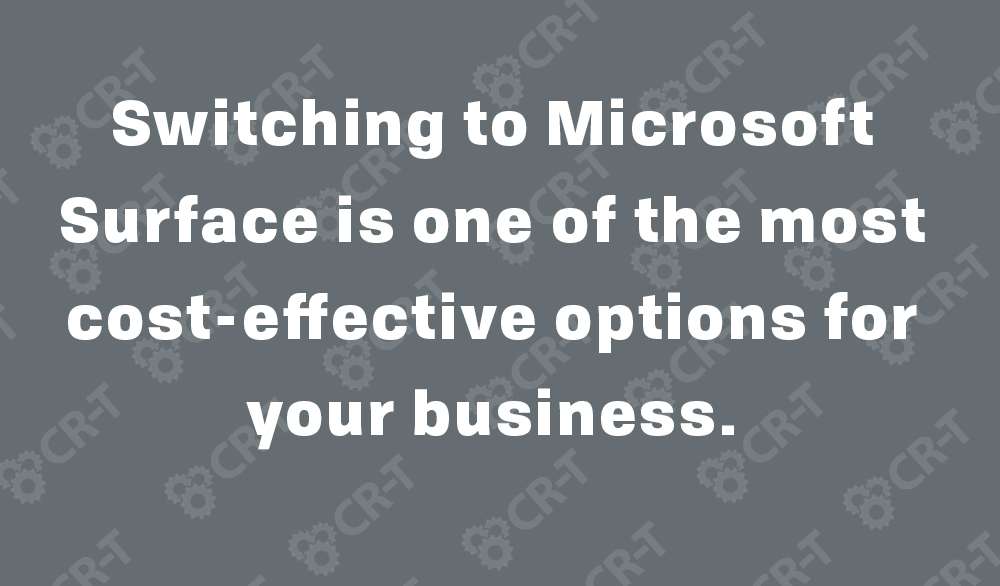 How Good is Microsoft Surface for Businesses?
Switching to Microsoft Surface is one of the most cost-effective options for your business. You can reduce the number of necessary devices for your network, while saving time due to better performance.
And more time doesn't just affect your productivity; it can also earn you more money. For a sales team, for example, every hour saved means more time selling products and providing customer service. One company reported increasing their sales by 35% after switching over to Surface (Softchoice).
Microsoft Surface is especially helpful when working on a team. Microsoft Whiteboard is a digital canvas that can connect to other Microsoft devices.  This allows you to easily share and display information during team meetings and conferences. With Microsoft Teams, you can easily share your screen with other team members and collaborate in real-time.
Microsoft Surface also provides you with greater security. The Windows Hello login feature secures company devices and eliminates the need for company-wide password resets. Security experts say that Microsoft Hello is even more secure than a fingerprint or password (Business News Daily).
Strengthen Your Executive Team
You can also use Surface technology to optimize specific departments, such as your executive team. Surface Enterprise Management Mode (SEMM) allows you to manage firmware settings from within your organization. This is made possible through the Surface Unified Extensible Firmware Interface (UEFI).
The Surface UEFI Configurator is used to configure SEMM (Surface Enterprise Management Mode) on a Surface device. As a more innovative version of motherboard firmware, the UEFI Configurator leads to faster boot times and added security features. Surface SEMM gives you greater control over your firmware so that you can manage your network from one central location.
Enhance Your Sales & Marketing
Microsoft Surface isn't just for general office use. These products can benefit your sales and marketing team by helping you achieve greater efficiency and better relationships with clients. Microsoft Surface is compatible with Microsoft workplace analytics. This program analyzes data from Office 365 to help you increase productivity and engage better with employees and customers.
Microsoft Surface can help your sales team work easily on the go and interact better with customers. With the Surface Pro 7, members of your sales team can easily share information with customers by displaying it on a small, lightweight device. The Surface Pro 7 also makes it easier for salespeople to work on-the-go. Whether you're using the kickstand and keyboard, or dictating information using Cortana, the Surface Pro 7 gives you everything you need to operate successfully as a salesperson.
Making the Switch to Microsoft Surface for Business
Microsoft Surface offers a variety of benefits, including lower costs, unique features, and adaptability to fit your business's needs. With the ability to work from anywhere and harness the power of both a laptop and a tablet in the same device, switching over to Surface will save your business time and money, while allowing you to take advantage of the latest technology.
Here at CR-T, we take pride in providing enterprise-level IT services at prices that work for small businesses. Our team of experts can become your IT support department, responding to issues quickly, often before you even know about them. Covering everything from your servers and network infrastructure, to your computers, workstations and mobile devices, we provide end-to-end solutions for all your technology needs.
Time and experience have helped us develop best practices and workflow procedures designed to keep your focus on your business, not your technology.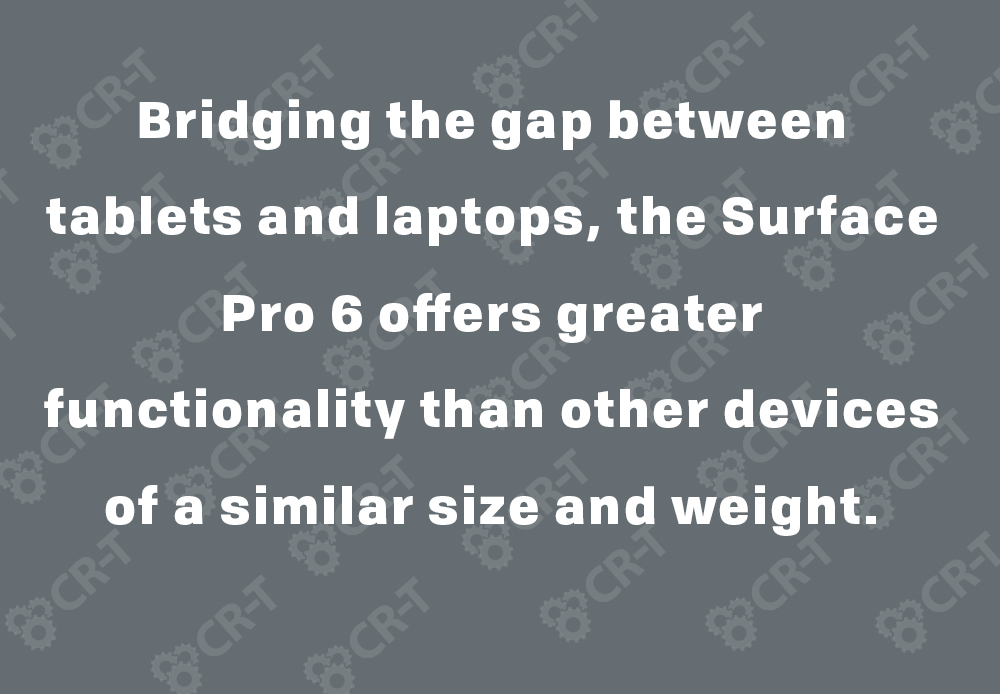 Your organization can't afford to neglect backup and disaster recovery. If it takes your business too long to get back online after a disaster, you
Read More »