Most business owners don't wake up one day with a plan to hire an MSP. Instead, organizations will often experience a security breach of some sort, or they'll recognize a gap in their infrastructure that leads them to turn to a managed IT support provider.
For example, one of our clients had never used IT support before coming to us. One of their servers had become infected with ransomware, and the company lost a lot of money. We reached out to them to see how we could help, and they've since seen a huge boost in security.
Another company had been using a single IT engineer for 20 years. After their server crashed, leaving them without email access for 2 weeks, they realized it was time to switch to a new support system.
Every organization's story is different, but they all have something in common: a need to be filled. What are your pain points? And how can a manged IT support provider help you take your organization to the next level?
In this article, we'll walk you through the steps that we take to help businesses receive the best service possible and take advantage of everything an MSP has to offer.
Starting Out: Who Needs Managed IT Services?
Running a business isn't easy, and your organization comes with its own set of unique challenges. Maybe you already have a tech team in place, but they're struggling to keep up with the demand of your growing business. Perhaps you recently encountered a cyber attack and are suffering from fines and compromised data. Or you might be a healthcare organization looking to maintain HIPPA compliance.
A Managed IT Support Provider—also known as a Managed Service Provider, or MSP—manages an organization's IT infrastructure, including:
Hardware
Software
Devices
Network
Cloud support
Core applications
Cybersecurity
An MSP is perfect for a small business who doesn't have the resources for an in-house IT team. However, an MSP can also benefit larger organizations. Managed IT support providers house a full team of engineers with a variety of certifications and expertise. This means that you only have to go to one place to get your questions answered and receive the full support you need.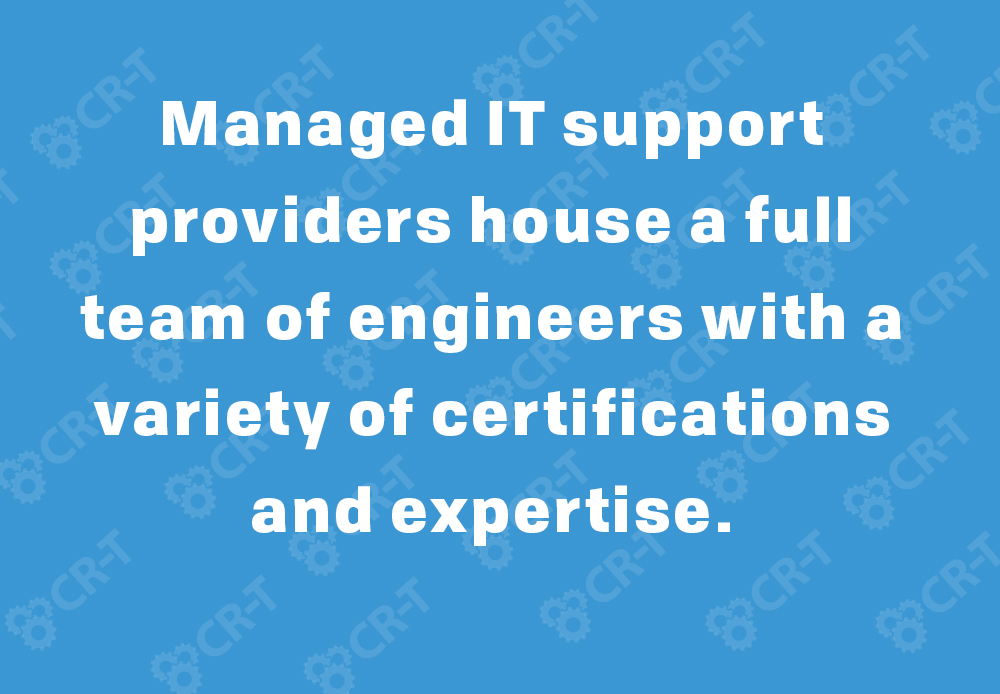 The Next Step: Identifying Your Needs
When shopping for an MSP, you'll often meet with a sales rep to determine your basic needs and find out whether an MSP would be a good fit for you. A lot of times, organizations aren't even looking to partner with an MSP when they first talk to a sales rep. However, by meeting with an expert, they learn that a managed IT support provider can provide them with a lot of benefits, like cutting costs and enhancing security.
For example, at CR-T, our sales reps begin by asking potential clients a series of questions. We like to learn more about your company, your current systems and procedures, and your goals for the future. These questions help us better understand your needs so we know how to best serve you.
After asking some initial questions, one of our sales rep will run through a questionnaire with you to determine whether we'd be a good fit. If your organization qualifies, a lot of MSPs will offer a free consultation or assessment to help you understand the team and their workflow. This ultimately guides you to a decision about whether to partner with an MSP.
Here at CR-T, we offer a free onsite assessment to organizations who meet with our sales reps and complete a preliminary questionnaire. This assessment includes an audit of your entire IT infrastructure, and it illustrates any security gaps you might have to show how we can help you improve. This assessment is a great chance to interact with our team and gain full visibility of your infrastructure. That way, you can see first-hand what changes might need to be made.
Perhaps the greatest benefit of an onsite assessment is the opportunity to meet various members of an MSP's team. This will help you decide whether they would be a good fit for your organization.
By the time our team has completed your onsite assessment, you'll have had the chance to communicate with at least one of our sales reps, our dispatcher, our IT services director, and at least one of our engineers. The opportunity to interact with our team members will give you a taste of our customer service and help you experience our services first-hand—without paying a dime or signing any papers.
If building relationships is important to you, then an onsite assessment is a great opportunity to get to know the people who will be handling your security and your IT infrastructure.
Following the assessment, your sales rep will contact you to ask some specific questions relating to your infrastructure. They will then use that information to put together a quote and walk through it with you. Then you can start enjoying the benefits that a managed IT support provider has to offer.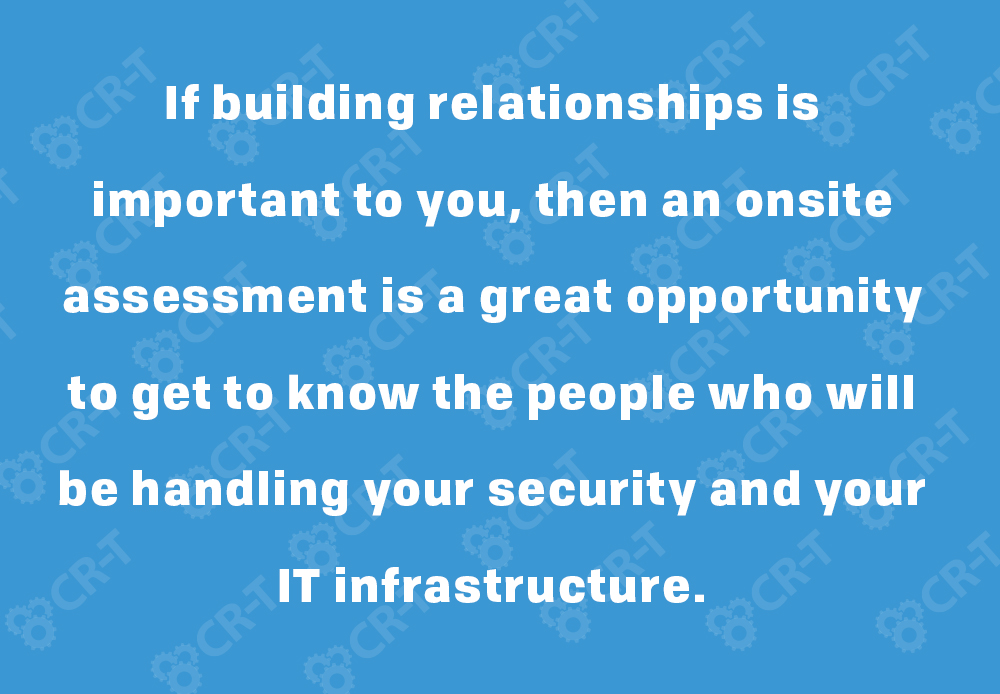 What's Next: Choosing a Managed IT Support Provider
MSPs can save you a lot of time and money. When you hire your own team of IT engineers, you are responsible for paying them salaries, making sure they have the necessary certifications, and training them to do their jobs. An MSP comes with a team of experienced engineers who hold a variety of certifications and are equipped to handle a range of IT problems. With an MSP, you're basically paying a flat rate for a qualified team whose job it is to make your life easier.
Additionally, managed IT support providers offer around-the-clock support. If your server crashes at 3 am and you need it up and ready to go in a number of hours, your in-house IT department likely won't be too thrilled to come into work early and fix the issue. And then you have to worry about other things, like paying overtime and offering benefits to your employees. With a managed IT support provider, you have access to continuous support at a single rate.
Which MSP is Right for You?
Clearly, an MSP can offer you a lot of benefits, but how do you decide which one is right for you?
First off, choose a proactive MSP. Unlike a reactive MSP, who fixes problems as they arise and charges by the hour, a proactive MSP charges a flat rate to manage your infrastructure and keep everything up to date. Since you only pay a single fee every month, the MSP has a greater incentive to stay on top of everything and prevent any problems, meaning you receive greater service.
In addition, choose a managed IT support provider whose services and personality align with your business goals. Ask questions about cloud services, security, customization, and anything else that's important to you. Try to meet as many of the team members as you can. These are the people you will call every time you have a question or issue regarding your IT infrastructure, so make sure you trust them and their solutions.
You can tell a lot about an organization by the way they treat their clients. We obviously want to serve as many people as we can, but we care most about helping you have the best experience possible. We make it easy for our clients to get the help they need, and we give you the freedom to go another direction if you choose to do so.
A lot of MSPs will hold information hostage in order to keep their clients on a leash. In doing so, the process of switching to another provider becomes so much of a hassle that the client just stays with the original managed IT support provider. We don't want to trick our clients into staying, even though we're sad to see them go. Ultimately, our number one goal is to do what is best for you. That's why we have a shared file with all of a client's information that the client can access at any time.
Get the IT Support You Deserve
Partnering with a managed IT support provider won't immediately solve all of your problems. It will, however, give you the tools you need to strengthen your security and transform your organization into something great.
Here at CR-T, we take pride in providing enterprise-level IT services at prices that work for small businesses. Our team of experts can become your IT support department, responding to issues quickly, often before you even know about them. Covering everything from your servers and network infrastructure to your computers, workstations and mobile devices, we provide end-to-end solutions for all your technology needs.
Time and experience have helped us develop best practices and workflow procedures designed to keep your focus on your business, not your technology.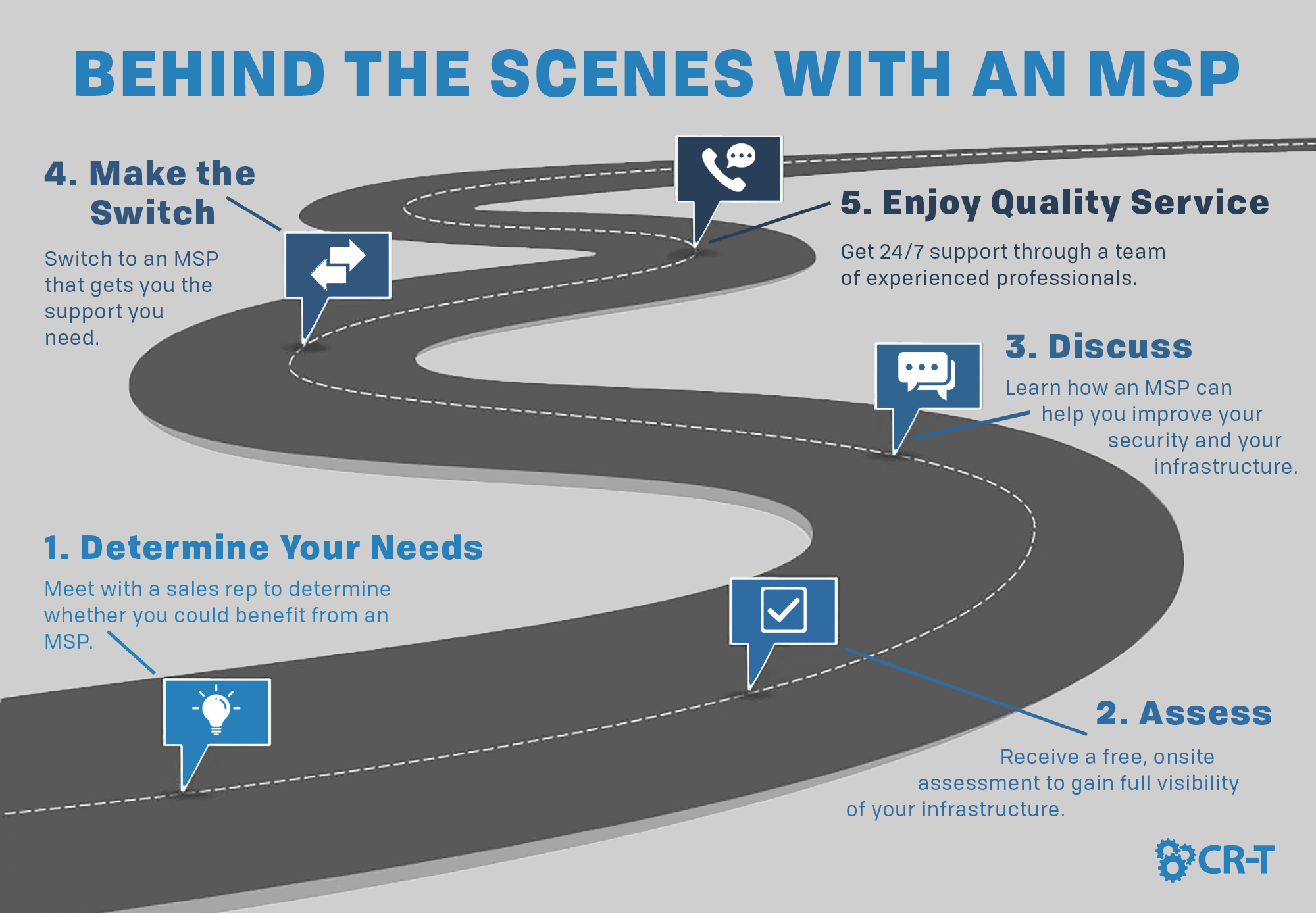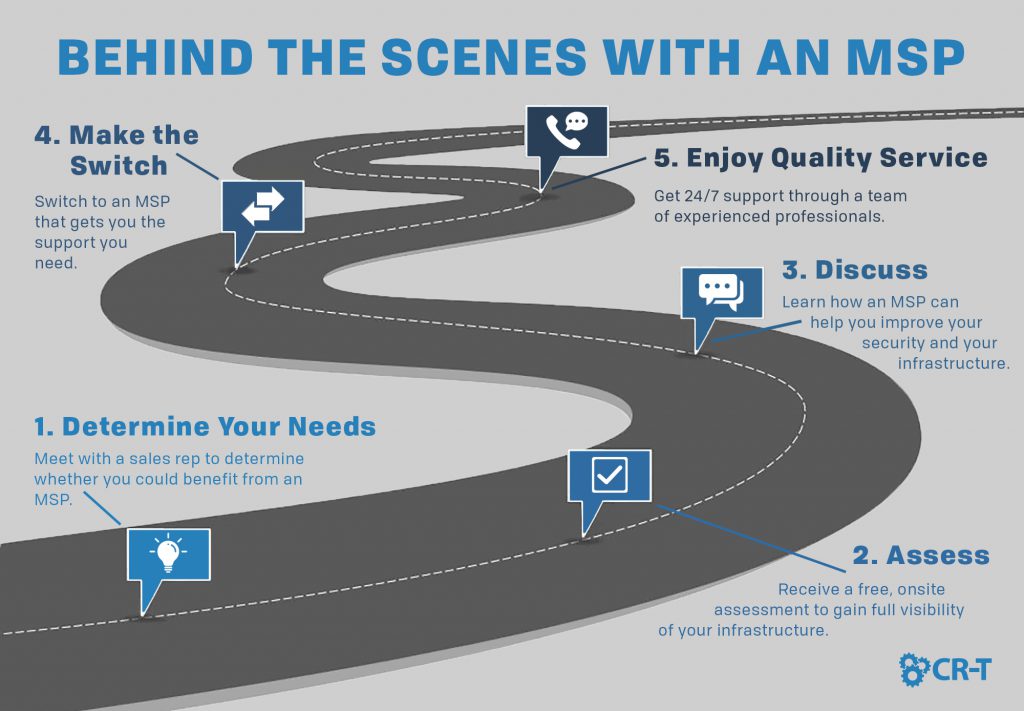 If you're responsible for managing the security of your organization's network or systems, you may have heard the terms "penetration testing" and "vulnerability testing" thrown
Read More »