Technology is becoming increasingly complex, and for small businesses, especially, it's difficult and time-consuming to manage everything. Nutanix enables businesses to simplify their processes through modern innovative solutions.
Nutanix works to unify private, public and distributed clouds to create a true hybrid cloud experience. Building an enterprise cloud allows you to centralize your storage, virtualization, and networking, all in a single location.
Keep reading to see how Nutanix can streamline your business operations to provide you with more flexibility.
Hyperconverged Infrastructure
Acropolis (AOS)  is the industry's most supported Hyperconverged Infrastructure (HCI) solution (Nutanix). It combines the simplicity of HCI with an enterprise-grade performance.
AOS offers built-in virtualization via Nutanix AHV. Or, you can use your own virtualization solution.
Choose AOS to get complete visibility and control across your environment.
Nutanix AHV: Virtualization
Instead of managing your infrastructure's virtualization separately, you can implement it directly through AOS. Nutanix AHV is enterprise-grade virtualization included with the Enterprise Cloud Operating System (OS).
Built-in virtualization saves you the time and hassle of paying for virtualization separately. You can also enjoy greater performance at a reduced cost.
AHV offers everything you need:
High performance

 

Flexible migrations
Security hardening

 

Automated data protection and disaster recovery

 

Integrated management features
Prism: Infrastructure Management
After simplifying your infrastructure and implementing virtualization, easily manage your infrastructure with Prism. With just a single console, you can manage your virtualization, HCI, and clouds as one.
Prism streamlines your workload, allowing you to handle most management tasks with a single click. Its end-to-end Virtual Machine (VM) management makes for a simplified workflow throughout the entire VM lifecycle.
Nutanix Move: Application Migration
According to the 2018 Enterprise Cloud Index, 97% of users said that the ability to move easily between clouds is essential.
Nutanix allows you to automate your migration through application mobility services. With one-click migrations, you can easily move your infrastructure from ESX, Hyper-V, and AWS. Nutanix also makes it easier to simplify your operations, while minimizing downtime.
Nutanix Mine: Secondary Storage
Discover Nutanix Mine, a turnkey backup solution that makes it easier to unify IT operations and deploy your infrastructure. Nutanix Mine provides a single platform for organizations utilizing Nutanix Enterprise OS. Simply integrate your existing data protection to include secondary data backup.
With Nutanix Mine, you have the freedom to choose the best data backup software for your organization. By automatically integrating with Nutanix Mine, you also have greater control over storage and backup.
Nutanix provides a simple and flexible solution for your file storage needs. Deploy Nutanix Files with just a few clicks, and enjoy a variety of benefits, including: 
Turnkey consolidation
Single namespace

 

Software-defined flexibility

 

Deep analytics intelligence
Simplify your file storage and enjoy greater flexibility when you choose Nutanix Files. Scale up or scale out through your choice of hardware, and enjoy a pay-as-you-grow model.
Nutanix Files also offers you greater visibility of your data. Know exactly who is using your data and how it's being stored to make for more centralized file management.
Nutanix Volumes creates a single, unified platform for your workloads. Simplify data management and leverage your HCI at a lower cost. You also have the option to virtualize your workloads, making it easier to bridge the gap between physical and virtual data.
Nutanix Volumes is designed to maximize efficiency and reduce your technological footprint. Storage resources automatically include deduplication, compression, erasure coding, and thin provisioning. Your performance scales seamlessly with the size of your Nutanix Cluster, thus eliminating the need for upgrades.
Like file and volume storage, provides a simple and flexible solution for managing your workloads. Within seconds, you can create a single, globally-accessible space for unstructured data.
In addition to basic storage, Nutanix Objects eliminates the need for storage silos by hosting your VMs, files, block, and object storage on the same platform. This reduces costs and provides you with a fully-integrated storage solution.
Automation & Orchestration
Nutanix Calm: Application Automation
Nutanix Calm provides advanced, application-centric automation for organizations of every size. Designed to eliminate complexity, Calm enables you to streamline your operations and centralize control of your application management.
In addition to simplifying your operations, Nutanix Calm offers you greater agility. This enables you to accelerate application deployment and automate day-to-day lifecycle operations.
Prism Pro: Smart IT Applications
Powered by advanced machine learning technology, Prism Pro mines data in order to automate tasks. Prism Pro helps you optimize virtualization, infrastructure management, and everyday operations.
With Prism Pro, you have a variety of AI advantages right at your fingertips. Enjoy automatic optimization, advanced analytics and recommendations, proactive remediation, and streamlined operations.
Nutanix Era: Database Services
Automate and simplify your database administration with Nutanix Era. One-click provisioning both lowers costs and saves you time when it comes to database management. With a single click, you can provision, clone, refresh, and back up your database.
In addition to saving you time and money, Nutanix Era enhances your agility and sophistication. Copy data management offers high-end, customizable recovery SLAs. And the cloud-model experience provides you with a database-as-a-service model for managing databases.
Karbon: Kubernetes Service
The Kubernetes cluster is simple to manage, with built-in storage, centralized monitoring, and automated upgrades. Deploy Kubernetes in less than 20 minutes. After that, it's easy to operate, scale, and incorporate with file, block, and object storage.
Nutanix offers an enterprise-grade experience that makes it easy to streamline your Kubernetes operations. With cloud-like operations,  Nutanix provides a fast, efficient, and native Kubernetes experience.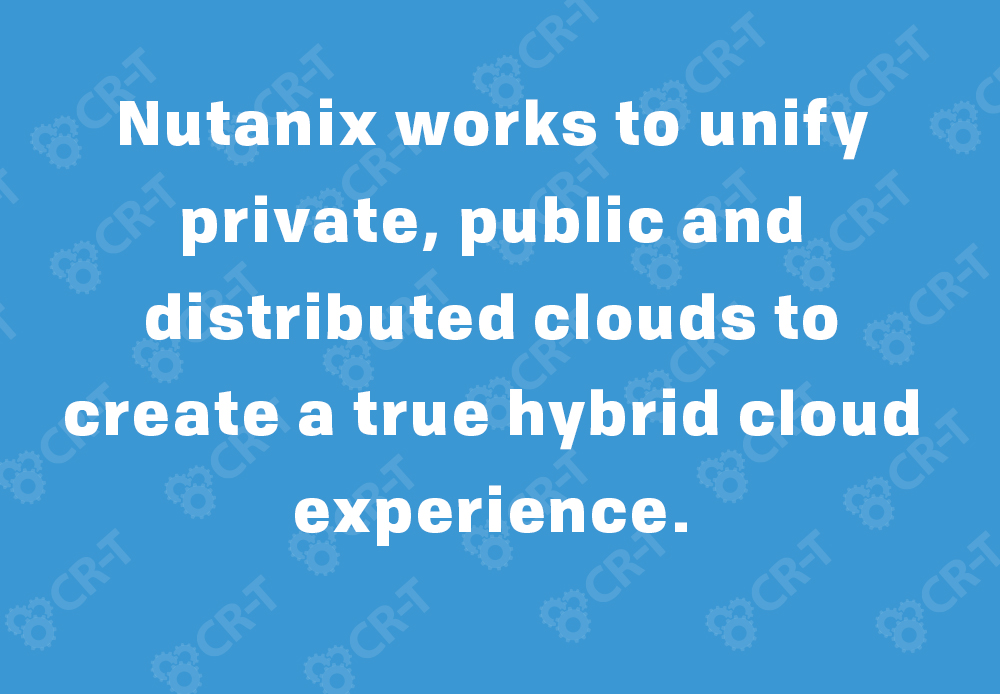 Nutanix Beam: Multi Cloud Governance
Minimize cloud costs and security risks with Nutanix Beam. Beam provides multi-cloud governance to help you achieve security compliance and cost optimization.
Nutanix Beam provides greater visibility into your multicloud consumption, offering data at both aggregate and granular levels. Through machine intelligence, Beam constantly provides cloud optimization recommendations, making it easier to repair vulnerabilities with a single click. Ultimately, Beam gives you greater control over your cloud consumption.
Nutanix Beam is compatible with the following cloud platforms: 
Amazon Web Services (AWS)

 

Microsoft Azure
Nutanix Enterprise Cloud
Are you struggling to manage data on multiple cloud platforms? Meet Nutanix Clusters, a true hybrid cloud for your applications. With Clusters, you can seamlessly operate applications in a hybrid cloud architecture, ranging from on-premise data centers to public clouds.
Instead of migrating everything to a separate platform, Clusters acts as an extension to your current infrastructure. Seamlessly integrate with the public cloud, and operate your applications and infrastructure with reduced complexity.
Frame: Desktop as a Service
Frame is a desktop-as-a-service (DaaS) solution. Within an hour, you can easily create a virtual workspace for your teams, customers, or partners. Deliver virtual apps to users around the world.
Create your virtual platform in under an hour: 
Choose your infrastructure:

 

AWS

 

Microsoft Azure

 

Google Cloud
Nutanix Enterprise Cloud

 

Pick your apps:

 

Office 365

 

Adobe Creative Cloud

 

Autodesk Revit

Integrate your authentication:

 

Okta

 

Ping Identity

 

Azure Active Directory

 

Auth0

Integrate your cloud storage:

 

Nutanix Files

 

Google Drive

 

Box

 

Dropbox

Access on any browser:

 

Google Chrome

 

Firefox

 

Safari

 

Windows Explorer

 
The Internet of Things (IoT) is only growing. Ericsson.com predicts that there will be 1.5 billion IoT devices by the end of 2022. The Nutanix IoT platform delivers AI-driven processing to simplify operations and create real-time visibility for businesses.
Nutanix Xi IoT creates a new model designed to simplify IoT and edge computing. Process data at the edge to increase operational efficiency. Analyze your IT data directly where it's created. Deliver applications to your choice of hardware via your choice of cloud.
Eliminate complexity and accelerate deployments with Nutanix Xi IoT.
Xi Leap: Disaster Recovery
Despite having the best infrastructure, storage solutions, and cloud services, you are still susceptible to a security breach. Instead of trying to manage a full-on data center, Xi Leap offers you the flexibility of a cloud-based Disaster-Recovery-as-a-Service (DRaaS).
Xi Leap offers a natively integrated cloud DR solution to protect your VMs. Implement DR in minutes through a subscription plan and utilize one-click testing to analyze critical workloads. Unlike enterprise disaster recovery, Xi Leap is simple, fast, and secure.
Simplify Your Technology with Nutanix
As a business owner, there's a lot of technology for you to manage. Nutanix will help you modernize your datacenter and manage your applications at any scale.
Here at CR-T, we take pride in providing enterprise-level IT services at prices that work for small businesses. Our team of experts can become your IT support department, responding to issues quickly, often before you even know about them. Covering everything from your servers and network infrastructure, to your computers, workstations and mobile devices, we provide end-to-end solutions for all your technology needs. 
Time and experience have helped us develop best practices and workflow procedures designed to keep your focus on your business, not your technology.
Your organization can't afford to neglect backup and disaster recovery. If it takes your business too long to get back online after a disaster, you
Read More »