Nobody wants to suffer a cyber attack, but it's a lot more common than you'd think. According to Manta, 87% of small business owners don't believe they are at risk of being attacked. Yet nearly half of all cyber attacks target small businesses (SCORE). So how can you avoid being one of the victims? Let's look at a case study to learn why understanding cybersecurity is essential. Then we'll teach you how you can equip yourself with the tools necessary to become an MVP in cybersecurity management.
On September 7, 2017, Equifax announced one of the largest cybersecurity breaches in history. The attackers accessed personal information like names, birthdates, and social security numbers, affecting more than 140 million Americans.
And this isn't an isolated event. Cyber attacks happen to real people every day. It can happen to anyone, even you. So let's talk about how you can prevent a breach from happening within your business.
Develop Airtight Security
According to Accenture's global survey, security breaches have increased by 67% in the last five years. Attacks are becoming more sophisticated and more frequent. And the effects can be costly.
Cybersecurity Ventures predicts that cybercrime damages will reach $6 trillion annually by 2021. And only 2% of the average IT budget is dedicated to security (ZDNets).
In order to protect your business and its assets, you need to think about cybersecurity as a comprehensive approach. This includes installing protective hardware and keeping your software up-to-date, but it also means training your employees and following best practices.
By developing multiple layers of security, you can tackle threats head-on, at each line of defense.
Identify Existing Vulnerabilities
Before you can refine your business's security, you first need to identify the gaps that already exist. A cybersecurity audit provides a comprehensive view of your infrastructure so you can plan how best to move forward.
During your audit, evaluate your full cybersecurity framework, including a hardware inventory, a risk assessment, and a diagram of your assets. Identify your critical infrastructure, or those systems whose failure would cripple your business's function. Organize your findings into a single report, and review your assessment regularly so that you can perform further, more detailed reviews in the future.
Performing a thorough audit upfront will better prepare you to secure your infrastructure and respond to attacks.
A cyber attack can hit anytime, so you should take action now to make sure your data stays protected. On average, it takes companies 197 days to detect a data breach (IBM). In that time, you could lose valuable data that may be impossible to recover.
Don't become a statistic. Take action now, and you will never have to worry about data loss again.
Begin by creating a formal company policy that lays out backup and recovery procedures. Make sure your employees are trained in backup and recovery procedures.
Scheduling automatic backups through the cloud is one of the easiest and fastest ways to ensure that your data is secure, without requiring action on your part or causing you downtime. You can easily secure your backups through encryption and password protection. Data backup will leave you with a plan B in the case of a breach or a disaster, saving you time and money in the long run.
We partner with Unitrends to provide our clients with expertise and proper BDR technology.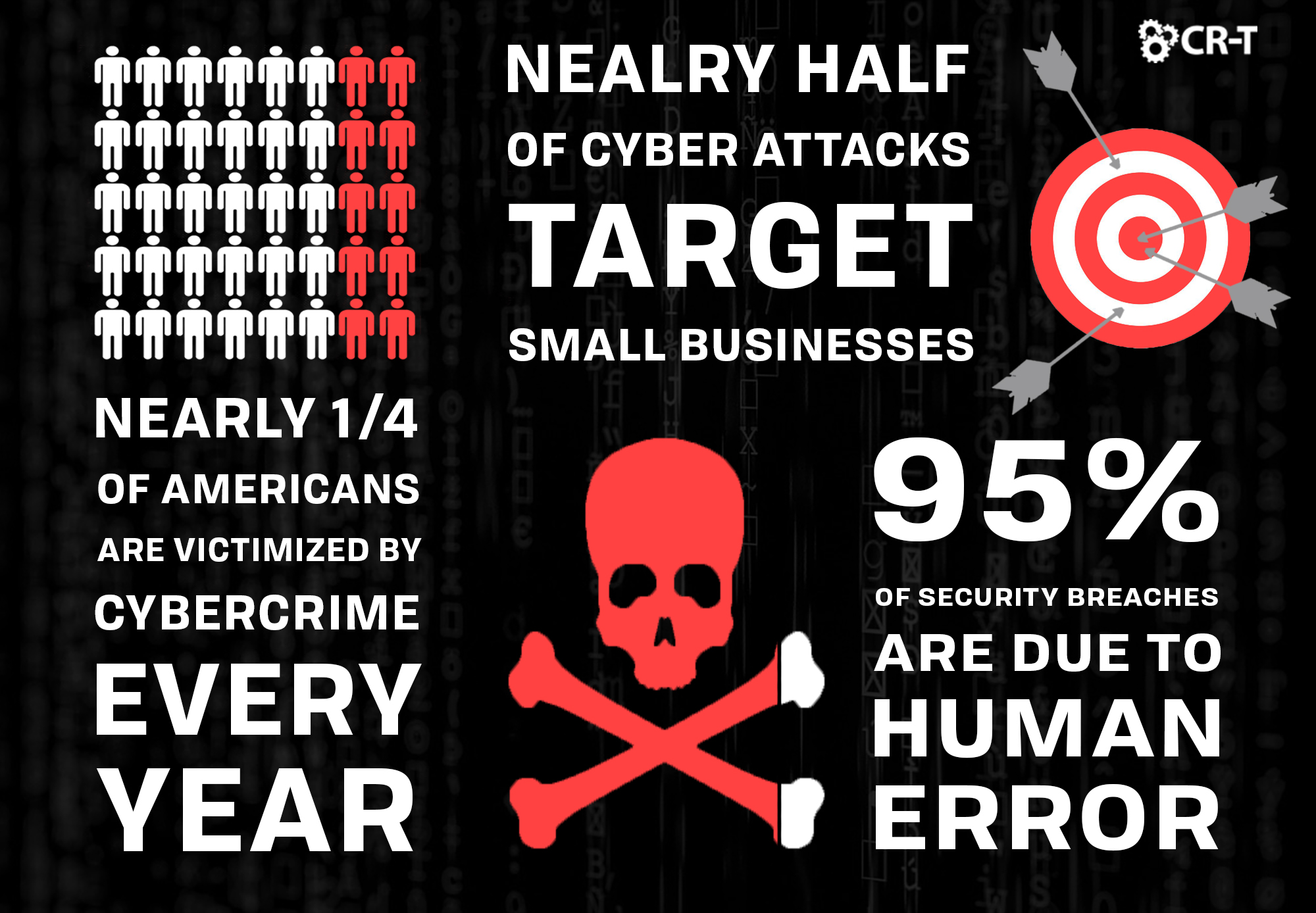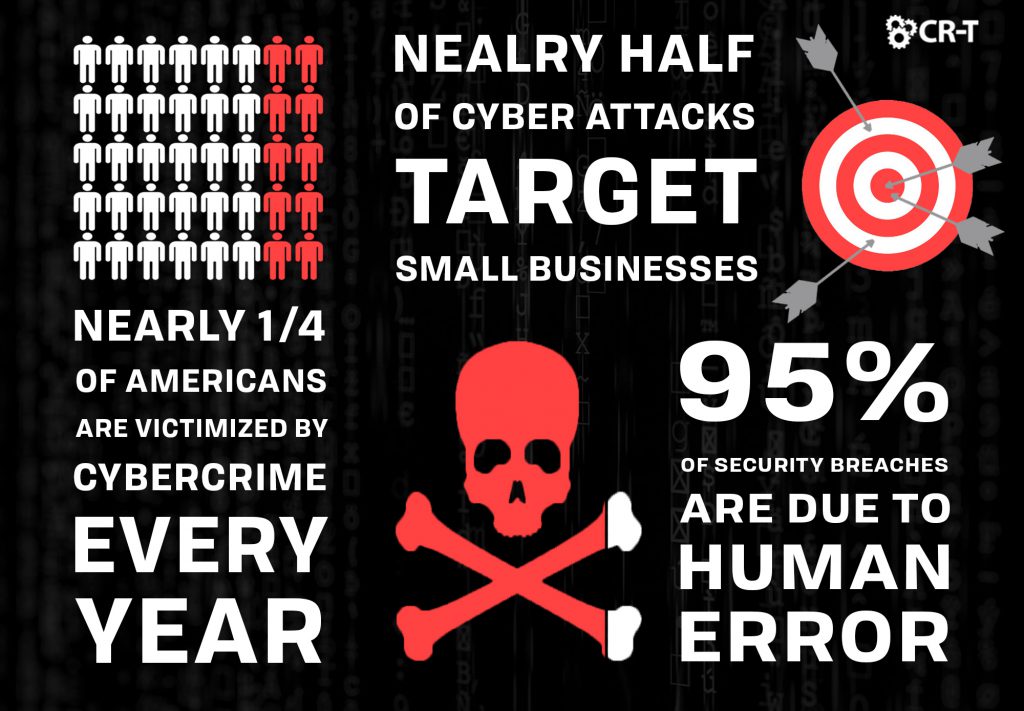 Firewall, Antivirus, and Virtual Private Networks
Not all cyber attacks target your data; some seek to infect your devices instead.
Antivirus offers protection from spyware, ransomware, viruses, and spam. The software recognizes and detects malicious behavior, effectively preventing malware from entering your computer. Protect your devices from infection by installing and regularly updating your antivirus.
In addition to securing your devices, it's important to make sure your network is airtight. A firewall will both monitor and filter your network traffic. This enables you to permit or block data based on security rules.
Barracuda is a next-generation firewall that offers a variety of advanced security capabilities, like intrusion prevention (IPS), antivirus, and advanced threat detection (ATD).
Establish a final layer of security with a virtual private network (VPN). A VPN makes it possible for you to hide your IP address, encrypt data transfers, access blocked websites, and protect your data on the web. With a VPN, you can enjoy greater anonymity, while also knowing that your traffic is secure.
Follow Cybersecurity Best Practices
Most business owners understand the importance of having the right hardware and software in place. However, one of the most important things you can do for your business's security is to follow cybersecurity best practices.
According to Cybint, 95% of security breaches are due to human error. Your employees are your first line of defense, meaning that security policies and employee training can be the difference between strong and weak security.
Begin by requiring all employees to have complex passwords, and implement two-factor authentication. Delete any unused accounts, and restrict access to company files, especially for employees who leave the company.
According to Varonis, nearly half of companies fail to restrict employee access to over 1,000 sensitive files. Having access controls in place will limit the opportunity for employees to compromise sensitive information.
Train Your Employees and Establish Securirty Policies
Bring your own device (BYOD) is another policy with growing traction, but it's important to understand the consequences involved. Allowing BYOD can produce a lot of advantages for your company, like greater flexibility and potential cost savings. However, BYOD can also lead to greater security risks and a potential loss of privacy.
You can mitigate these risks by training your employees on proper device usage. Make sure employees are connected to a secure network while accessing company data. Create password-protected access controls to provide added security. Finally, back up all device data, and make sure company data is wiped from the device when employees leave the company.
Even if you have the strongest security imaginable, your network is still at risk if your employees fail to understand and adhere to these policies. According to a MediaPro report, 70% of employees lack a basic understanding of cybersecurity. And this ignorance can cause you to become a victim if you aren't careful.
Training employees to recognize and respond to threats will only strengthen your cybersecurity infrastructure.
Learn from Security Experts
Cybercriminals are constantly discovering new ways to bypass security. These more sophisticated threats, combined with the complexity of handling all of your security in-house, can make developing an effective security model challenging.
Instead of handling the massive burden of security on your own, turn to the experts for advice and managed support.
A security operations center (SOC) is run by cybersecurity analysts and engineers whose job is to detect, analyze, and respond to vulnerabilities in an infrastructure. SOC can do more than offer support. They can help you develop a strategy to respond to known and existing threats, while also seeking to identify new threats.
With SOC as a service, you can enjoy all the advantages of an in-house SOC, without having to build one from scratch. You'll have access to a team of experts who can help you keep track of your assets, detect malicious activity, and maintain compliance. Enjoy 24/7 monitoring and protection against both perimeter and insider threats.
But is SOC really worth your time and money? Let the benefits speak for themselves. With SOC as a service, you can save both time and money. SOC can help you develop better security incident detection with a centralized display of assets. This offers you greater visibility and improved client and employee trust. Due to their expertise, SOCs can better prioritize company assets, threats, and security, so you know which areas to focus on first.
Finding and resolving all of your security weaknesses can be overwhelming. SOC as a service can help you fill the gap.
Become a Cybersecurity MVP Today
Not all security experts are created equal. Developing a favorable security strategy can mean the difference between risk and protection. We understand the importance of security. As a team of cybersecurity experts, we are confident in our ability to provide you with a solution that will leave you more protected and secure.
Here at CR-T, we take pride in providing enterprise-level IT services at prices that work for small businesses. Our team of experts can become your IT support department, responding to issues quickly, often before you even know about them. Covering everything from your servers and network infrastructure, to your computers, workstations and mobile devices, we provide end-to-end solutions for all your technology needs. Time and experience have helped us develop best practices and workflow procedures designed to keep your focus on your business, not your technology.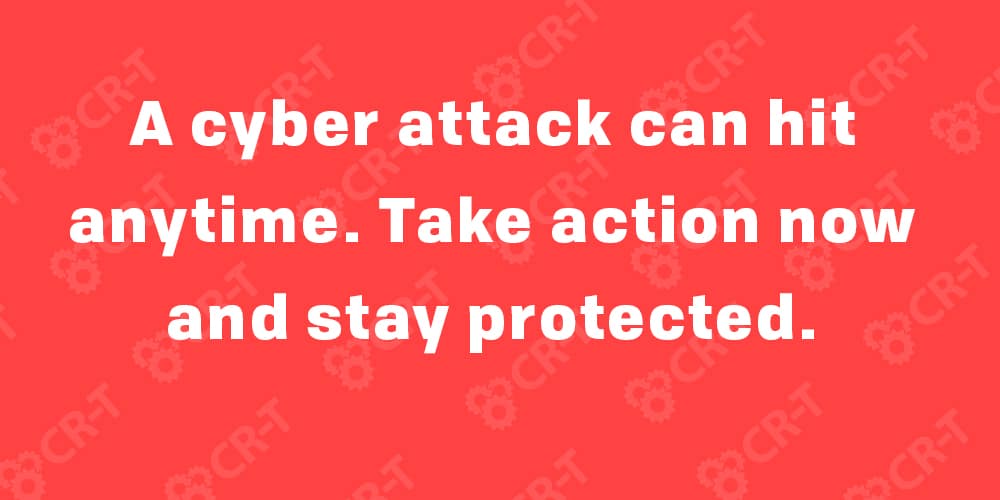 Your organization can't afford to neglect backup and disaster recovery. If it takes your business too long to get back online after a disaster, you
Read More »