When it comes down to developing an enterprise-level IT structure, there are a variety of things to consider, from cloud technology to security. Building a successful IT structure for smaller businesses is a matter of finding a pattern that works for your business. Through conducting research and enlisting the help of IT Consultants, you can take advantage of enterprise-level technologies at a fraction of the cost.
While enterprises operate on a very different scale from smaller and medium size businesses (SMBs), these smaller businesses can still use an enterprise IT structure as a model for their own business.
By thinking about this now, you will be far more prepared for current and future growth.
This article will walk you through the most important areas to consider for your business's structure. We can help you develop a structure that meets the needs of your business and provides you with the technology you deserve.
Plan Your Business IT Structure Here
When organizing the IT structure of your business, an important step is to look at your IT needs from a high-level point-of-view. Do your future plans require the ability to scale and be nimble, or do you expect slow growth in the future? If you are looking to grow fast, cloud infrastructure and networks are becoming more popular because they allow for greater autonomy in the organization.  
A decentralized structure allows for easier expansion, since new servers can be added and constantly updated, which lends to better security in the long run.  
When one server fails, another server can act as backup, providing greater stability for the company. 
Understand Your Bottom Line
Another factor to consider is whether you will continue to grow an in-house IT department or work with a managed IT provider for a fraction of the cost.  
For example, a new, dedicated IT support hire for your business, on average, could cost the company around $65,000 per year in salary alone. However, a Managed IT Service Provider (MSP) will typically charge you $1500-$3000 per month as a small to medium-sized business (SMB). 
An MSP's benefit comes from their ability to give you a whole team to support your business IT needs.  
Paying for an entire in-house IT team can be very expensive as a smaller company. For this reason, a lot of SMBs find it more cost-effective to work with a Managed IT Service Provider.  
Ultimately, as a smaller business, Managed IT Services can help you save time and money, while enjoying faster responses and 24/7 availability. If you aren't sure which system is best for your business, you can also consider combining the two options.  
You might also choose to hire a single employee to handle simple, day-to-day issues, and seek Managed IT Support for more complex or after-hours issues.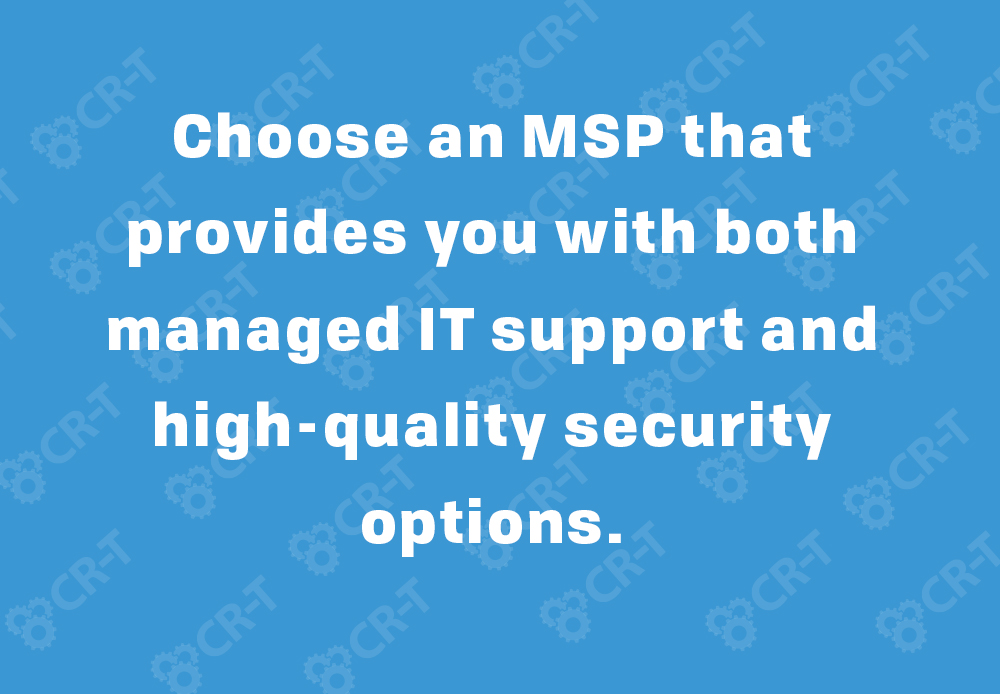 Adopt Enterprise-Level Cloud Technologies for Your Business's IT Structure
There is no surprise as to why Enterprise Cloud Architecture is becoming more of a priority in recent years.  
According to the 2018 RightScale State of the Cloud survey, nearly 40% of enterprises see public cloud as their top priority.  
Additionally, 96% of respondents are using cloud for their day-to-day needs. And it's not hard to see why. Cloud technologies can be used for storage, backup, file sharing, and security.  
The cloud also makes it easier to access your data anytime and view crucial analytics, anytime and anywhere. 
So what does this look like for an SMB? It may surprise you to find that many SMBs are also looking to the cloud for their answers.  
Depending on the size and needs of your business, there are a variety of cloud options to choose from. Popular cloud solutions like AWS and Microsoft Azure are cost-effective. They also include all the benefits that enterprise cloud has to offer—like ease of access, greater flexibility, and full-service backup and recovery.  
Larger, enterprise businesses will opt for private cloud storage because they require greater security and privacy. However, a private cloud can require an in-house IT team. This is unrealistic for most small businesses, but doable if managed by an IT support company that is experienced in cloud solution support.  
If private cloud isn't a realistic option for your business, search instead for a public cloud provider who offers enterprise-level security options. The best public cloud providers value a business's privacy and security.  
With AWS or Microsoft Azure, you can achieve full access to cloud benefits without the hassle of in-house IT support. 
Cloud Computing Within Your Infrastructure
One specific cloud model is Infrastructure as a Service (IaaS). With IaaS, you can access infrastructure components—like servers and hardware—through the cloud. IaaS is often easier, faster, and more cost-efficient than purchasing the infrastructure separately, and it's a great option for testing or developing a new product.  
An IT support specialist can help you determine whether or not IaaS is practical for your business. 
Another option for implementing cloud technology is Software as a Service (SaaS). With SaaS, you can access software online through a subscription, instead of paying for individual programs.  
This is especially useful if your business uses multiple computers or servers. Instead of installing software on each individual device, you can easily customize your subscription to fit your business's needs.  
All users will share the same infrastructure, but each department can customize the software without affecting the other users. SaaS offers greater security—since everything is based in the cloud—and it can save your business money—since you only pay for what you use. 
MSPs Prioritize Your Business's Cybersecurity for the right IT Structure
Your business's network is constantly susceptible to outside threats, like malware, spam, and malicious code. The risk is even greater now than it was five years ago.  
Cybersecurity Ventures predicts that cybercrimes will cost the world an annual $6 trillion by 2021. When it comes to protecting your network, a stable IT structure is the key to preparing yourself against threats.  
By investing in the right security tools and preparing your team to respond, you can protect your network—and, by extension, your business—from malicious content. 
Firewall: Prevent Threats from Entering Through the Front Door
One of the first steps to ensuring your network is secure is to put preventative measures in place, making it harder for malicious code to enter your network.
Firewall security is a must for small businesses, because it not only monitors your traffic and protects your network from cyber criminals; it also prevents disruptions so that you can stay focused on your business, without worrying about security problems.  
Search for an IT support company that can support and provide an enterprise-level strength firewall, but who also understands the needs of your small business and can provide you with the best security options possible.  
Barracuda offers next-generation security that is innovative for enterprises, and affordable for small businesses. 
Next-Level Protection: Network Access Control and SOC-as-a-Service
In addition to a powerful firewall, you can strengthen your IT support with supplemental forms of security, like Network Access Control (NAC) and password authentication.  
NAC allows you to monitor and control who is entering the network so that you can more easily detect suspicious behavior and avoid threats. You can compound the security of your network by strengthening company passwords and requiring two-factor authentication in order to access secure files.  
Where many IT Support agencies can provide good Managed IT Support (MSP), very few excel as a Managed Security Service Provider (MSSP) in the form of SOC-as-a-Service (Security Operation Center as a Service).  
This is one of our many strengths as a true managed IT support and cloud partner. By prioritizing your business's cybersecurity and having the appropriate measures in place, you can ensure that your network will remain protected. 
Find the Right Managed IT Support for Your Business's IT Structure
You will encounter several technical issues during your time as a business professional. Some of the most common are the inability to log in to your computer, a device shutting down unexpectedly, slow internet, the loss of important data, or the dreaded blue screen of death.  
In order to be prepared for these issues, it is critical for you to have good IT support in place so that your business doesn't plummet at the first sign of technical trouble. 
If you want to enjoy the benefits of enterprise-level IT support, you need to research your options and decide what is best for your company.  
For small businesses, managed IT support makes the most logical sense, because you have a full team (for less of a cost than a single employee) to offer you support every time you experience a technical failure. You can also rest easy, knowing that they also work behind the scenes to minimize the amount of potential issues or failures that could arise.
Additionally, MSP companies often have more time, bandwidth, experience and resources, meaning that you can find a comprehensive solution to your technical problem sooner. 
While having good IT support is critical, you can minimize some of the problems yourself by investing in good equipment and learning how to troubleshoot basic problems.  
IT support can help you decide what equipment is best for your situation and teach you how to prevent the most common issues. Many companies, like ourselves, can also negotiate lower prices for hardware and software purchasing. 
Implement AI Into Your Business IT Structure
For small business owners, AI (Artificial intelligence) can seem daunting and unfamiliar. A 2016 Salesforce survey found that 61% of SMBs didn't feel ready to implement AI into their business model. However, AI isn't just for large enterprises.  
Machine intelligence has the ability to increase efficiency and productivity, even for small businesses. AI is also becoming more affordable as it becomes more mainstream, meaning that an extensive budget is no longer required in order to take advantage of these cutting-edge technologies. 
The first step is deciding what to automate. Some of the most common automated tasks are software testing, backend operations like bookkeeping, and data collection and analysis.  
Many solutions come pre-scripted so that you can lean on industry-wide settings already out of the box. According to a recent Qualtrics survey, over 90% of market researchers believe that AI will take over data and analysis tasks within the next 5 years.  
The good news is that if you rely on data analytics and algorithms to make more accurate predictions, you can easily automate these tasks and save your employees time to focus on other areas of the business. 
Start Today—Get a Free Consultation
At CR-T, we recognize the importance technology holds for your business. Developing an effective IT structure, no matter your company's size takes time and planning, but that doesn't mean that your business can't achieve an enterprise-level IT structure as a small business.  
By teaming up with the right IT support consultant, you can develop a plan that will save your business time and money—while giving you access to excellent technology that will last you for years to come. 
Your organization can't afford to neglect backup and disaster recovery. If it takes your business too long to get back online after a disaster, you
Read More »