The technological world is often vast and confusing, with dozens of choices to make and processes to prioritize. For many businesses, it is becoming increasingly difficult to manage data storage, security, infrastructure, and the many intricacies that play into your business's technology. Dell EMC is equipped to help you handle these workloads by providing a variety of solutions to simplify the way you manage your technology.
Dell's mission is to provide greater access to technology for people around the world. By offering a variety of modern technologies, Dell can help companies navigate the digital world with greater success.
You might have heard about the importance of having backup and disaster recovery solutions. But what does that even mean?
Dell Technologies Cloud gives you the opportunity to choose a mix of private, public, and edge cloud to best meet your needs. With central management, you can still deliver a consistent experience for your clients.
Support for All Major Cloud Platforms
Dell supports major cloud platforms to give you the best experience, including Amazon Web Services (AWS), Microsoft Azure, and Google Cloud. Choose from over 4,200 providers.
Dell Converged Infrastructure
In addition to offering backups through the cloud, Dell EMC can simplify your workload through a Converged Infrastructure (CI). Implementing CI allows you to streamline your deployment, support high-performance workloads, and connect your infrastructure with the cloud.
Dell offers a couple of options for converged infrastructure, including the Dell EMC VxBlock 1000. This option includes fully-integrated storage, data protection, servers, and networking. Everything is backed by VMWare virtualization and cloud management.
The VxBlock 1000 protects your workload at any scale, helping you to modernize and simplify your IT structure. It's designed to help you navigate the Cloud faster, while consolidating and protecting your most valuable data.
Dell EMC VxBlock 1000 can improve your IT operations by 66%, while reducing downtime by 99% and giving 6 times faster upgrades and patches.
Dell EMC Ready Stack enables you to build your own converged infrastructure. Ready Stack offers you the flexibility to build your CI from a variety of Dell EMC components, including leading servers, storage, and data protection.
Additionally, Ready Stack is backed by a digital library of design, deployment, and architecture guides. Experience confidence through 24×7 support.
Dell EMC PowerOne Autonomous Infrastructure
Finally, Dell EMC PowerOne seeks to reduce complexity through an all-in-one system and autonomous operations. Factory-built and pre-validated, PowerOne will save you time and money, while reducing risk by converging your infrastructure ahead of time.
Receive assistance at every level of the automation process, from launch to expansion. PowerOne simplifies the process of deploying, innovating, and expanding your CI infrastructure, reducing the number of manual tasks you have to do yourself.
In fact, Dell EMC PowerOne is proven to reduce your manual tasks by 98%.
Dell Hyperconverged Infrastructure
Simplify your workload even further with a Hyperconverged Infrastructure (HCI). With over half a dozen models to choose from, Dell EMC can help you find the perfect solution.
Dell EMC offers multiple HCI options, all equipped with enhanced technology designed to simplify the process. Choose your HCI from flash, cloud-enabled, scale-out, and software-defined technologies.
Your business will operate more efficiently with the ease and agility that Dell has to offer. Each HCI model holds a simple design with incredible power and data protection built in. Additionally, Dell offers leading services with comprehensive, single-point-of-contact support for all hardware, hypervisor, and software.
Variety of Options to Choose From
Dell's HCI portfolio offers systems for every kind of organization. The Dell EMC VxRail HCI is the only fully-integrated, pre-configured, and pre-tested VMWare hyperconverged system. It offers faster delivery and greater efficiency for IT teams.
Dell EMC Cloud for Microsoft Azure Stack is an on-premise hybrid cloud platform, now available in 92 countries. This platform allows you to accelerate your hybrid cloud adoption with confidence and reduce the complexity of delivering applications and services.
Dell EMC vSAN Ready Nodes makes it easier than ever to modernize your infrastructure. Pre-tested configurations make for easy deployment, bridging the gap between physical and virtual environments.
Dell's data storage options seek to simplify your data landscape by streamlining your storage needs with industry-leading solutions. With Dell's data storage portfolio, you can easily optimize your workload at any scale.
Dell offers a variety of storage options to help you consolidate and manage your data. Support a variety of workloads, and easily scale your storage capacity as needed. Dell's storage options include on-premise, flash, hybrid, and cloud.
In addition to its storage options, Dell provides a variety of tools to help you manage and analyze your data. Cloud IQ offers cloud-based IT analytics that make it easier to maintain better storage health. ClarityNow helps you organize your storage and provides a comprehensive view of your data, both on-premise and in the cloud.
Integrate and streamline storage operations with a variety of products and resources.
Dell provides storage solutions for SAP, AI, and the cloud. Find a solution for every workload, and even consolidate mixed workloads on the same storage array. Utilize machine learning for improved accuracy and greater flexibility in your deployments.
In addition, Dell offers industry-wide storage solutions, including products for the fields of healthcare, media and entertainment, mainframe, and automotive. Dell can help you transform your organization with cutting-edge technology specific to your industry.
In addition to storing your data, Dell offers data management and protection solutions to safeguard against attacks. From appliances and software, to personalized solutions, Dell is committed to helping your business protect its most valuable asset: its data.
Dell's appliances simplify data management, including tremendous flexibility and scalability. The Dell EMC PowerProtect DD Series Appliances are next-generation data management, offering such features as backup, consolidation, and logical capacity support.
The X Series is specifically designed with scalability in mind. These data management devices allow you to choose between Flash and Hybrid environments, with multi-dimensional flexibility that makes it easy to scale your workload.
Dell's Integrated Data Protection Appliance (IDPA) offers solutions for both mid-size businesses and large enterprises. These products are low cost and easy to deploy and scale. Yet they also offer powerful performance in their comprehensive data protection.
Moving beyond appliances, the Dell EMC PowerProtect Software provides software-defined data protection to ensure compliance and promote self-service. The Data Protection Suite offers full visibility into your data protection environment across multiple sites and systems.
Dell EMC moves beyond appliances and software to provide full-fledged solutions that respond to specific challenges in the IT world.
For example, the Dell EMC PowerProtect Cyber Recovery Solution combats cyber attacks by offering a last line of defense for your data. Specifically, the Dell EMC Cyber Recovery solution provides:
Data isolation and governance

 

Automated sandbox copies for security analytics
Data recovery and remediation
Dell will aid you in creating a cyber recovery plan, isolating your data, analyzing your methods with Artificial Intelligence (AI), and automating your workflow to perform data recovery.
Dell EMC Data Protection for Backup and VMWare provides automation and integration with VMWare to minimize effort and resources. This form of data protection results in higher performance and lower capacity and bandwidth requirements.
Dell: Your Partner in Technology
Modern technology for businesses is complicated enough without having to organize and manage everything yourself. Dell can be your partner in technology, offering products and solutions that simplify your workload and processes, thus giving you more time to focus on your business. 
Here at CR-T, we take pride in providing enterprise-level IT services at prices that work for small businesses. Our team of experts can become your IT support department, responding to issues quickly, often before you even know about them. Covering everything from your servers and network infrastructure, to your computers, workstations and mobile devices, we provide end-to-end solutions for all your technology needs. 
Time and experience have helped us develop best practices and workflow procedures designed to keep your focus on your business, not your technology.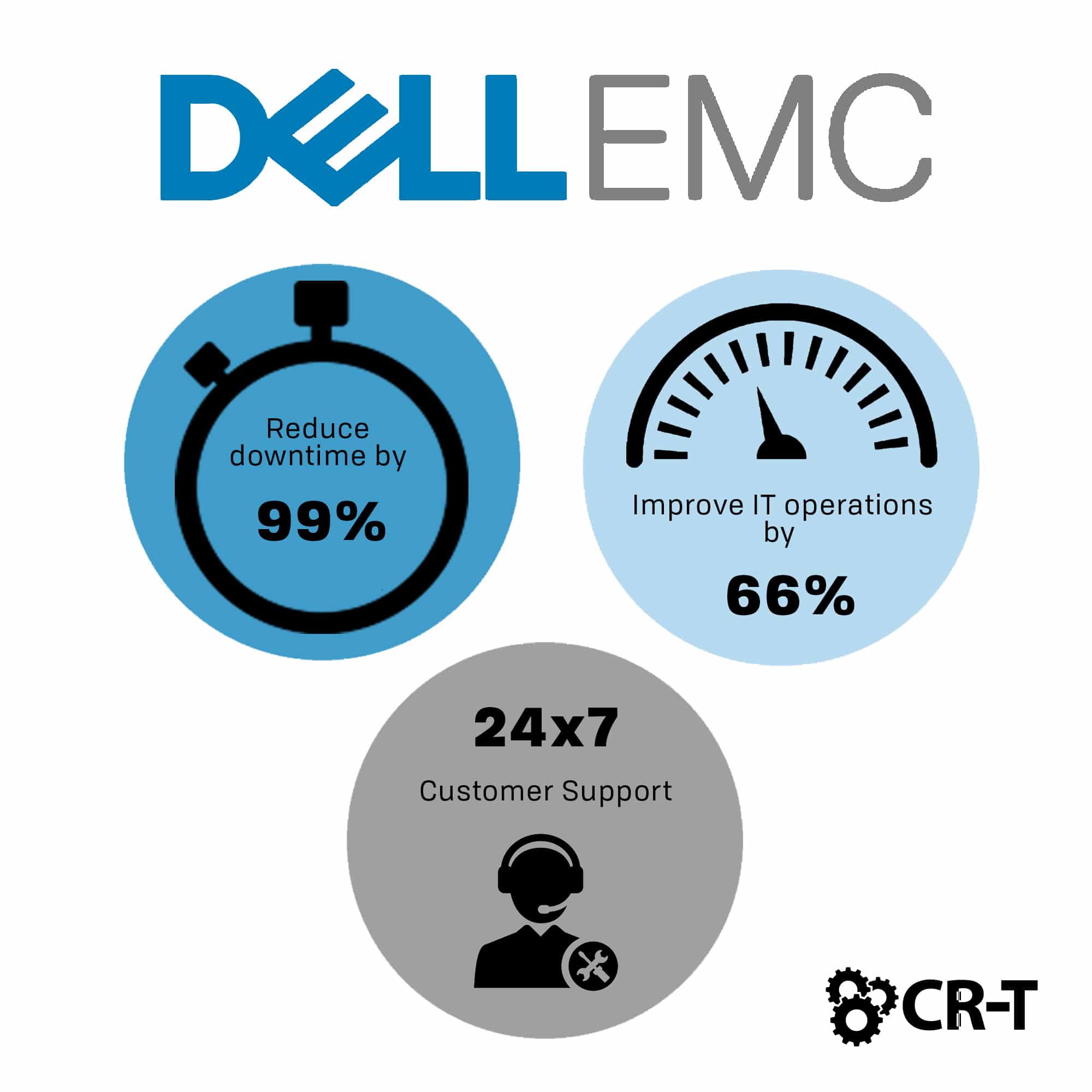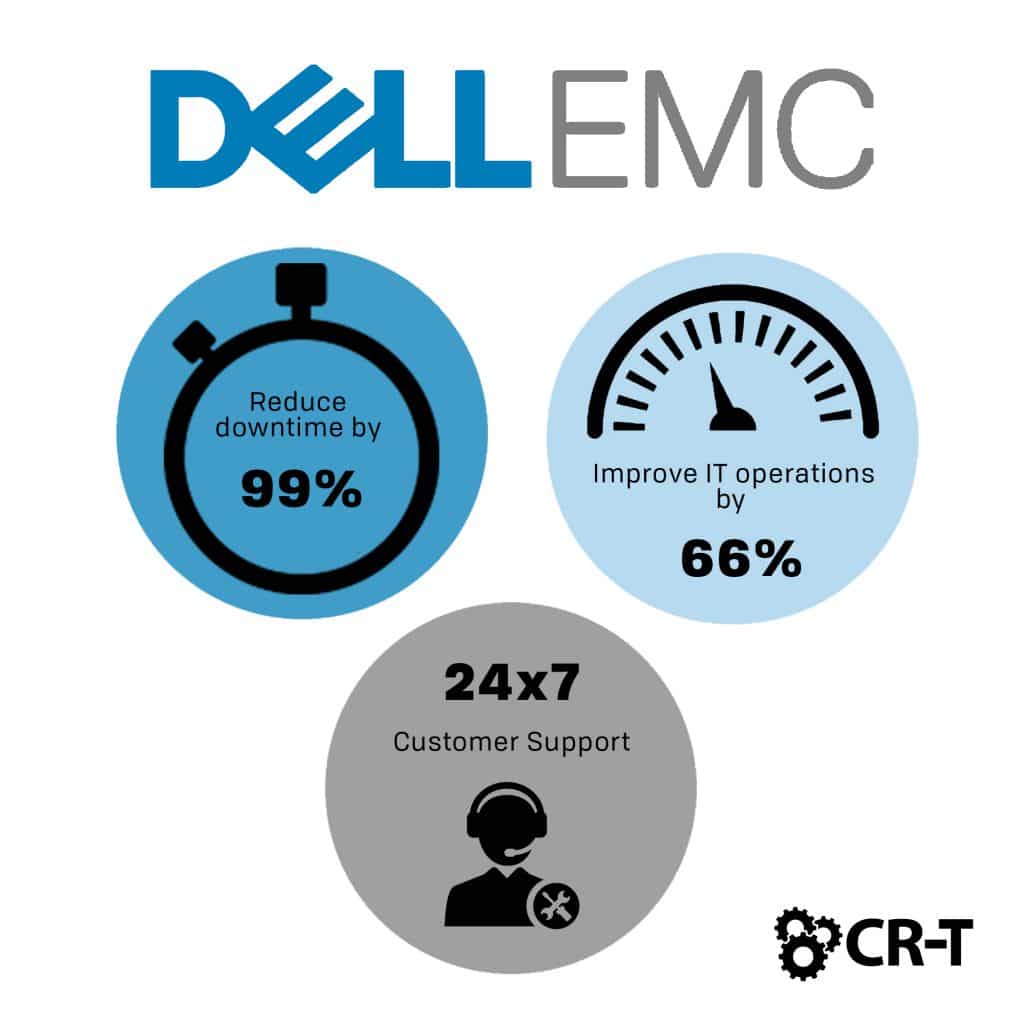 If you're responsible for managing the security of your organization's network or systems, you may have heard the terms "penetration testing" and "vulnerability testing" thrown
Read More »