When developing your IT budget for the year, where do you plan to spend the most? Of course, you need to pay your employees' salaries and cover any recurring hardware expenses. But have you ever thought about utilizing your tech budget to raise your company to new heights? There are a variety of project services that can help your organization be more effective and profitable. Whether you're looking to update your website or improve your organization's cybersecurity, CR-T can help you design and complete your dream IT project.
Have you ever thought about designing your own app or software? 
Building your own app creates a unique experience for your employees and customers. And it can also act as an added source of revenue for your business. 
But how do you get started? 
Our team has designed and created apps for companies across a variety of industries, including restaurants, banks, healthcare, education, recycling, and more. 
After meeting with a consultant to help you identify your needs, our team of local developers will work with you to create a customized plan until the project is completed.
An app can help your business grow and make the experience more customizable for your clients. But having a solid website is essential in finding success for your business. 
Your website is often the first place a potential customer will go to catch a glimpse of your business. And according to a 2015 Microsoft study, the average human attention span is 8 seconds. 
That's not a lot of time to get someone's attention, so your website needs to be straightforward and effective. 
But managing a website is a lot of work, and you might not have the technical skills to handle the updates, troubleshooting, and other necessary maintenance that come with a WordPress site. 
Our consultants are trained to help you define your goal for your website and reflect your brand through the design and copy. 
And if you already have a finished website, we also offer ongoing website maintenance, including regular updates, hosting, and troubleshooting any issues that may arise. 
Whether you're in need of a basic WordPress website or something more complex, our web development team has the resources you need to bring your website project to life. 
Do you currently use any cloud services? And if not, have you considered making the switch? 
94% of enterprises already use a cloud service, and more are migrating to the cloud every year (source: Hosting Tribunal). 
We are certified with both Microsoft Azure and Amazon Web Services (AWS). Our technicians can assist you with every step of your cloud migration. 
We also offer data migration services both on-premise and in the cloud. That way, you always have the options you need to manage your data.
Structured Query Language (SQL) is the most widely used programming language for relational databases.
 And we're here to fulfill all of your SQL needs.
In fact, 
CR-T is
one of 
only
 fourteen Microsoft Certified Masters in the United States.
Our SQL Certified Masters travel regularly to speak on various SQL server topics, and we'd love to help you define your SQL project ne
eds.
We provide 
a variety of SQL services
, including:
Index fragmentation detection and maintenance

 

Script validation

 

Monitoring

 

Data/log file maintenance

 

Backup maintenance

 

Cost management

 
Regardless of your data needs, we are here to serve as your data advocates so that you have the time to focus on more valuable projects.
5. Cybersecurity Services
Research conducted by the University of Maryland estimates that a cyber attack occurs every 39 seconds. That's over 2,000 attacks per day. 
We don't want your business to become a statistic. That's why we provide both one-time security services and ongoing Managed Security Services to keep you up to date. 
Our engineers are CISSP certified, and they can perform a comprehensive evaluation of your IT environment and its vulnerabilities. 
Whether you're looking for a firewall, Internet of Things (IoT) security, or Backup Disaster and Recovery (BDR), CR-T has you covered.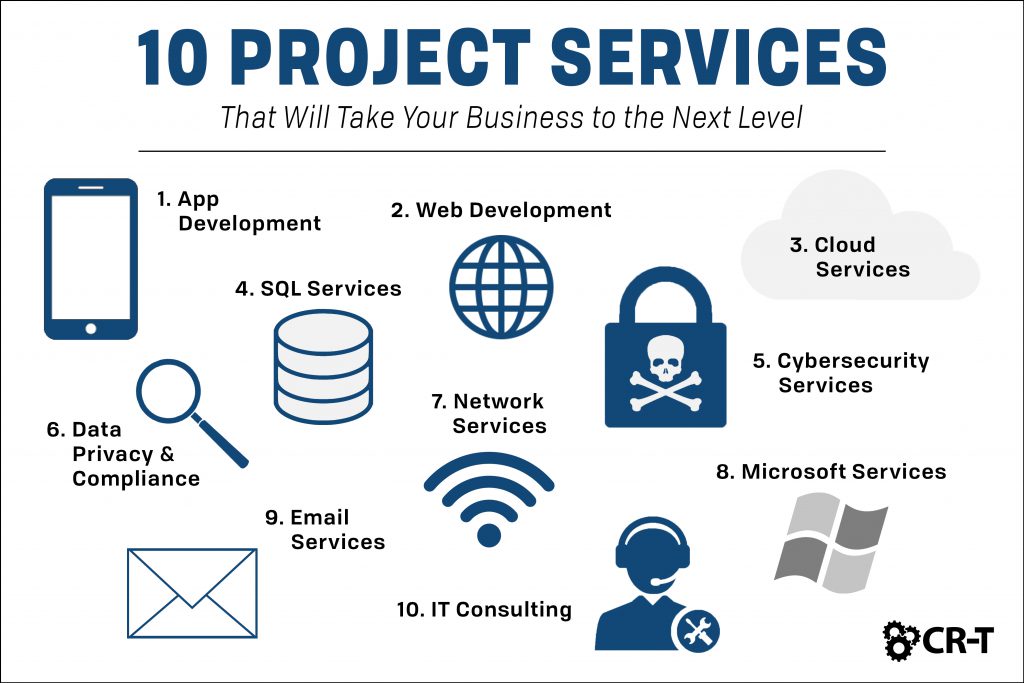 6. Data Privacy & Compliance
Data privacy and compliance have been brought to the forefront of many executives' minds, especially with recent regulations like the General Data Protection Regulation (GDPR). 
Individuals have a right to control how their personal information is collected and used. And businesses can face severe consequences for failing to honor data privacy laws. 
It is your duty to protect the data entrusted to you by your customers. We can help you ensure that your organization is following the necessary data privacy and compliance regulations put forth by your state.
Your network services are critical to your business's operations. And downtime can be very costly for your business. 
Our goal at CR-T is to ensure your network can effectively handle your organization's needs without affecting your productivity. 
Our network services include: 
Network/switch configuration

 

Network audits/

evaluations

 

Virtual Private Networks (VPNs)

 

Local Area Networks (LANs)

 

Wide 

Area

 Networks (WANs)

 

Wireless Local Area Networks (WLANs)

 

 

Storage Area Networks (SANs)

 

Software-Defined Wide Area Networks (SDWAN)
Microsoft has earned a spot among the top tech giants of the modern age. Its devices, platforms, and other solutions have allowed to organizations to work more efficiently, saving both time and money. 
And ever since the COVID-19 pandemic forced thousands of employees to work from home, businesses are looking for ways to collaborate more effectively, even when team members can no longer meet in person. 
Microsoft offers a variety of collaboration tools, including SharePoint, Microsoft Teams, and Outlook. 
Our certified Microsoft engineers can help you utilized these products and more to help your business work more effectively.
In our modern, fast-paced world, instant communication is essential. The ability to email your clients and colleagues is something your business can't survive without. 
We provide email migrations, automation and setup. 
We also offer email security to protect you from data breaches and other vulnerabilities.
Do you view your IT department as a cost center or a profit center? While your IT team might not bring in direct revenue, they're still a valuable part of your organization. 
Our IT consulting can help you develop a robust IT strategy that will work for your business instead of against it. 
These services include: 
Developing an 

IT strategy

 

Strengthening your 

IT architecture

 

Implementing IT into your 

business

 operations

 

ERP services

 

Systems integration

 

Data analytics

 
By leveraging the power of IT, you can make your business more productive and profitable.
Let Us Help You Create Your Dream Project
These are just a few ideas on how you can improve your business, but they're a great starting place if you're looking to leverage the power of IT within your organization. 
No matter your business's needs, we can help you design a project that will take your business to the next level. 
Here at CR-T, we take pride in providing enterprise-level IT services at prices that work for small businesses. Our team of experts can become your IT support department, responding to issues quickly, often before you even know about them. Covering everything from your servers and network infrastructure to your computers, workstations and mobile devices, we provide end-to-end solutions for all your technology needs. 
Time and experience have helped us develop best practices and workflow procedures designed to keep your focus on your business, not your technology.
Your organization can't afford to neglect backup and disaster recovery. If it takes your business too long to get back online after a disaster, you
Read More »